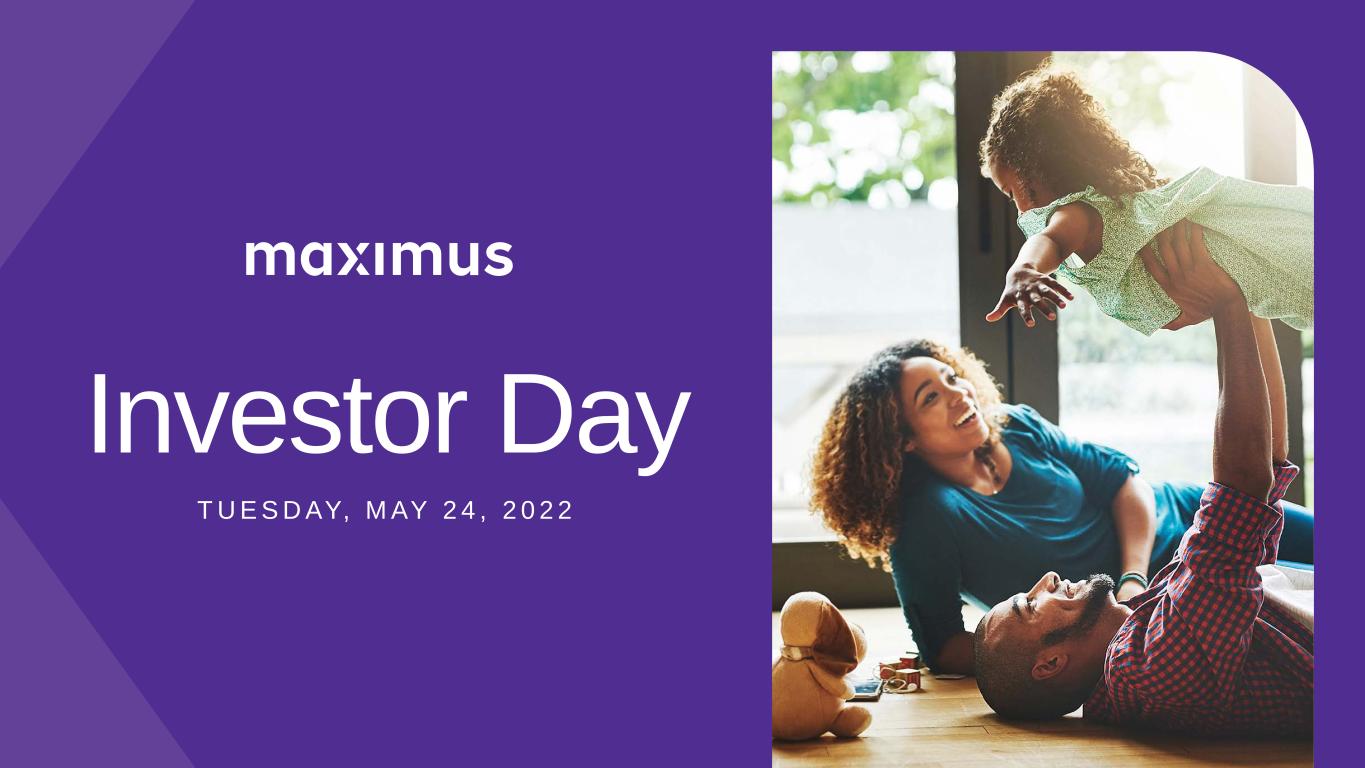 Investor Day T U E S D AY, M AY 2 4 , 2 0 2 2
---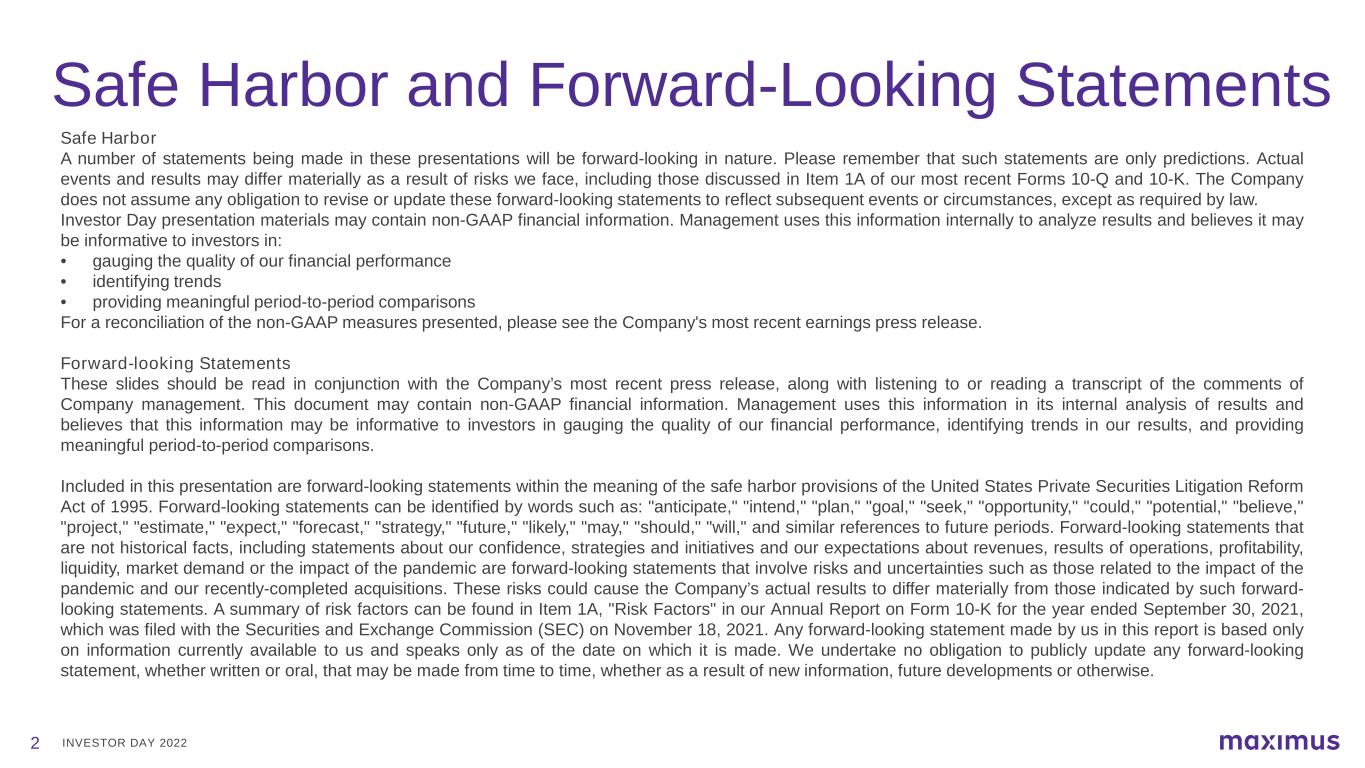 INVESTOR DAY 20222 Safe Harbor and Forward-Looking Statements Safe Harbor A number of statements being made in these presentations will be forward-looking in nature. Please remember that such statements are only predictions. Actual events and results may differ materially as a result of risks we face, including those discussed in Item 1A of our most recent Forms 10-Q and 10-K. The Company does not assume any obligation to revise or update these forward-looking statements to reflect subsequent events or circumstances, except as required by law. Investor Day presentation materials may contain non-GAAP financial information. Management uses this information internally to analyze results and believes it may be informative to investors in: • gauging the quality of our financial performance • identifying trends • providing meaningful period-to-period comparisons For a reconciliation of the non-GAAP measures presented, please see the Company's most recent earnings press release. Forward-looking Statements These slides should be read in conjunction with the Company's most recent press release, along with listening to or reading a transcript of the comments of Company management. This document may contain non-GAAP financial information. Management uses this information in its internal analysis of results and believes that this information may be informative to investors in gauging the quality of our financial performance, identifying trends in our results, and providing meaningful period-to-period comparisons. Included in this presentation are forward-looking statements within the meaning of the safe harbor provisions of the United States Private Securities Litigation Reform Act of 1995. Forward-looking statements can be identified by words such as: "anticipate," "intend," "plan," "goal," "seek," "opportunity," "could," "potential," "believe," "project," "estimate," "expect," "forecast," "strategy," "future," "likely," "may," "should," "will," and similar references to future periods. Forward-looking statements that are not historical facts, including statements about our confidence, strategies and initiatives and our expectations about revenues, results of operations, profitability, liquidity, market demand or the impact of the pandemic are forward-looking statements that involve risks and uncertainties such as those related to the impact of the pandemic and our recently-completed acquisitions. These risks could cause the Company's actual results to differ materially from those indicated by such forward- looking statements. A summary of risk factors can be found in Item 1A, "Risk Factors" in our Annual Report on Form 10-K for the year ended September 30, 2021, which was filed with the Securities and Exchange Commission (SEC) on November 18, 2021. Any forward-looking statement made by us in this report is based only on information currently available to us and speaks only as of the date on which it is made. We undertake no obligation to publicly update any forward-looking statement, whether written or oral, that may be made from time to time, whether as a result of new information, future developments or otherwise.
---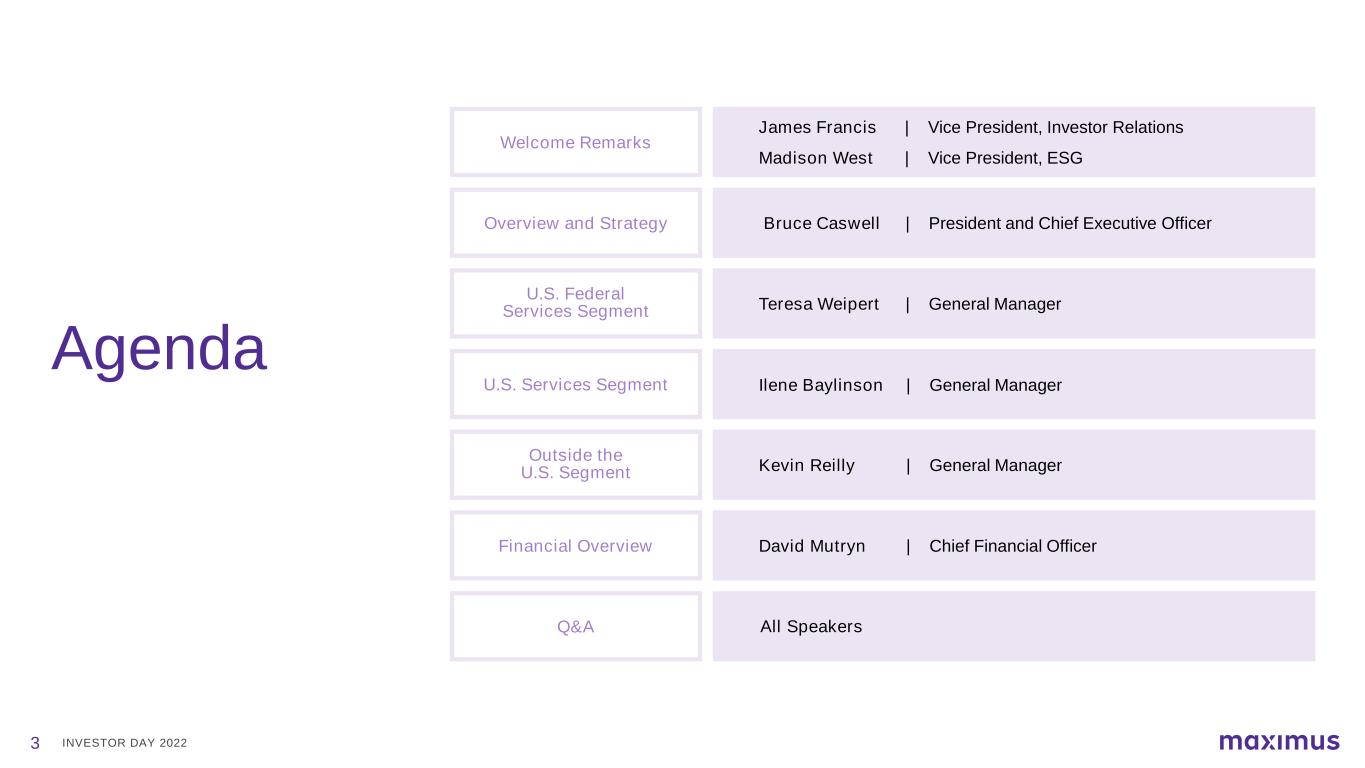 INVESTOR DAY 20223 Welcome Remarks Overview and Strategy U.S. Federal Services Segment U.S. Services Segment Outside the U.S. Segment Financial Overview Q&A Agenda James Francis | Vice President, Investor Relations Madison West | Vice President, ESG Bruce Caswell | President and Chief Executive Officer Teresa Weipert | General Manager Ilene Baylinson | General Manager Kevin Reilly | General Manager David Mutryn | Chief Financial Officer All Speakers
---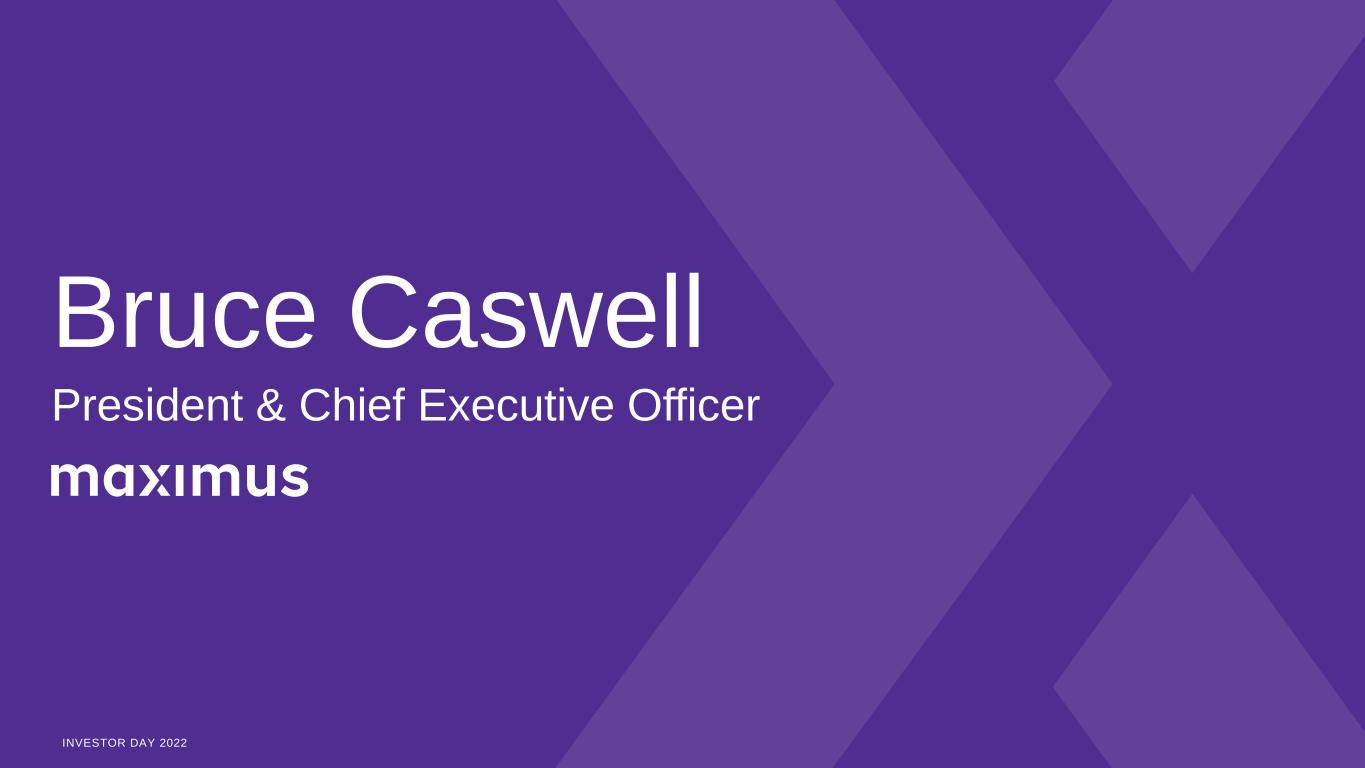 INVESTOR DAY 2022 Bruce Caswell President & Chief Executive Officer
---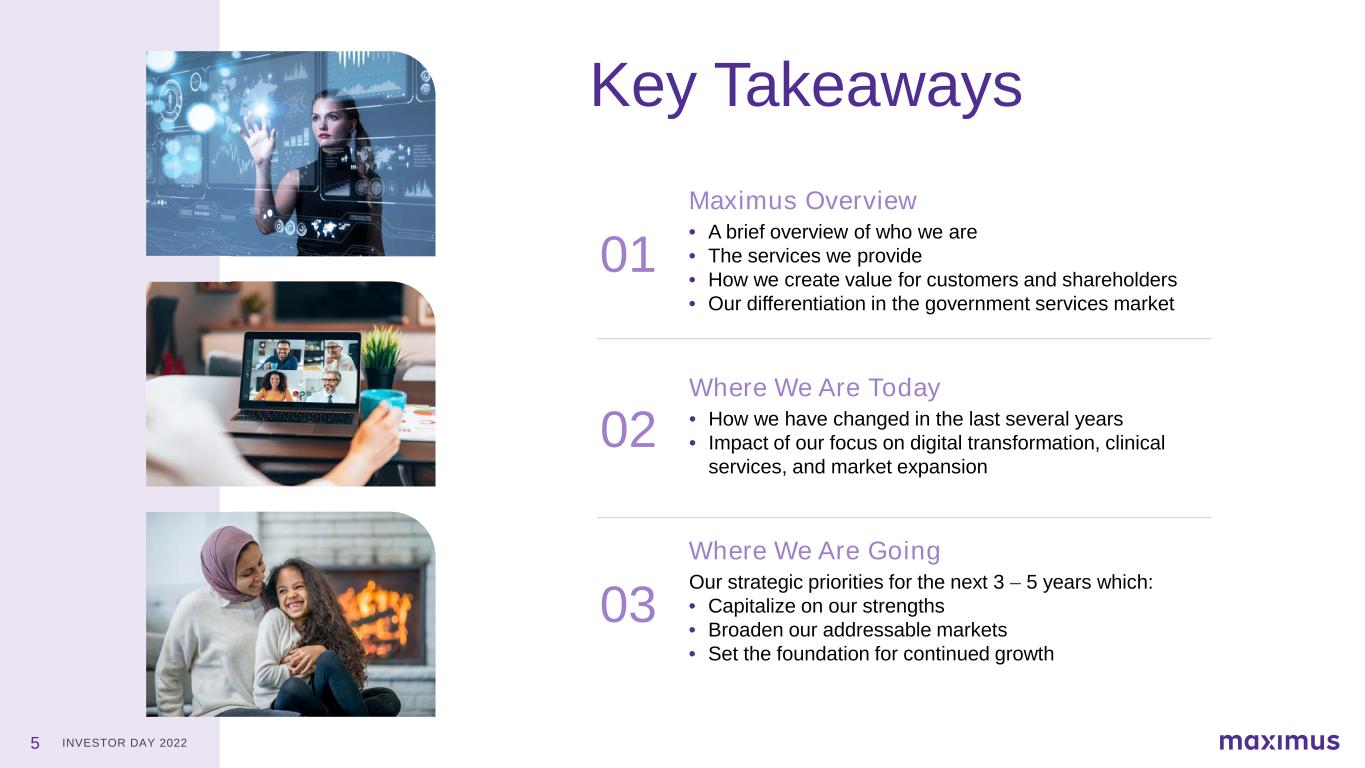 INVESTOR DAY 20225 Key Takeaways Maximus Overview • A brief overview of who we are • The services we provide • How we create value for customers and shareholders • Our differentiation in the government services market 01 Where We Are Today • How we have changed in the last several years • Impact of our focus on digital transformation, clinical services, and market expansion 02 Where We Are Going Our strategic priorities for the next 3 – 5 years which: • Capitalize on our strengths • Broaden our addressable markets • Set the foundation for continued growth 03
---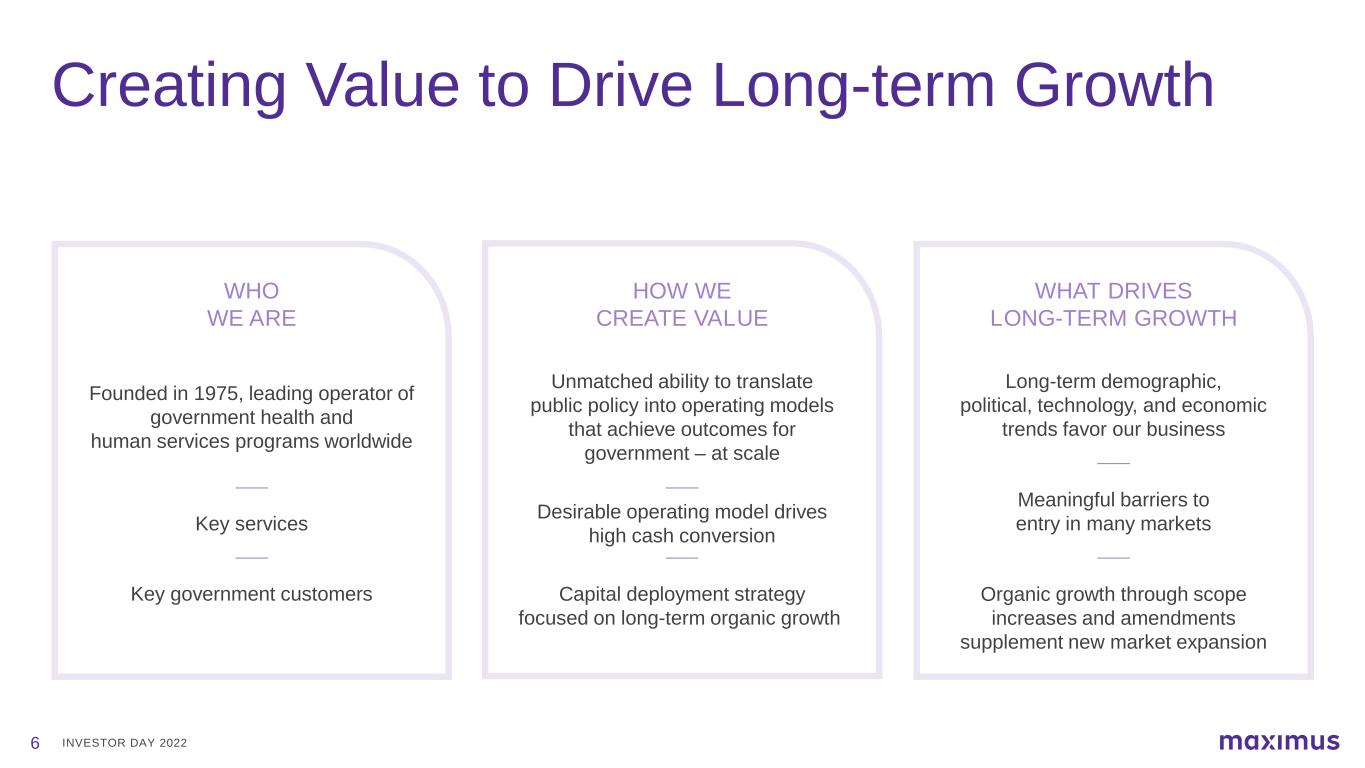 INVESTOR DAY 20226 Creating Value to Drive Long-term Growth WHO WE ARE Founded in 1975, leading operator of government health and human services programs worldwide Key services Key government customers HOW WE CREATE VALUE Unmatched ability to translate public policy into operating models that achieve outcomes for government – at scale Desirable operating model drives high cash conversion Capital deployment strategy focused on long-term organic growth WHAT DRIVES LONG-TERM GROWTH Long-term demographic, political, technology, and economic trends favor our business Meaningful barriers to entry in many markets Organic growth through scope increases and amendments supplement new market expansion
---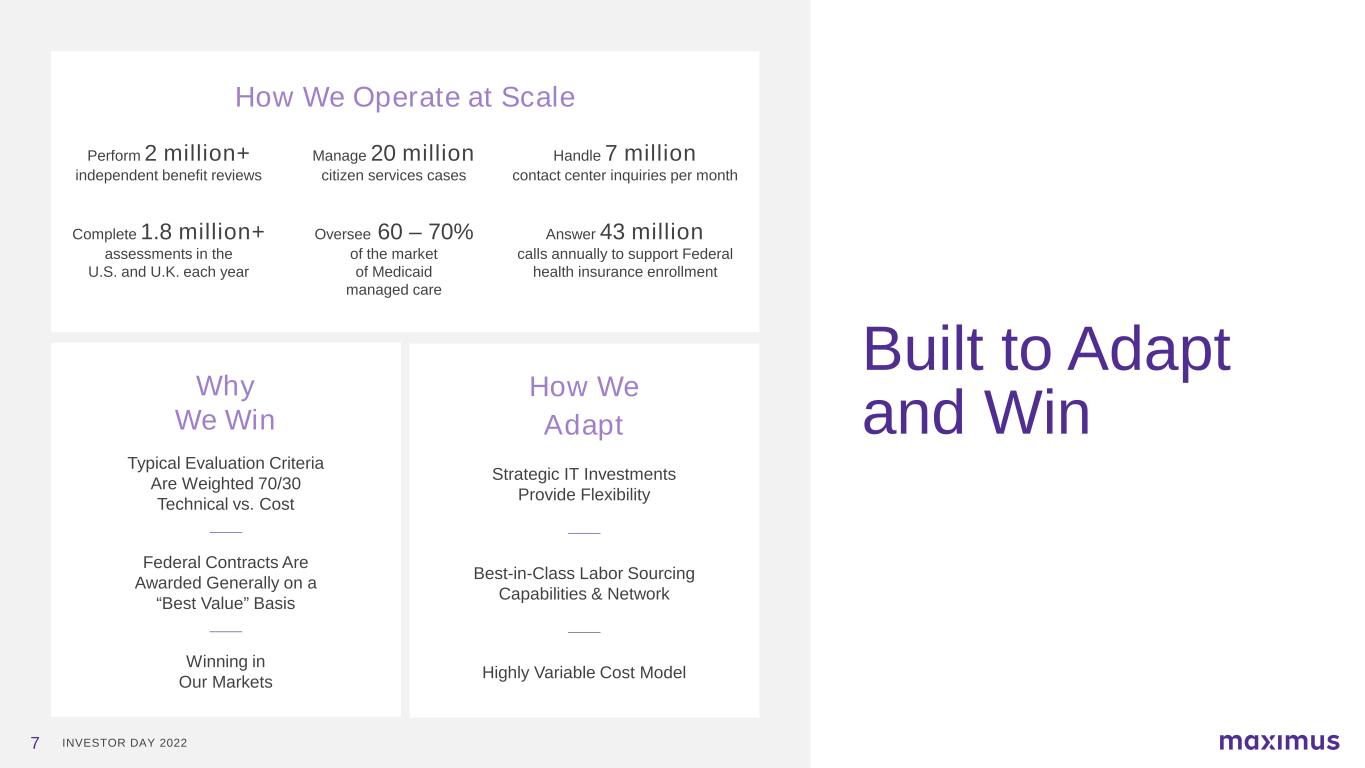 INVESTOR DAY 2022 Built to Adapt and Win 7 Manage 20 million citizen services cases Oversee 60 – 70% of the market of Medicaid managed care Handle 7 million contact center inquiries per month Answer 43 million calls annually to support Federal health insurance enrollment Complete 1.8 million+ assessments in the U.S. and U.K. each year Perform 2 million+ independent benefit reviews How We Operate at Scale Typical Evaluation Criteria Are Weighted 70/30 Technical vs. Cost Federal Contracts Are Awarded Generally on a "Best Value" Basis Winning in Our Markets Why We Win Strategic IT Investments Provide Flexibility Best-in-Class Labor Sourcing Capabilities & Network Highly Variable Cost Model How We Adapt
---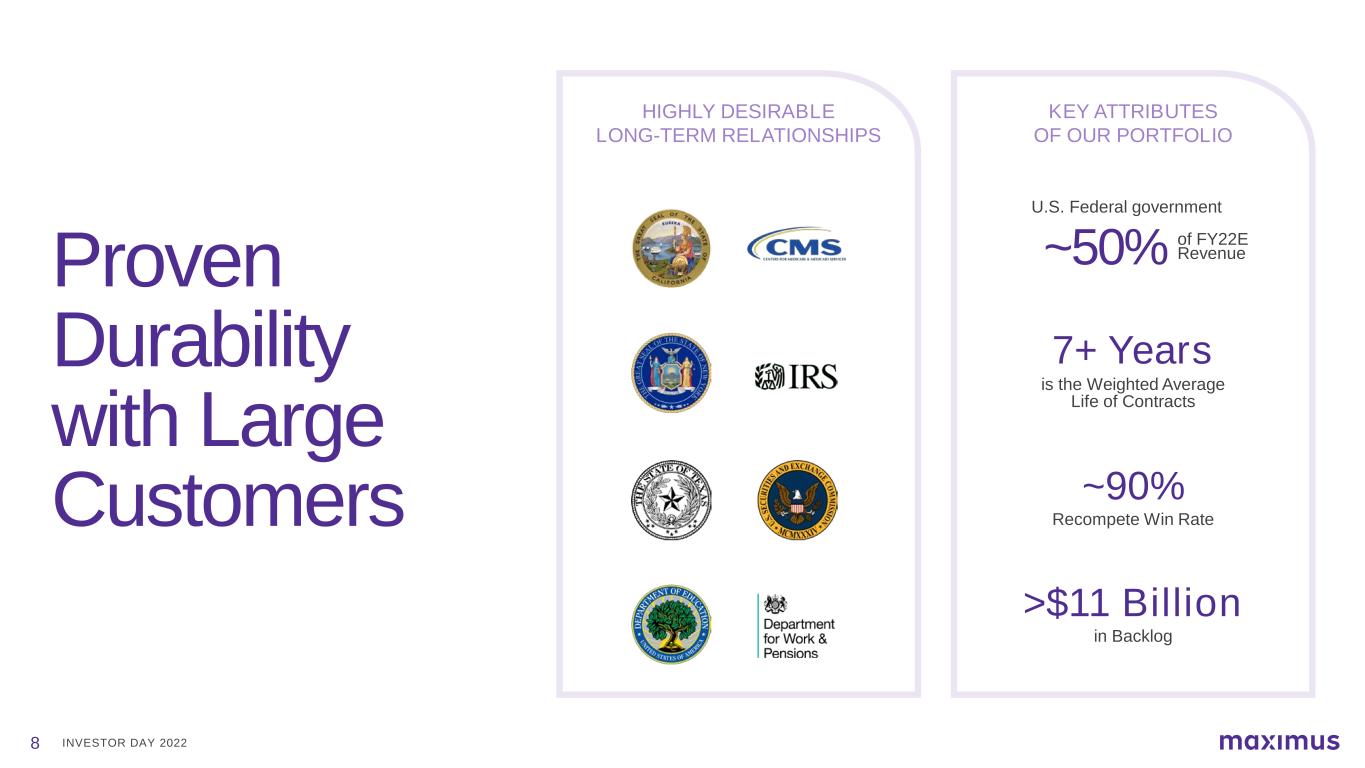 INVESTOR DAY 20228 Proven Durability with Large Customers HIGHLY DESIRABLE LONG-TERM RELATIONSHIPS KEY ATTRIBUTES OF OUR PORTFOLIO U.S. Federal government ~50% of FY22E Revenue 7+ Years is the Weighted Average Life of Contracts ~90% Recompete Win Rate >$11 Billion in Backlog
---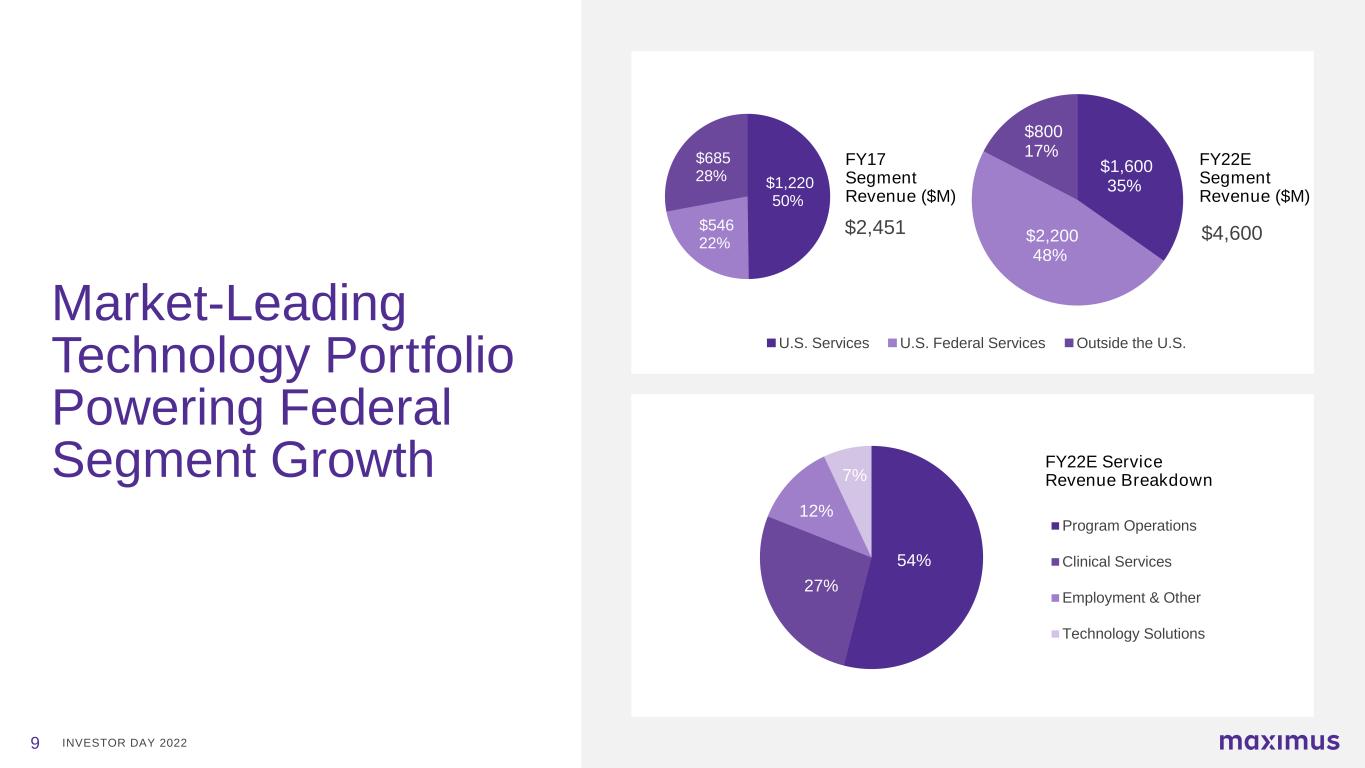 INVESTOR DAY 2022 $1,220 50% $546 22% $685 28% $2,451 $1,600 35% $2,200 48% $800 17% $4,600 54% 27% 12% 7% Program Operations Clinical Services Employment & Other Technology Solutions FY17 Segment Revenue ($M) FY22E Service Revenue Breakdown 9 Market-Leading Technology Portfolio Powering Federal Segment Growth FY22E Segment Revenue ($M) U.S. Services U.S. Federal Services Outside the U.S.
---
INVESTOR DAY 2022 Historical Approaches to Long-term Growth Digital Transformation Using digital technologies to: • Improve efficiency and streamline programs • Serve people by making it easier for them to engage with these programs Examples • Digital Engagement • Analytics & Technology • Attain Federal (2021) Clinical Evolution An extensive network of healthcare professionals who: • Complete clinical assessments • Provide occupational health services and IMRs • Adjudicate complicated benefits appeals Examples • Long-Term Services & Supports • Workers Compensation Reviews • Veterans Evaluation Services (VES) (2021) Market Expansion Growth through a combination of: • Bringing core capabilities to new programs and clients • Adding new capabilities to address adjacent markets • Geographic expansion Examples • Health Management (2013) • U.S. Federal Citizen Engagement Centers (2018) • Attain Federal & VES (2021) • Navient Contract Novation (2021) 10
---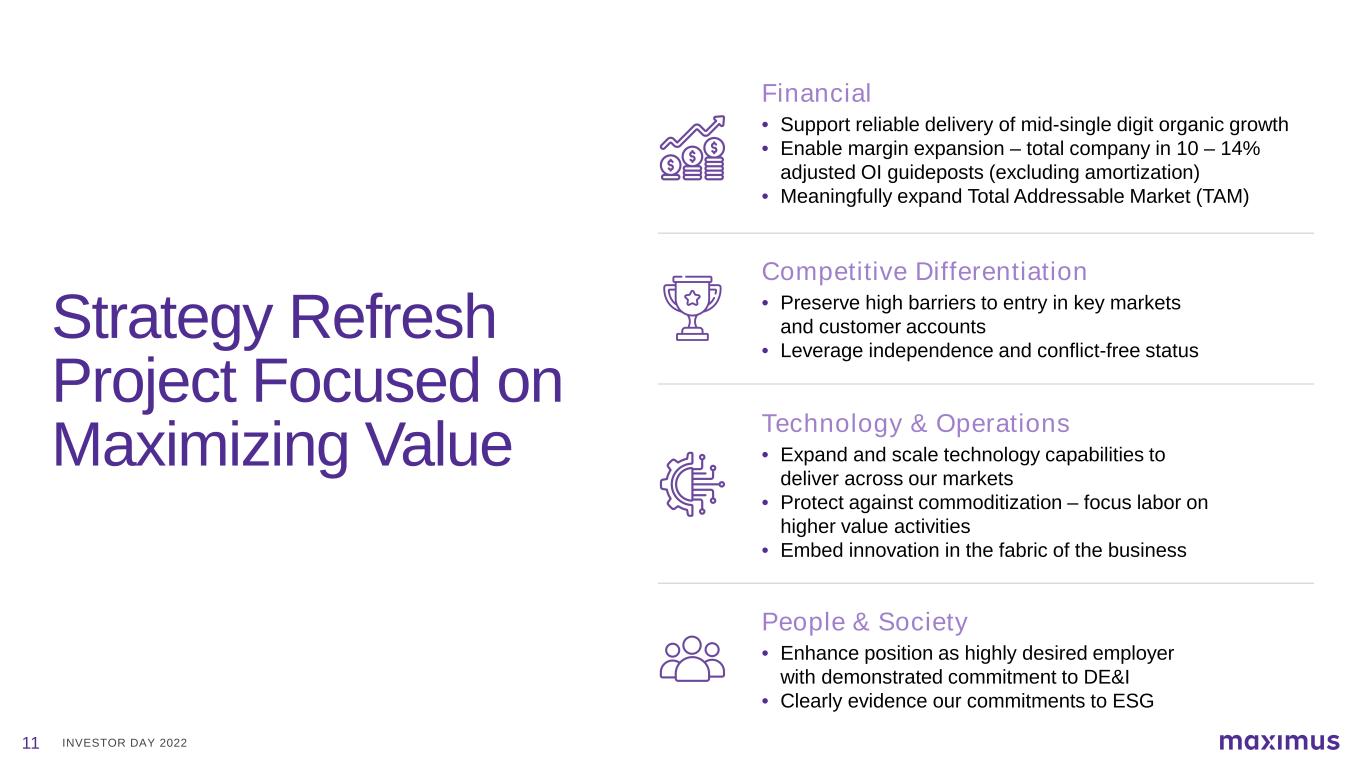 INVESTOR DAY 202211 Strategy Refresh Project Focused on Maximizing Value Financial • Support reliable delivery of mid-single digit organic growth • Enable margin expansion – total company in 10 – 14% adjusted OI guideposts (excluding amortization) • Meaningfully expand Total Addressable Market (TAM) Competitive Differentiation • Preserve high barriers to entry in key markets and customer accounts • Leverage independence and conflict-free status Technology & Operations • Expand and scale technology capabilities to deliver across our markets • Protect against commoditization – focus labor on higher value activities • Embed innovation in the fabric of the business People & Society • Enhance position as highly desired employer with demonstrated commitment to DE&I • Clearly evidence our commitments to ESG
---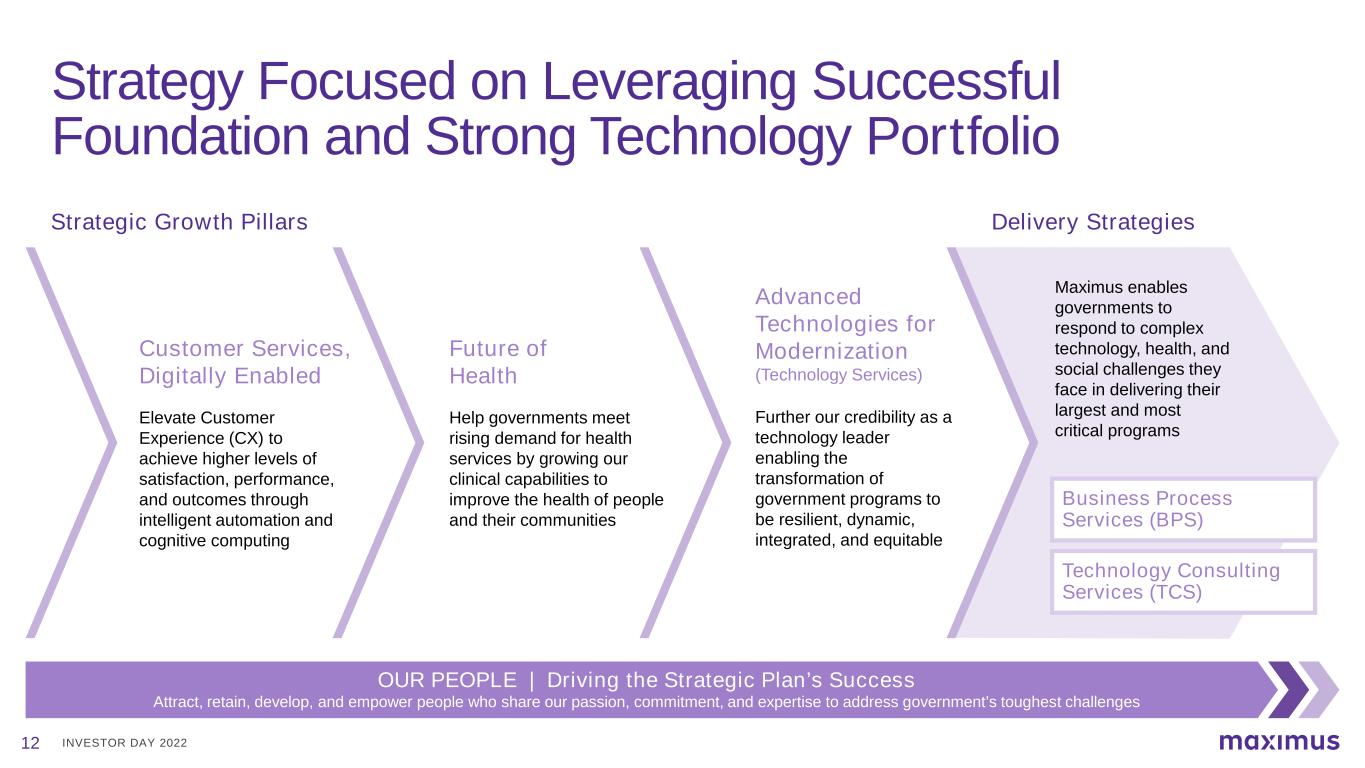 INVESTOR DAY 2022 Strategy Focused on Leveraging Successful Foundation and Strong Technology Portfolio Strategic Growth Pillars Delivery Strategies 12 OUR PEOPLE | Driving the Strategic Plan's Success Attract, retain, develop, and empower people who share our passion, commitment, and expertise to address government's toughest challenges Maximus enables governments to respond to complex technology, health, and social challenges they face in delivering their largest and most critical programs Business Process Services (BPS) Technology Consulting Services (TCS) Advanced Technologies for Modernization (Technology Services) Further our credibility as a technology leader enabling the transformation of government programs to be resilient, dynamic, integrated, and equitable Future of Health Help governments meet rising demand for health services by growing our clinical capabilities to improve the health of people and their communities Customer Services, Digitally Enabled Elevate Customer Experience (CX) to achieve higher levels of satisfaction, performance, and outcomes through intelligent automation and cognitive computing
---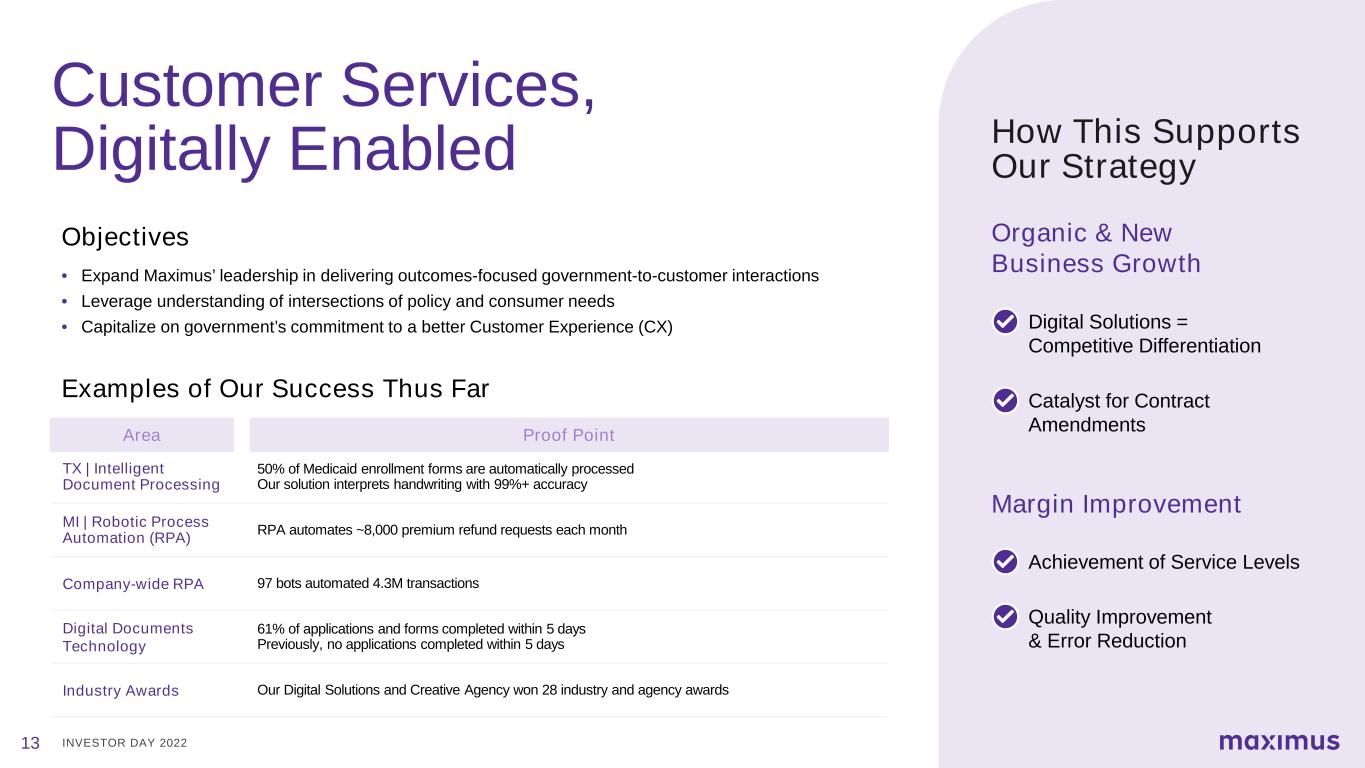 INVESTOR DAY 202213 Customer Services, Digitally Enabled Examples of Our Success Thus Far • Expand Maximus' leadership in delivering outcomes-focused government-to-customer interactions • Leverage understanding of intersections of policy and consumer needs • Capitalize on government's commitment to a better Customer Experience (CX) Objectives TX | Intelligent Document Processing 50% of Medicaid enrollment forms are automatically processed Our solution interprets handwriting with 99%+ accuracy MI | Robotic Process Automation (RPA) RPA automates ~8,000 premium refund requests each month Digital Documents Technology 61% of applications and forms completed within 5 days Previously, no applications completed within 5 days Company-wide RPA 97 bots automated 4.3M transactions Industry Awards Our Digital Solutions and Creative Agency won 28 industry and agency awards Area Proof Point How This Supports Our Strategy Digital Solutions = Competitive Differentiation Organic & New Business Growth Catalyst for Contract Amendments Achievement of Service Levels Margin Improvement Quality Improvement & Error Reduction
---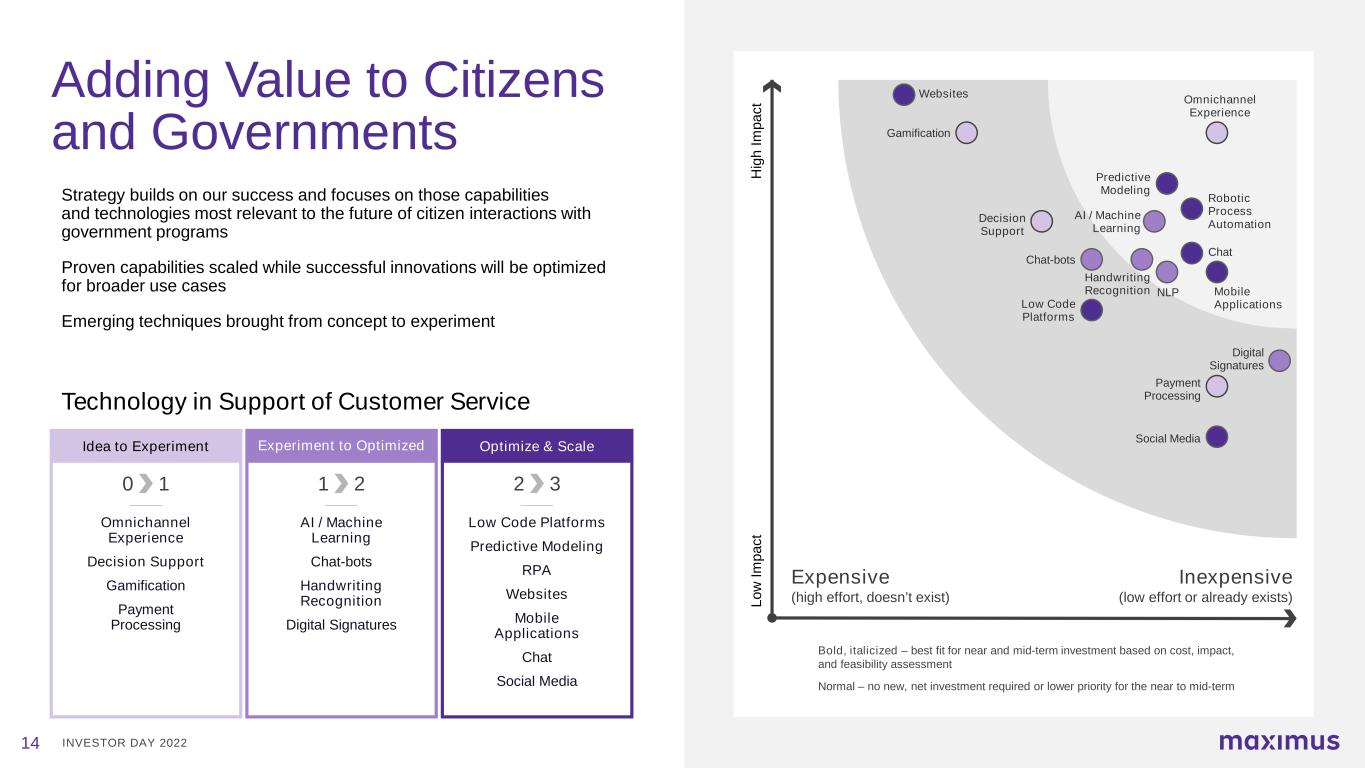 INVESTOR DAY 202214 Adding Value to Citizens and Governments Strategy builds on our success and focuses on those capabilities and technologies most relevant to the future of citizen interactions with government programs Proven capabilities scaled while successful innovations will be optimized for broader use cases Emerging techniques brought from concept to experiment Technology in Support of Customer Service Bold, italicized – best fit for near and mid-term investment based on cost, impact, and feasibility assessment Normal – no new, net investment required or lower priority for the near to mid-term H ig h Im pa ct Lo w Im pa ct Expensive (high effort, doesn't exist) Inexpensive (low effort or already exists) Idea to Experiment Omnichannel Experience Decision Support Gamification Payment Processing 10 Experiment to Optimized AI / Machine Learning Chat-bots Handwriting Recognition Digital Signatures 21 Optimize & Scale Low Code Platforms Predictive Modeling RPA Websites Mobile Applications Chat Social Media 32 Omnichannel Experience Gamification Decision Support Payment Processing AI / Machine Learning NLP Digital Signatures Handwriting Recognition Chat-bots Low Code Platforms Websites Mobile Applications Chat Social Media Robotic Process Automation Predictive Modeling
---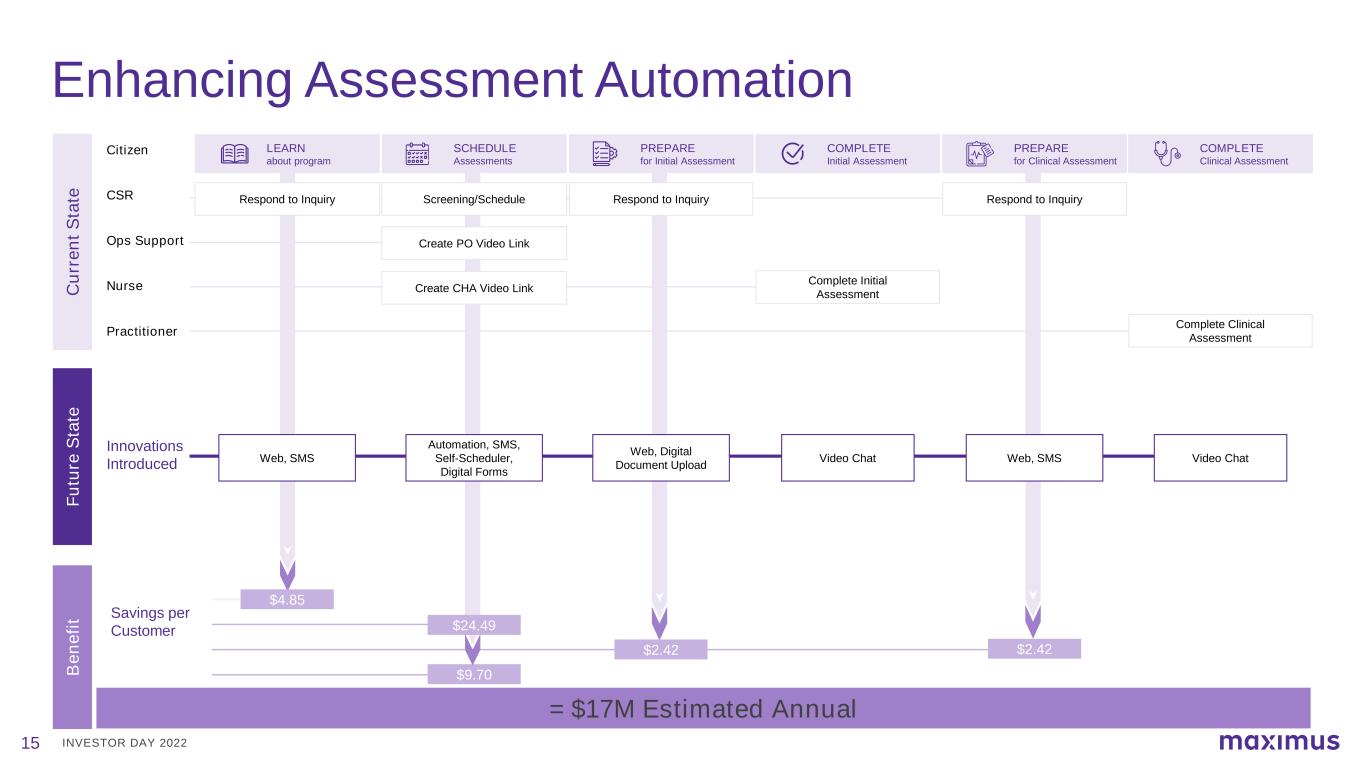 INVESTOR DAY 2022 B en ef it $4.85 $24.49 $9.70 $2.42 $2.42 = $17M Estimated Annual Savings per Customer 15 Enhancing Assessment Automation LEARN about program C ur re nt S ta te Respond to Inquiry Screening/Schedule Respond to Inquiry SCHEDULE Assessments PREPARE for Initial Assessment COMPLETE Initial Assessment COMPLETE Clinical Assessment PREPARE for Clinical Assessment Respond to Inquiry Create PO Video Link Create CHA Video Link Complete Initial Assessment Complete Clinical Assessment Citizen CSR Ops Support Nurse Practitioner Fu tu re S ta te Innovations Introduced Web, SMS Automation, SMS, Self-Scheduler, Digital Forms Web, Digital Document Upload Video Chat Web, SMS Video Chat
---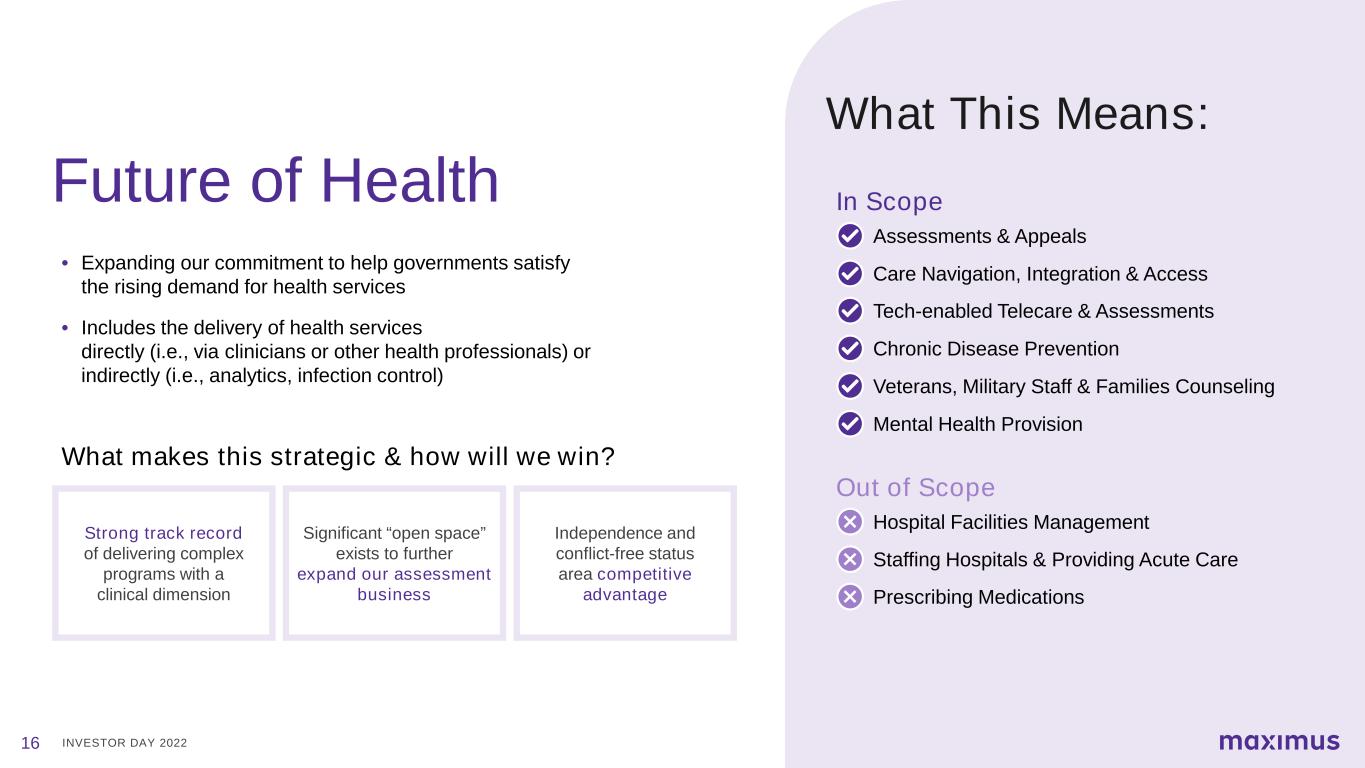 INVESTOR DAY 2022 • Expanding our commitment to help governments satisfy the rising demand for health services • Includes the delivery of health services directly (i.e., via clinicians or other health professionals) or indirectly (i.e., analytics, infection control) What makes this strategic & how will we win? Strong track record of delivering complex programs with a clinical dimension Significant "open space" exists to further expand our assessment business Independence and conflict-free status area competitive advantage 16 Assessments & Appeals In Scope Care Navigation, Integration & Access Tech-enabled Telecare & Assessments Chronic Disease Prevention Out of Scope Hospital Facilities Management Staffing Hospitals & Providing Acute Care Prescribing Medications Veterans, Military Staff & Families Counseling Mental Health Provision What This Means: Future of Health
---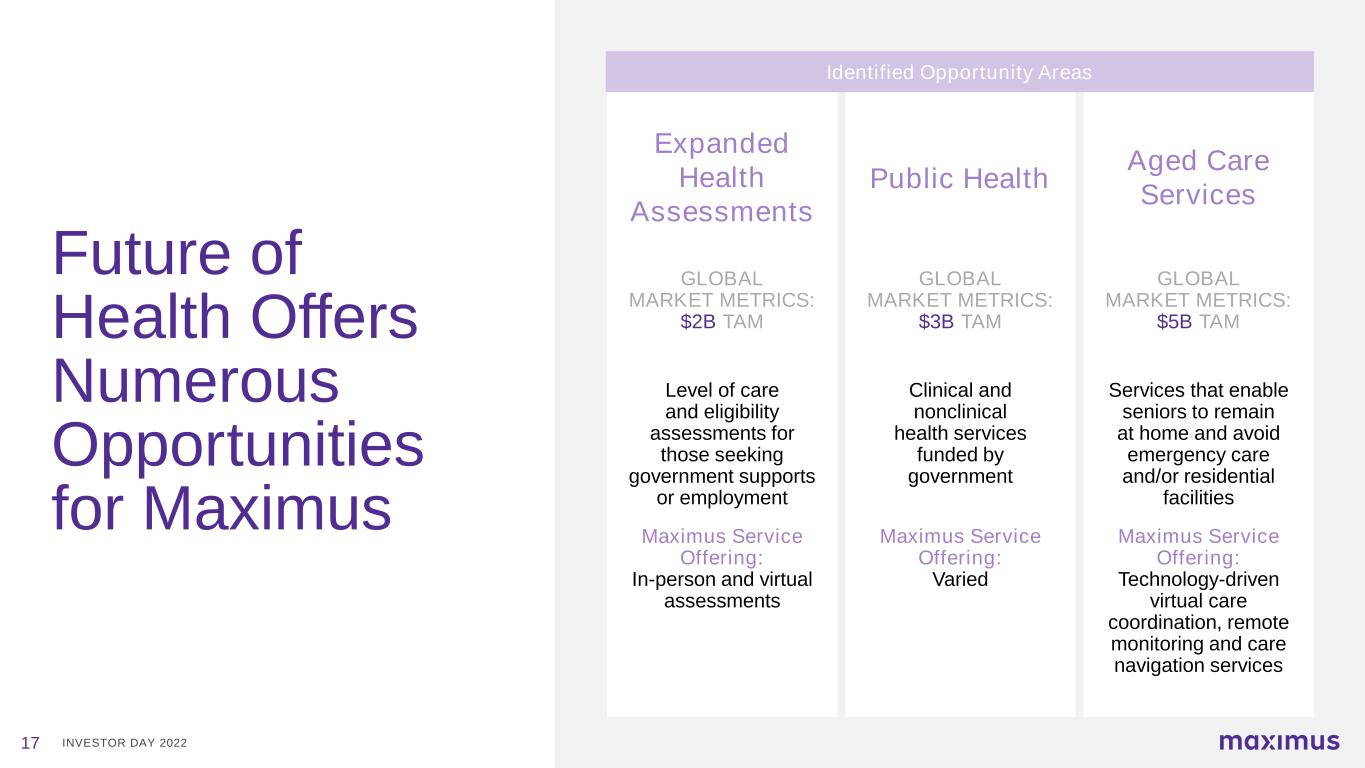 INVESTOR DAY 2022 Expanded Health Assessments GLOBAL MARKET METRICS: $2B TAM Level of care and eligibility assessments for those seeking government supports or employment Maximus Service Offering: In-person and virtual assessments Public Health GLOBAL MARKET METRICS: $3B TAM Clinical and nonclinical health services funded by government Maximus Service Offering: Varied Aged Care Services GLOBAL MARKET METRICS: $5B TAM Services that enable seniors to remain at home and avoid emergency care and/or residential facilities Maximus Service Offering: Technology-driven virtual care coordination, remote monitoring and care navigation services Future of Health Offers Numerous Opportunities for Maximus 17 Identified Opportunity Areas
---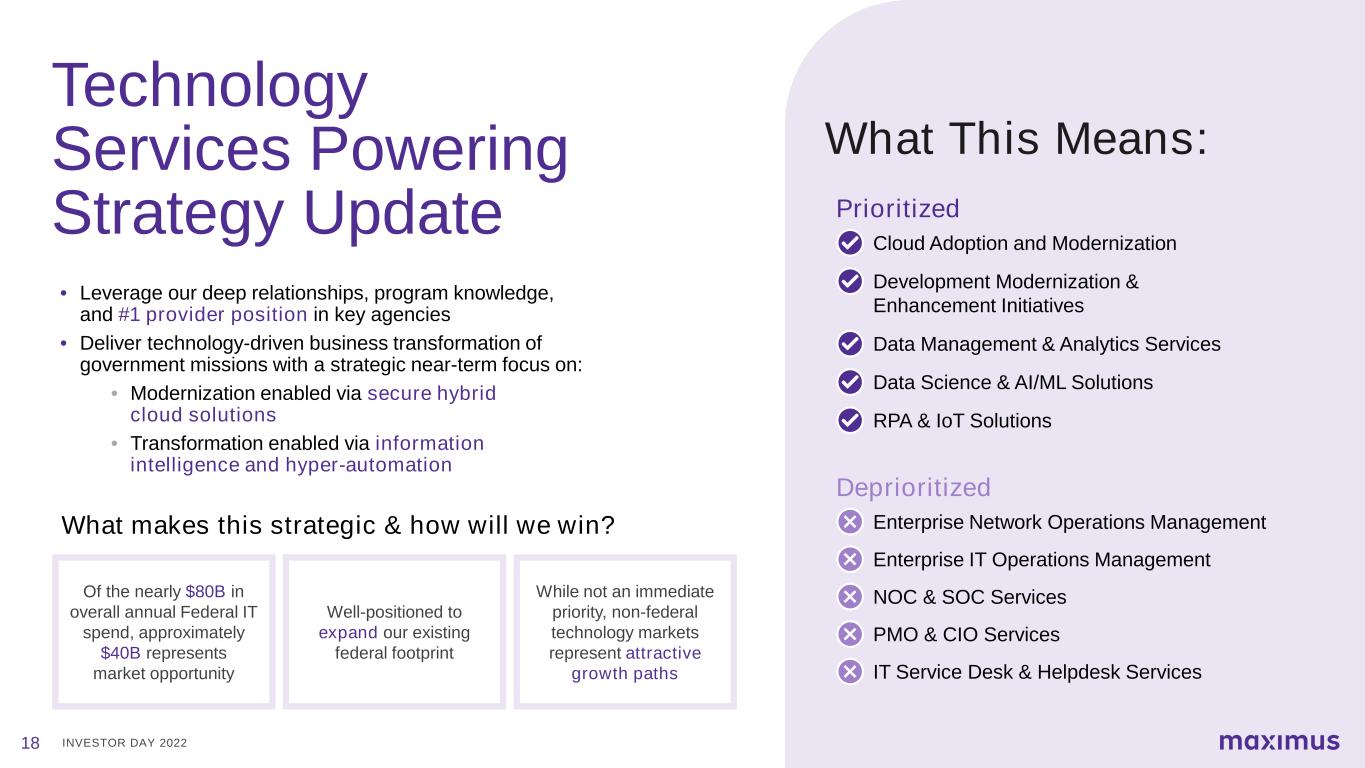 INVESTOR DAY 202218 Technology Services Powering Strategy Update Cloud Adoption and Modernization Prioritized Development Modernization & Enhancement Initiatives Data Management & Analytics Services Data Science & AI/ML Solutions RPA & IoT Solutions Deprioritized Enterprise Network Operations Management Enterprise IT Operations Management NOC & SOC Services PMO & CIO Services IT Service Desk & Helpdesk Services What This Means: • Leverage our deep relationships, program knowledge, and #1 provider position in key agencies • Deliver technology-driven business transformation of government missions with a strategic near-term focus on: • Modernization enabled via secure hybrid cloud solutions • Transformation enabled via information intelligence and hyper-automation What makes this strategic & how will we win? Of the nearly $80B in overall annual Federal IT spend, approximately $40B represents market opportunity Well-positioned to expand our existing federal footprint While not an immediate priority, non-federal technology markets represent attractive growth paths
---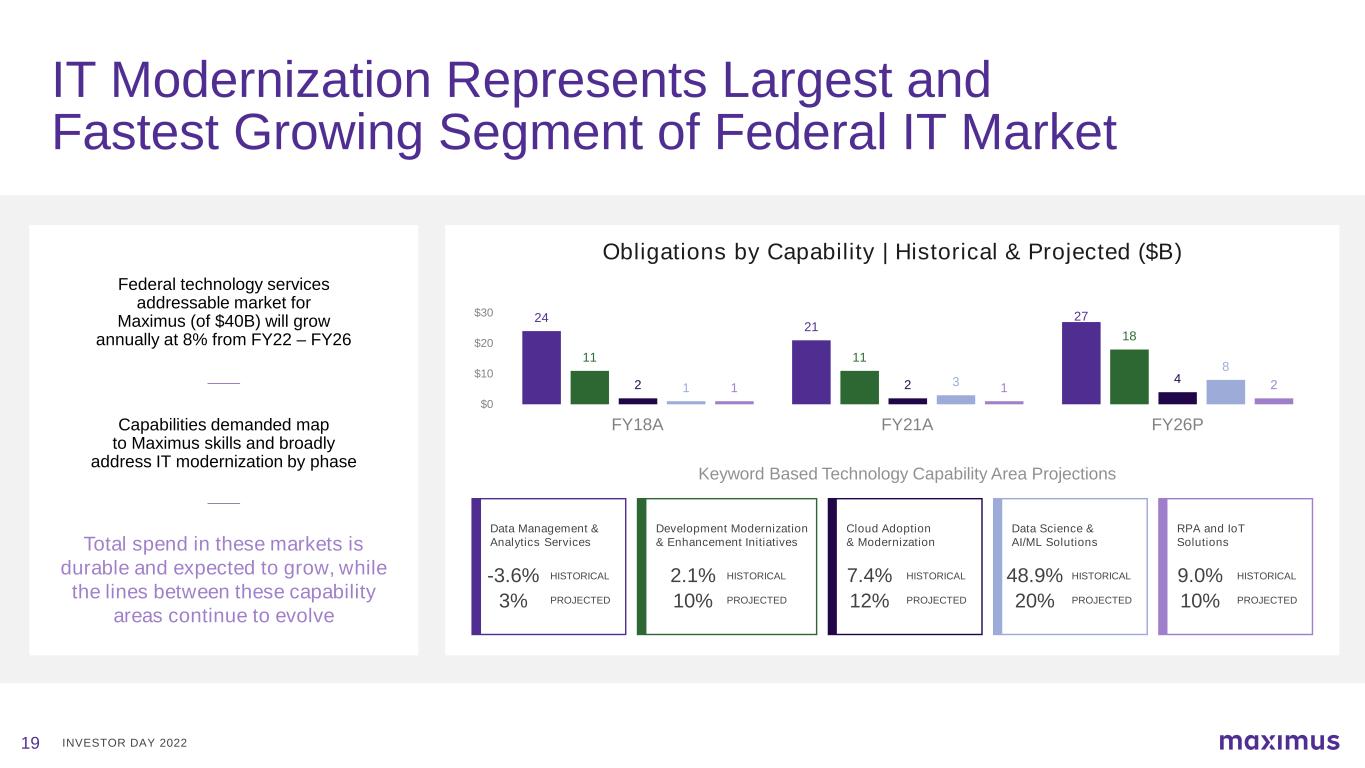 INVESTOR DAY 202219 IT Modernization Represents Largest and Fastest Growing Segment of Federal IT Market Obligations by Capability | Historical & Projected ($B) 24 21 27 11 11 18 2 2 41 3 8 1 1 2 $0 $10 $20 $30 FY18A FY21A FY26P Data Management & Analytics Services -3.6% HISTORICAL 3% PROJECTED Federal technology services addressable market for Maximus (of $40B) will grow annually at 8% from FY22 – FY26 Capabilities demanded map to Maximus skills and broadly address IT modernization by phase Total spend in these markets is durable and expected to grow, while the lines between these capability areas continue to evolve Keyword Based Technology Capability Area Projections Cloud Adoption & Modernization 7.4% 12% HISTORICAL PROJECTED Data Science & AI/ML Solutions 48.9% 20% HISTORICAL PROJECTED RPA and IoT Solutions 9.0% 10% HISTORICAL PROJECTED Development Modernization & Enhancement Initiatives 2.1% 10% HISTORICAL PROJECTED
---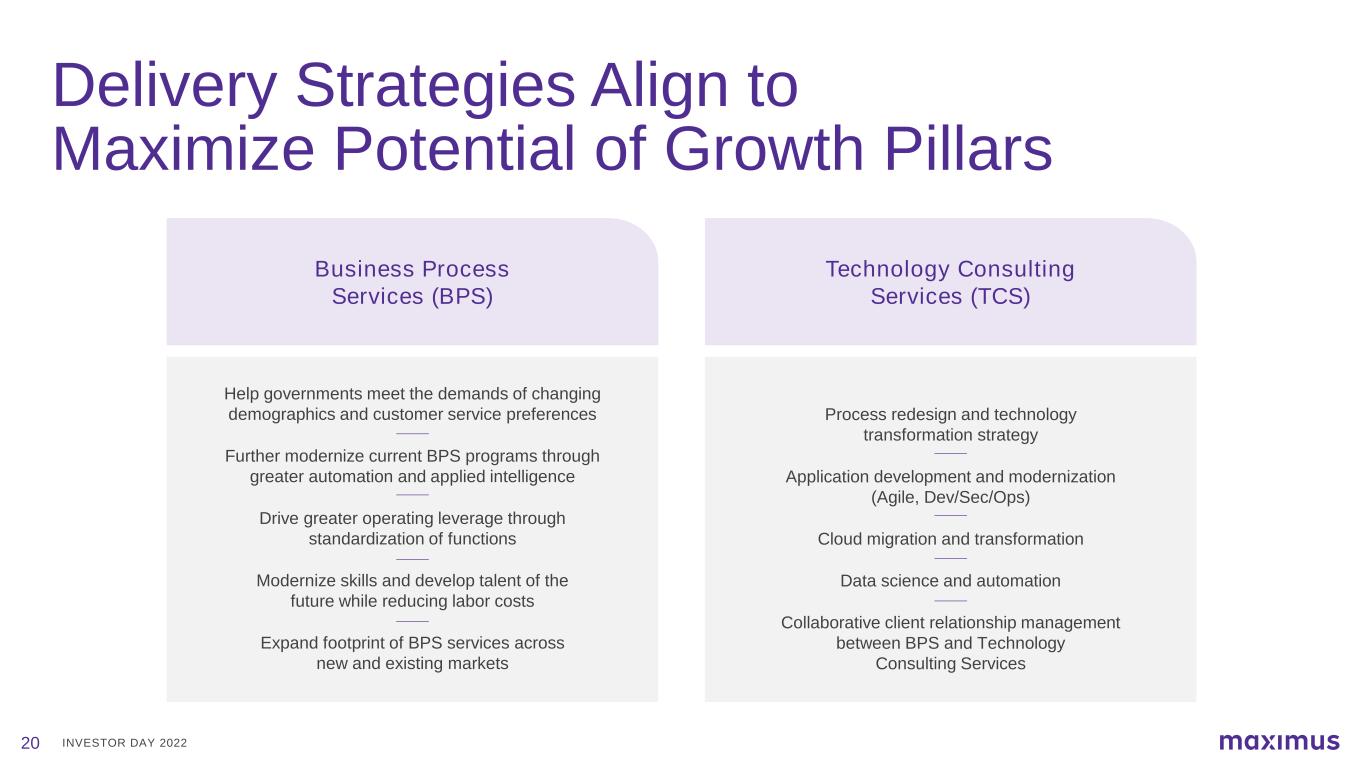 INVESTOR DAY 202220 Delivery Strategies Align to Maximize Potential of Growth Pillars Business Process Services (BPS) Help governments meet the demands of changing demographics and customer service preferences Further modernize current BPS programs through greater automation and applied intelligence Drive greater operating leverage through standardization of functions Modernize skills and develop talent of the future while reducing labor costs Expand footprint of BPS services across new and existing markets Technology Consulting Services (TCS) Process redesign and technology transformation strategy Application development and modernization (Agile, Dev/Sec/Ops) Cloud migration and transformation Data science and automation Collaborative client relationship management between BPS and Technology Consulting Services
---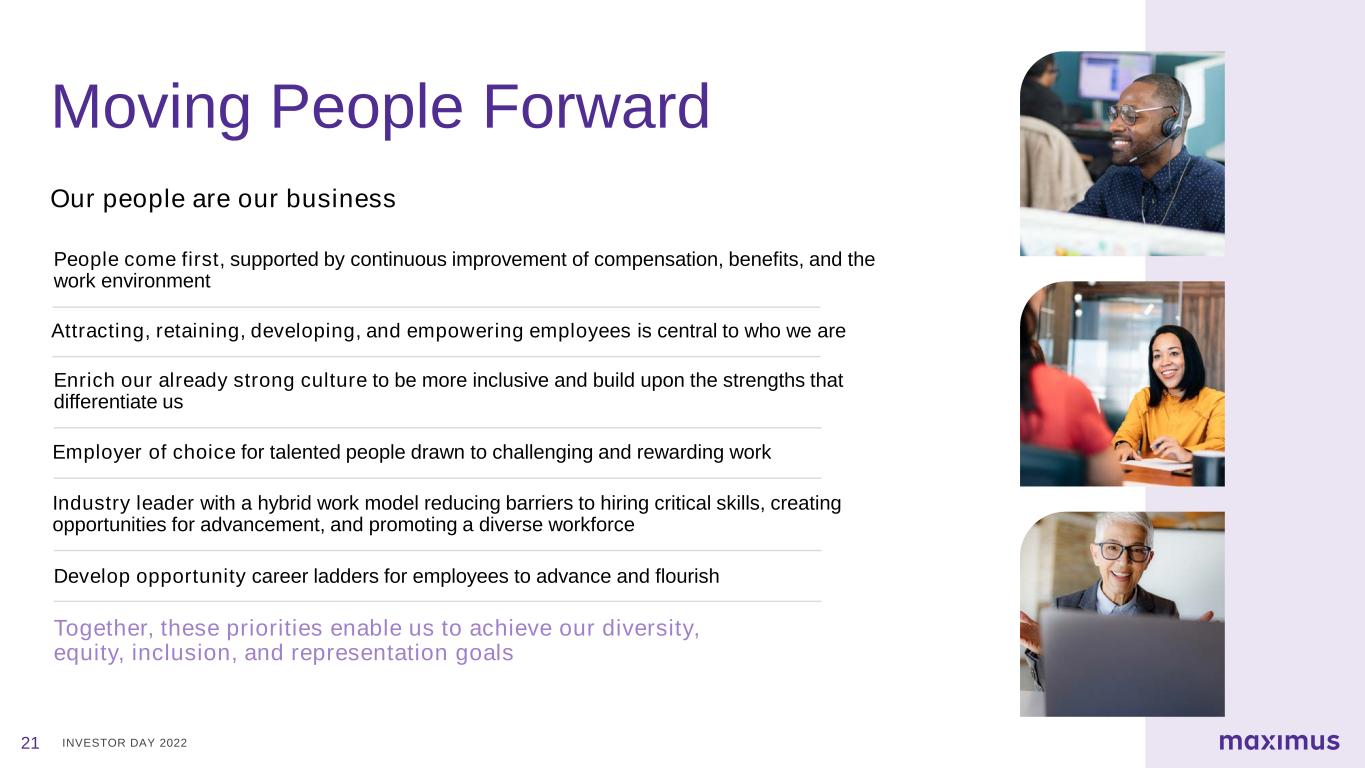 INVESTOR DAY 202221 Moving People Forward Together, these priorities enable us to achieve our diversity, equity, inclusion, and representation goals Our people are our business Enrich our already strong culture to be more inclusive and build upon the strengths that differentiate us Employer of choice for talented people drawn to challenging and rewarding work Industry leader with a hybrid work model reducing barriers to hiring critical skills, creating opportunities for advancement, and promoting a diverse workforce Develop opportunity career ladders for employees to advance and flourish Attracting, retaining, developing, and empowering employees is central to who we are People come first, supported by continuous improvement of compensation, benefits, and the work environment
---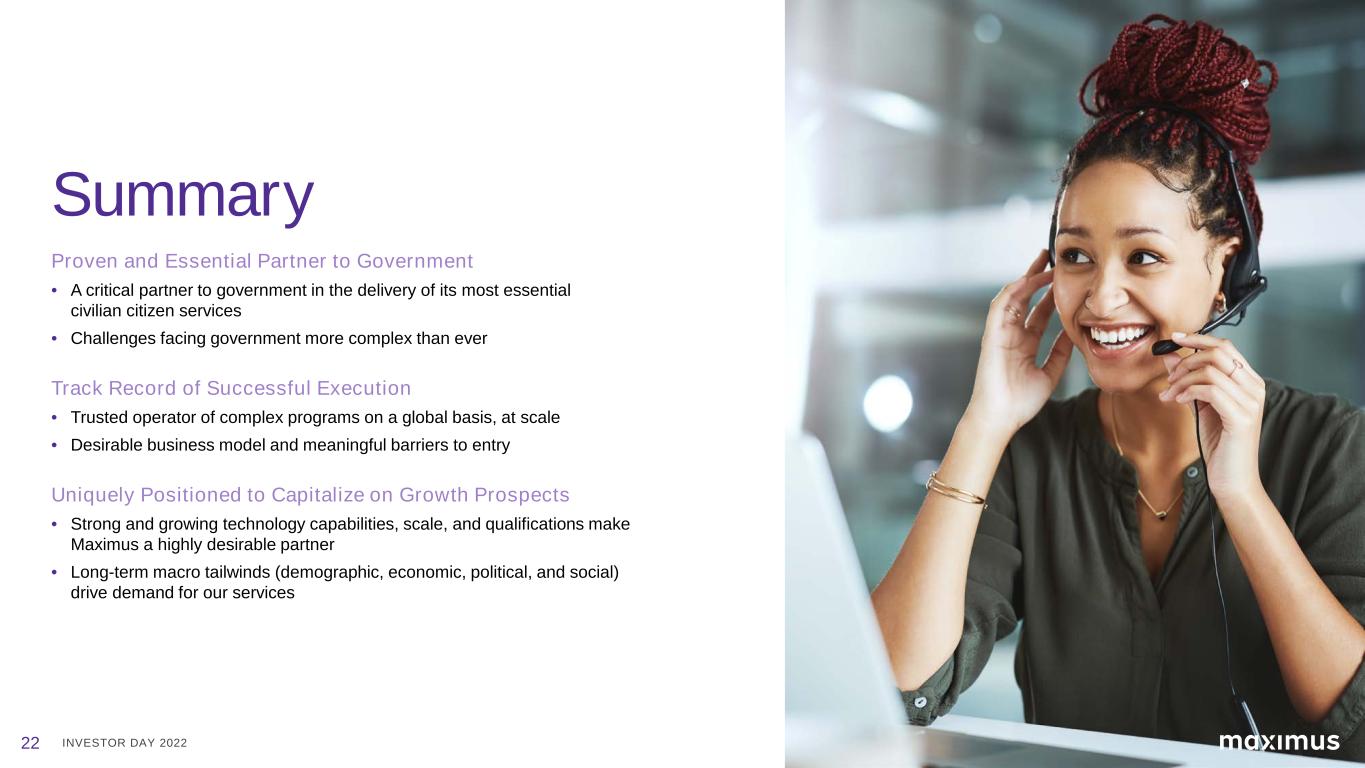 INVESTOR DAY 202222 Summary Proven and Essential Partner to Government • A critical partner to government in the delivery of its most essential civilian citizen services • Challenges facing government more complex than ever Track Record of Successful Execution • Trusted operator of complex programs on a global basis, at scale • Desirable business model and meaningful barriers to entry Uniquely Positioned to Capitalize on Growth Prospects • Strong and growing technology capabilities, scale, and qualifications make Maximus a highly desirable partner • Long-term macro tailwinds (demographic, economic, political, and social) drive demand for our services
---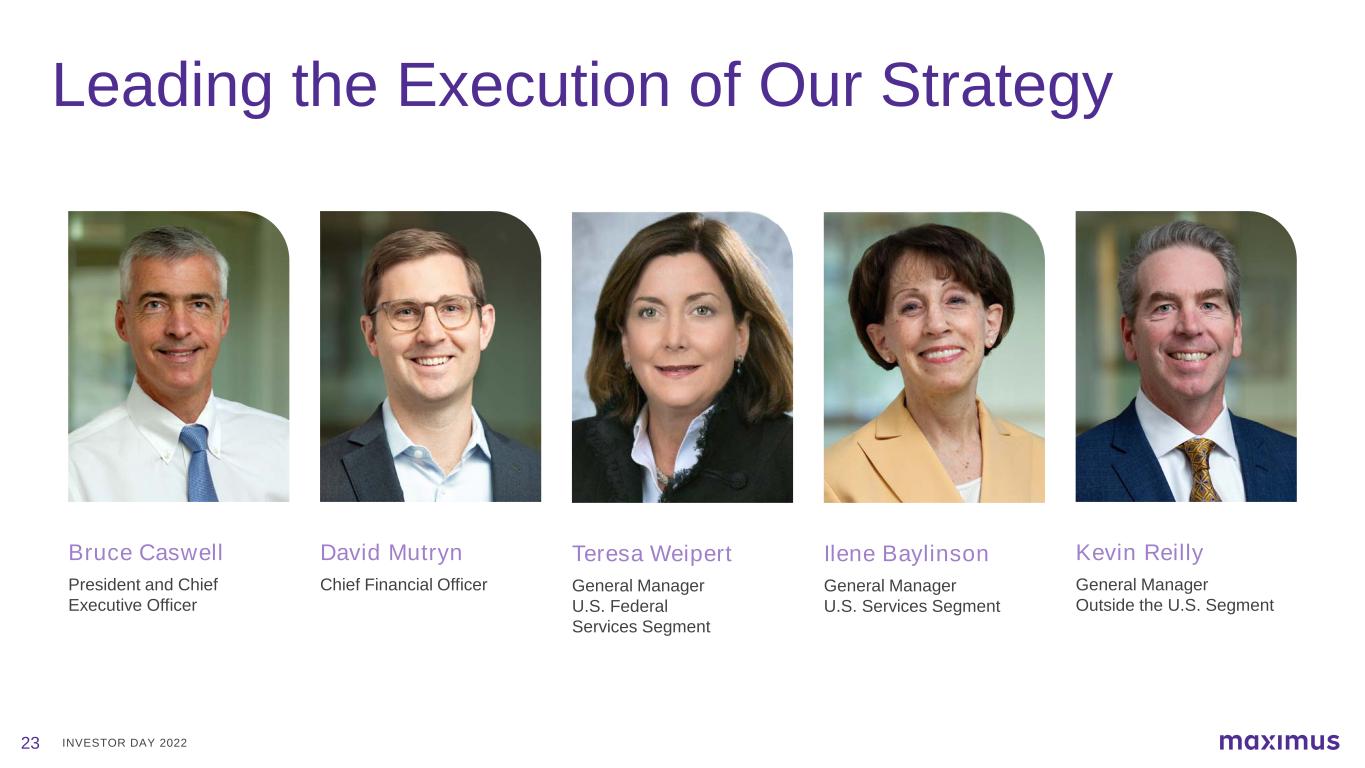 INVESTOR DAY 202223 Leading the Execution of Our Strategy Bruce Caswell President and Chief Executive Officer David Mutryn Chief Financial Officer Ilene Baylinson General Manager U.S. Services Segment Teresa Weipert General Manager U.S. Federal Services Segment Kevin Reilly General Manager Outside the U.S. Segment
---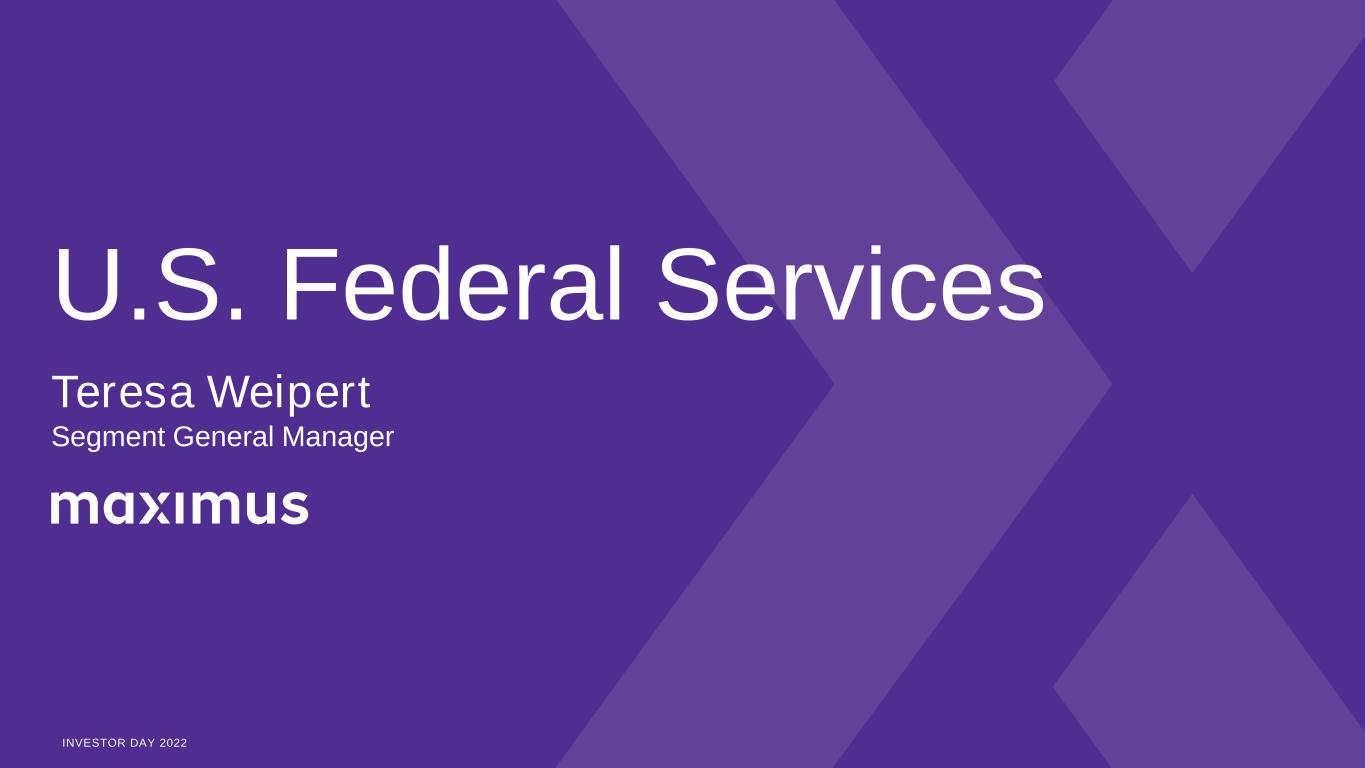 INVESTOR DAY 2022 U.S. Federal Services Teresa Weipert Segment General Manager
---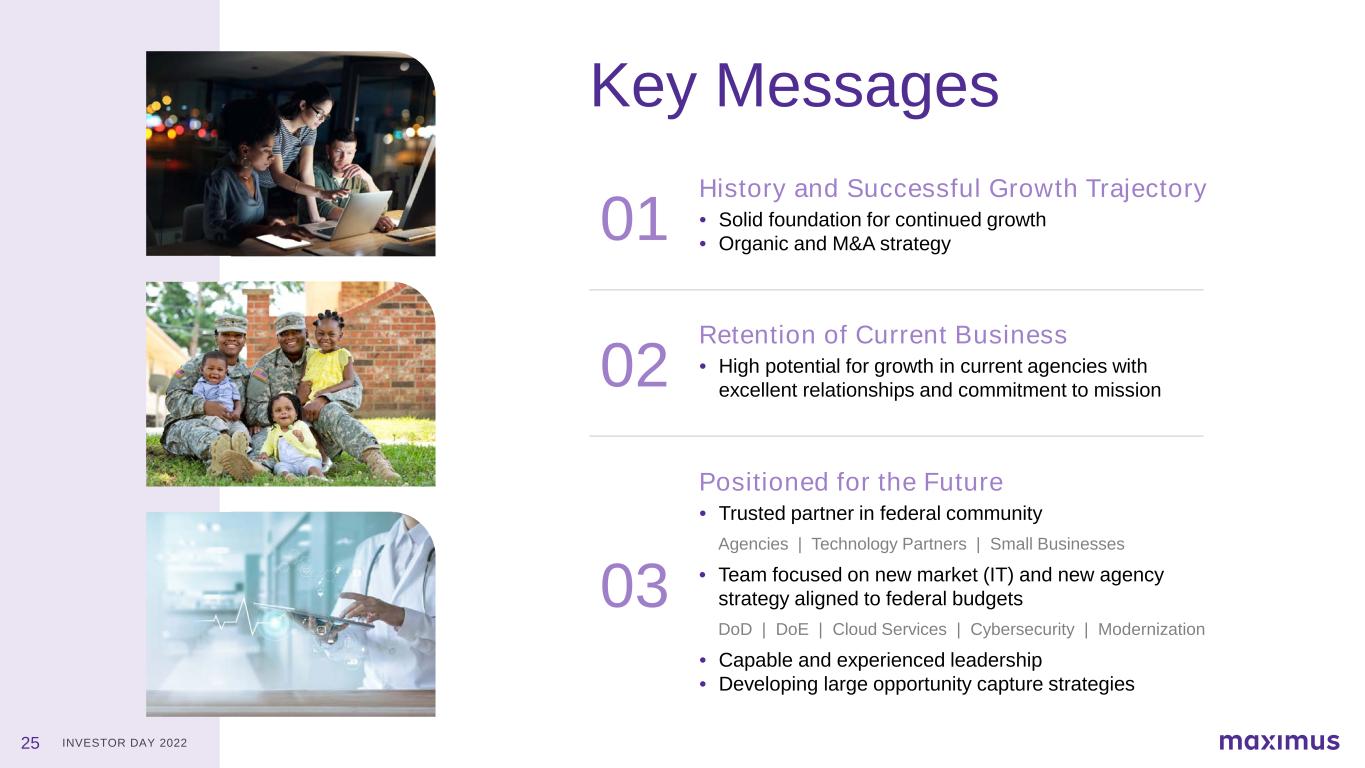 INVESTOR DAY 202225 Key Messages History and Successful Growth Trajectory • Solid foundation for continued growth • Organic and M&A strategy01 Retention of Current Business • High potential for growth in current agencies with excellent relationships and commitment to mission02 Positioned for the Future • Trusted partner in federal community Agencies | Technology Partners | Small Businesses • Team focused on new market (IT) and new agency strategy aligned to federal budgets DoD | DoE | Cloud Services | Cybersecurity | Modernization • Capable and experienced leadership • Developing large opportunity capture strategies 03
---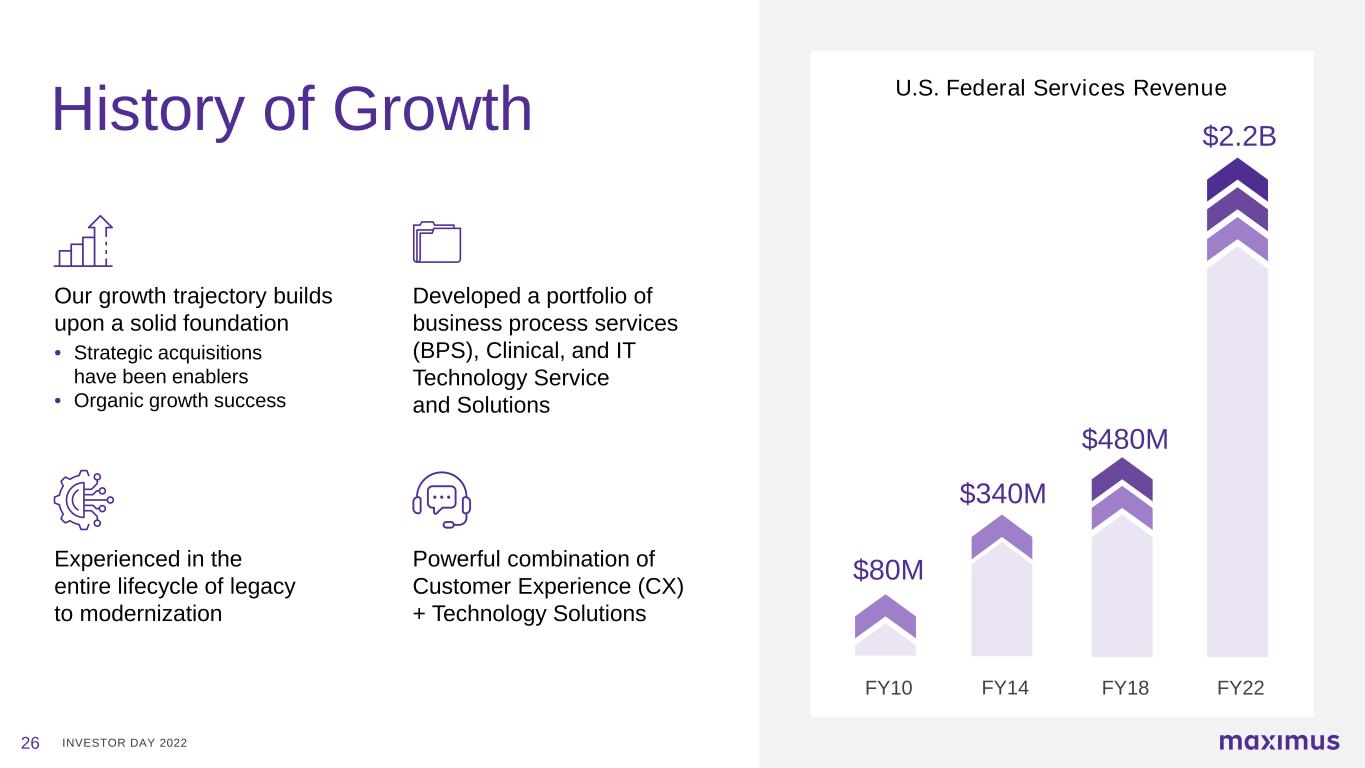 INVESTOR DAY 2022 History of Growth U.S. Federal Services Revenue Powerful combination of Customer Experience (CX) + Technology Solutions Developed a portfolio of business process services (BPS), Clinical, and IT Technology Service and Solutions Our growth trajectory builds upon a solid foundation • Strategic acquisitions have been enablers • Organic growth success Experienced in the entire lifecycle of legacy to modernization FY22 $2.2B FY10 $80M FY18 $480M FY14 $340M 26
---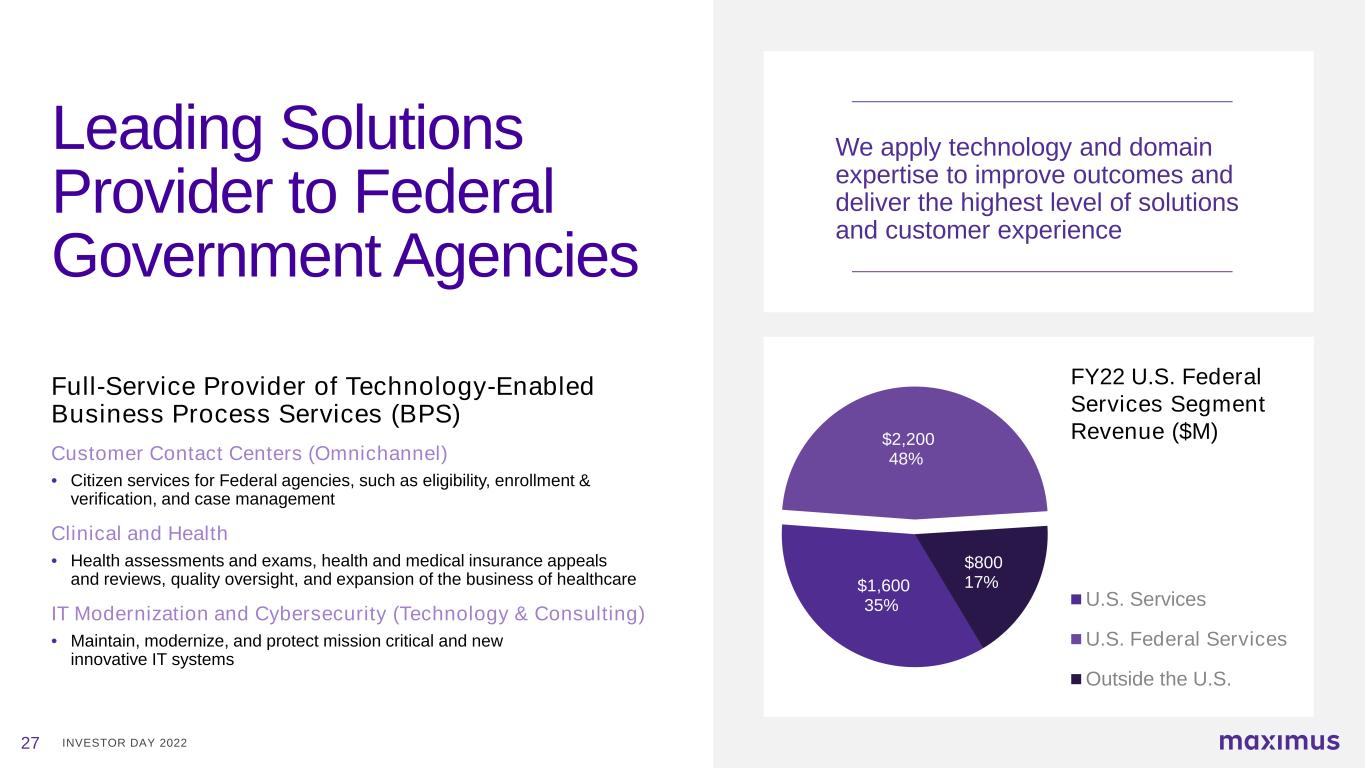 INVESTOR DAY 2022 Leading Solutions Provider to Federal Government Agencies Full-Service Provider of Technology-Enabled Business Process Services (BPS) Customer Contact Centers (Omnichannel) • Citizen services for Federal agencies, such as eligibility, enrollment & verification, and case management Clinical and Health • Health assessments and exams, health and medical insurance appeals and reviews, quality oversight, and expansion of the business of healthcare IT Modernization and Cybersecurity (Technology & Consulting) • Maintain, modernize, and protect mission critical and new innovative IT systems 27 We apply technology and domain expertise to improve outcomes and deliver the highest level of solutions and customer experience $1,600 35% $2,200 48% $800 17% U.S. Services U.S. Federal Services Outside the U.S. FY22 U.S. Federal Services Segment Revenue ($M)
---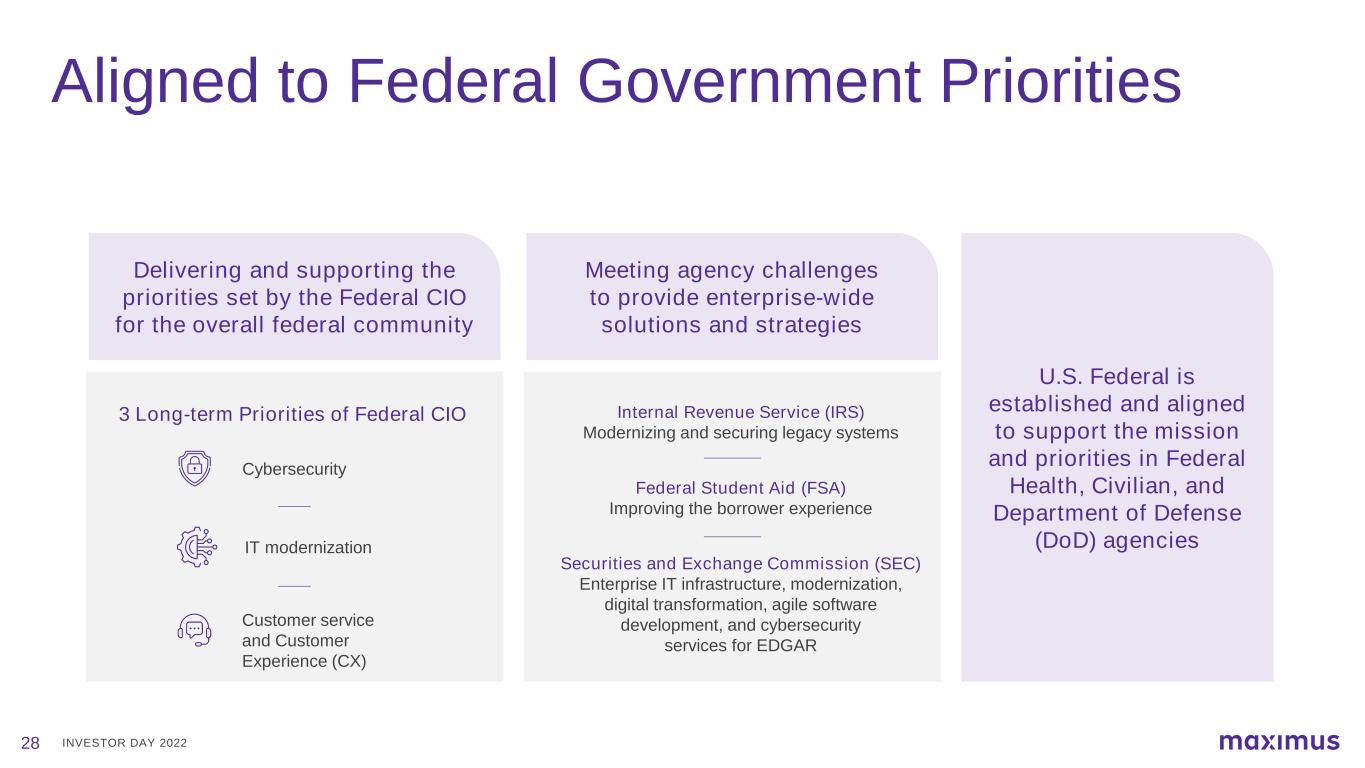 INVESTOR DAY 2022 Meeting agency challenges to provide enterprise-wide solutions and strategies Internal Revenue Service (IRS) Modernizing and securing legacy systems Federal Student Aid (FSA) Improving the borrower experience Securities and Exchange Commission (SEC) Enterprise IT infrastructure, modernization, digital transformation, agile software development, and cybersecurity services for EDGAR U.S. Federal is established and aligned to support the mission and priorities in Federal Health, Civilian, and Department of Defense (DoD) agencies 28 Delivering and supporting the priorities set by the Federal CIO for the overall federal community 3 Long-term Priorities of Federal CIO Cybersecurity IT modernization Customer service and Customer Experience (CX) Aligned to Federal Government Priorities
---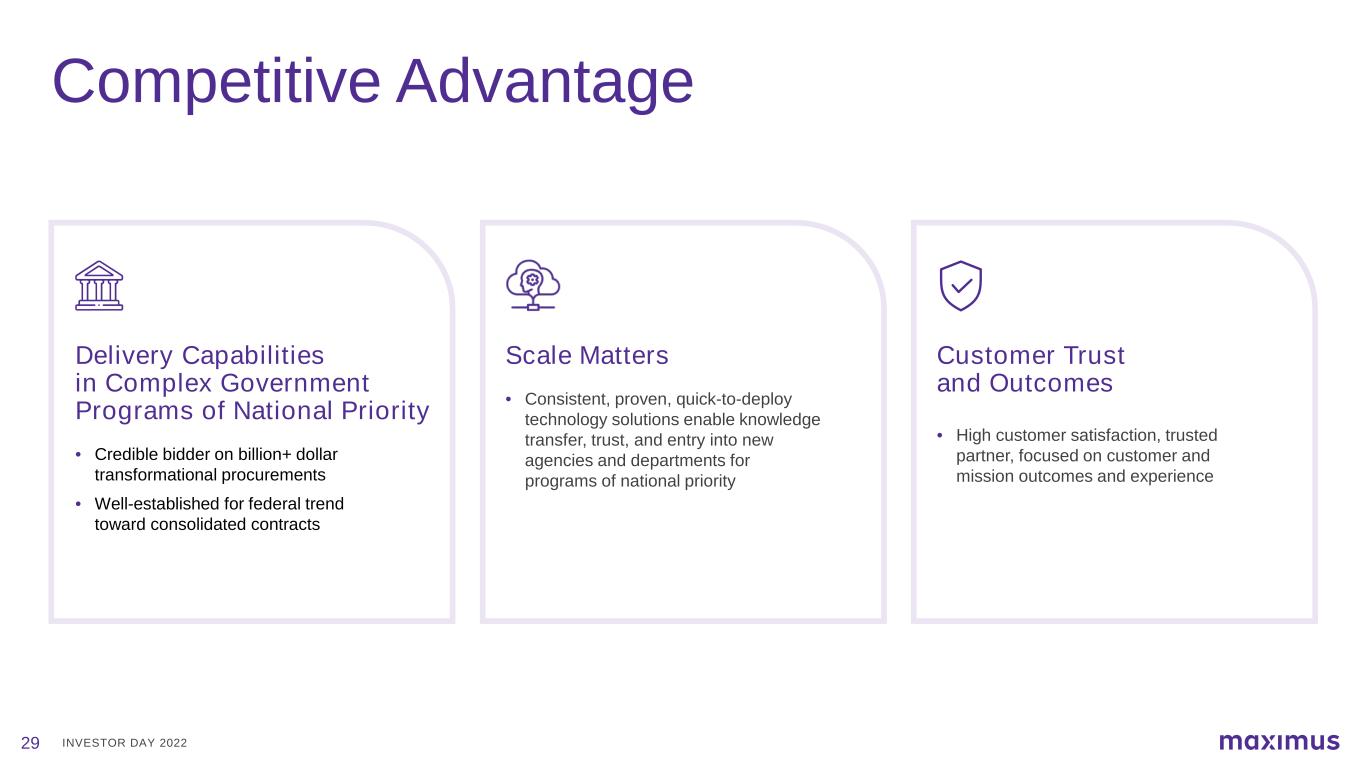 INVESTOR DAY 202229 Competitive Advantage Delivery Capabilities in Complex Government Programs of National Priority • Credible bidder on billion+ dollar transformational procurements • Well-established for federal trend toward consolidated contracts Customer Trust and Outcomes • High customer satisfaction, trusted partner, focused on customer and mission outcomes and experience Scale Matters • Consistent, proven, quick-to-deploy technology solutions enable knowledge transfer, trust, and entry into new agencies and departments for programs of national priority
---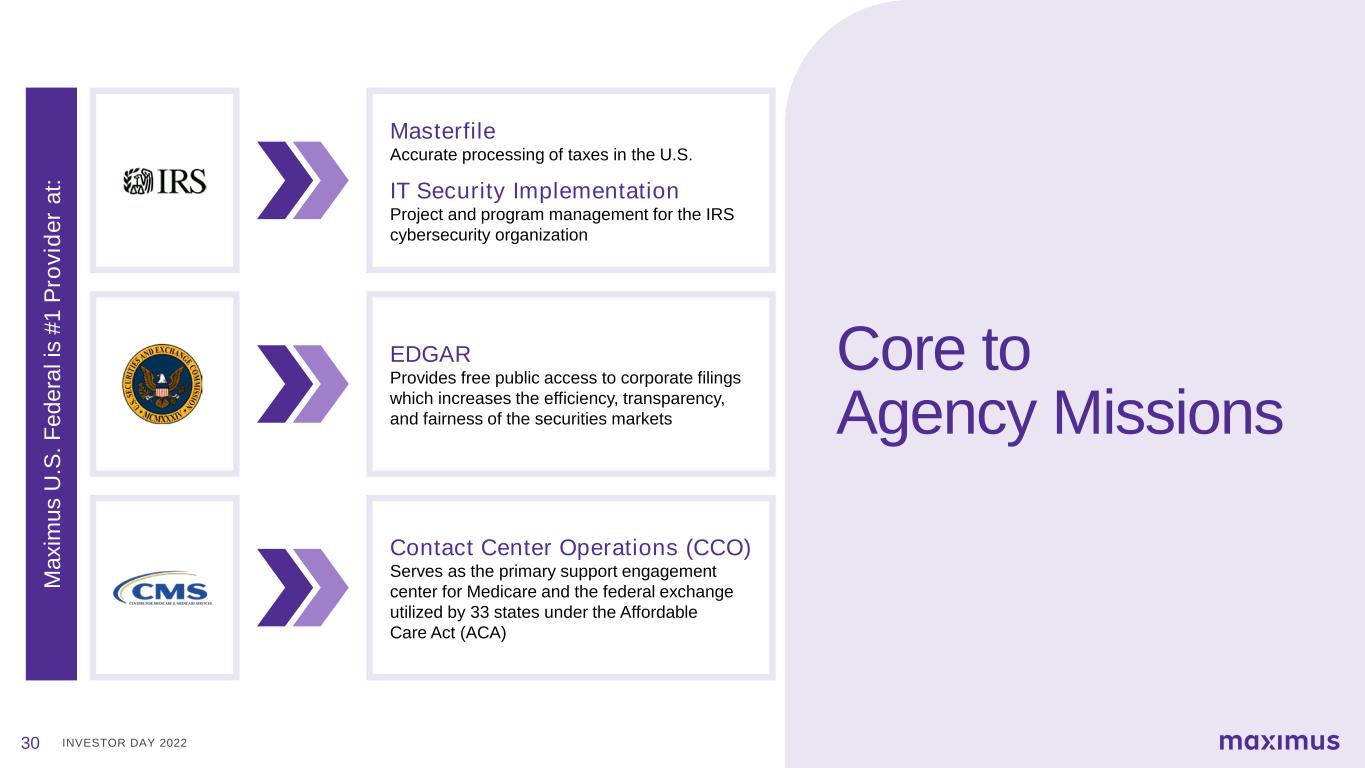 INVESTOR DAY 202230 Core to Agency Missions Masterfile Accurate processing of taxes in the U.S. IT Security Implementation Project and program management for the IRS cybersecurity organization EDGAR Provides free public access to corporate filings which increases the efficiency, transparency, and fairness of the securities markets Contact Center Operations (CCO) Serves as the primary support engagement center for Medicare and the federal exchange utilized by 33 states under the Affordable Care Act (ACA) M ax im us U .S . F ed er al is # 1 Pr ov id er a t:
---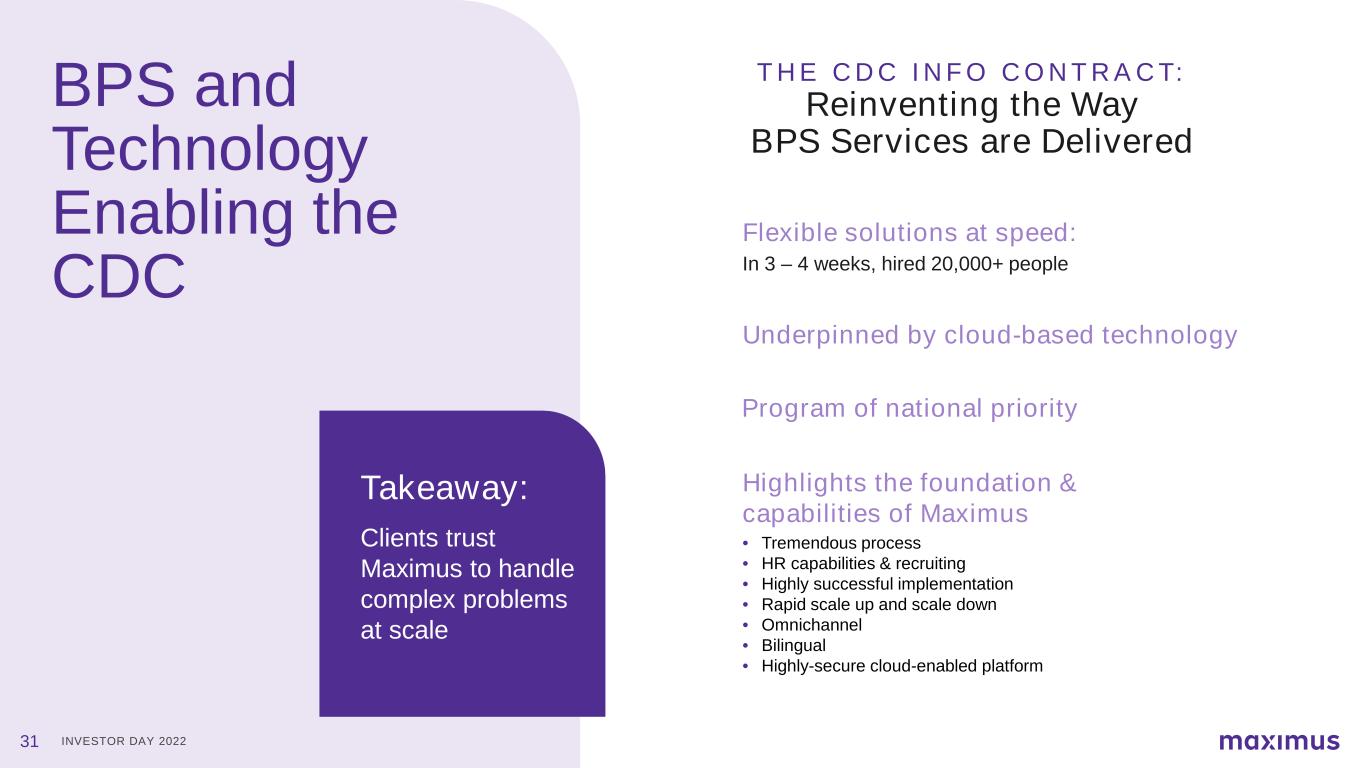 INVESTOR DAY 2022I Flexible solutions at speed: In 3 – 4 weeks, hired 20,000+ people 31 BPS and Technology Enabling the CDC Takeaway: Clients trust Maximus to handle complex problems at scale T H E C D C I N F O C O N T R AC T: Reinventing the Way BPS Services are Delivered Highlights the foundation & capabilities of Maximus • Tremendous process • HR capabilities & recruiting • Highly successful implementation • Rapid scale up and scale down • Omnichannel • Bilingual • Highly-secure cloud-enabled platform Underpinned by cloud-based technology Program of national priority
---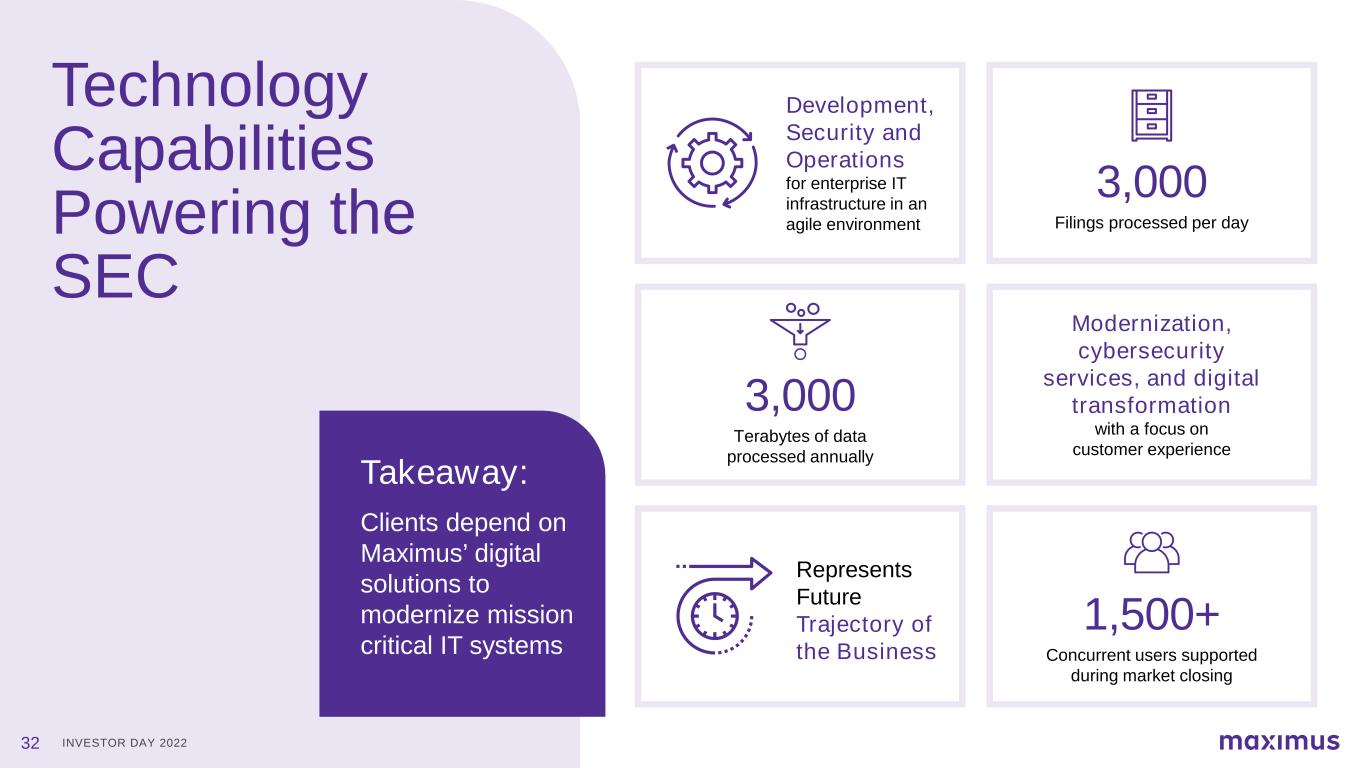 INVESTOR DAY 2022 Technology Capabilities Powering the SEC 32 Takeaway: Clients depend on Maximus' digital solutions to modernize mission critical IT systems Development, Security and Operations for enterprise IT infrastructure in an agile environment 3,000 Terabytes of data processed annually 3,000 Filings processed per day 1,500+ Concurrent users supported during market closing Modernization, cybersecurity services, and digital transformation with a focus on customer experience Represents Future Trajectory of the Business
---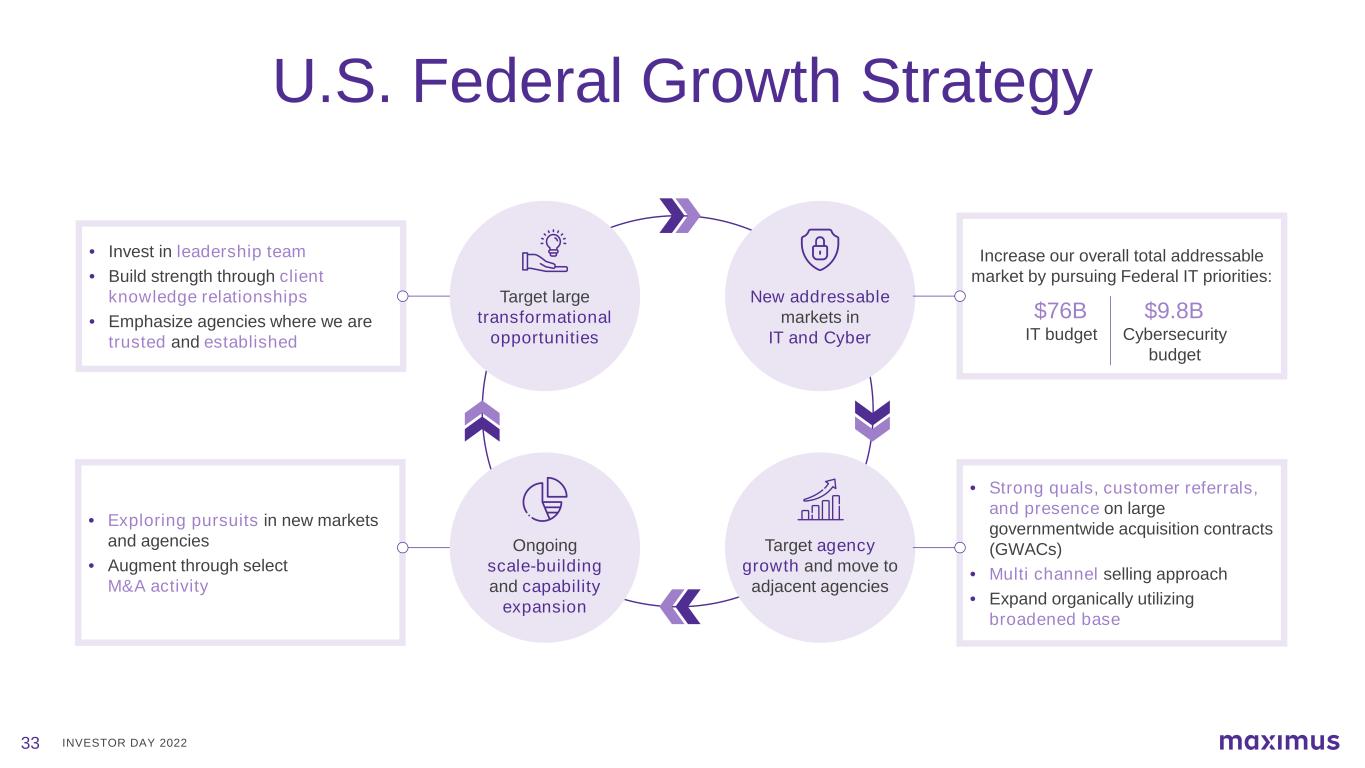 INVESTOR DAY 2022 • Exploring pursuits in new markets and agencies • Augment through select M&A activity U.S. Federal Growth Strategy • Invest in leadership team • Build strength through client knowledge relationships • Emphasize agencies where we are trusted and established 33 Target large transformational opportunities New addressable markets in IT and Cyber Ongoing scale-building and capability expansion Target agency growth and move to adjacent agencies • Strong quals, customer referrals, and presence on large governmentwide acquisition contracts (GWACs) • Multi channel selling approach • Expand organically utilizing broadened base Increase our overall total addressable market by pursuing Federal IT priorities: $76B IT budget $9.8B Cybersecurity budget
---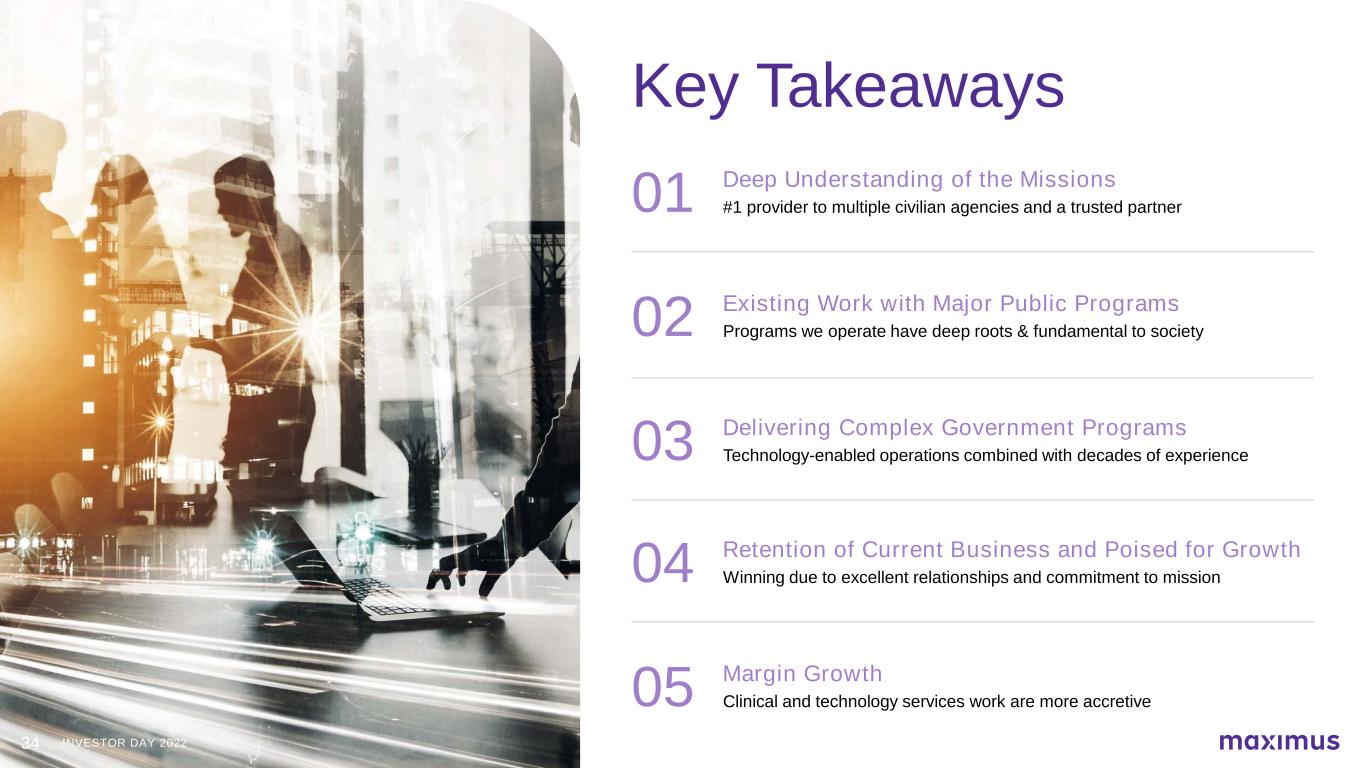 INVESTOR DAY 2022 Key Takeaways Deep Understanding of the Missions #1 provider to multiple civilian agencies and a trusted partner01 Existing Work with Major Public Programs Programs we operate have deep roots & fundamental to society 02 Delivering Complex Government Programs Technology-enabled operations combined with decades of experience03 Retention of Current Business and Poised for Growth Winning due to excellent relationships and commitment to mission04 34 Margin Growth Clinical and technology services work are more accretive05
---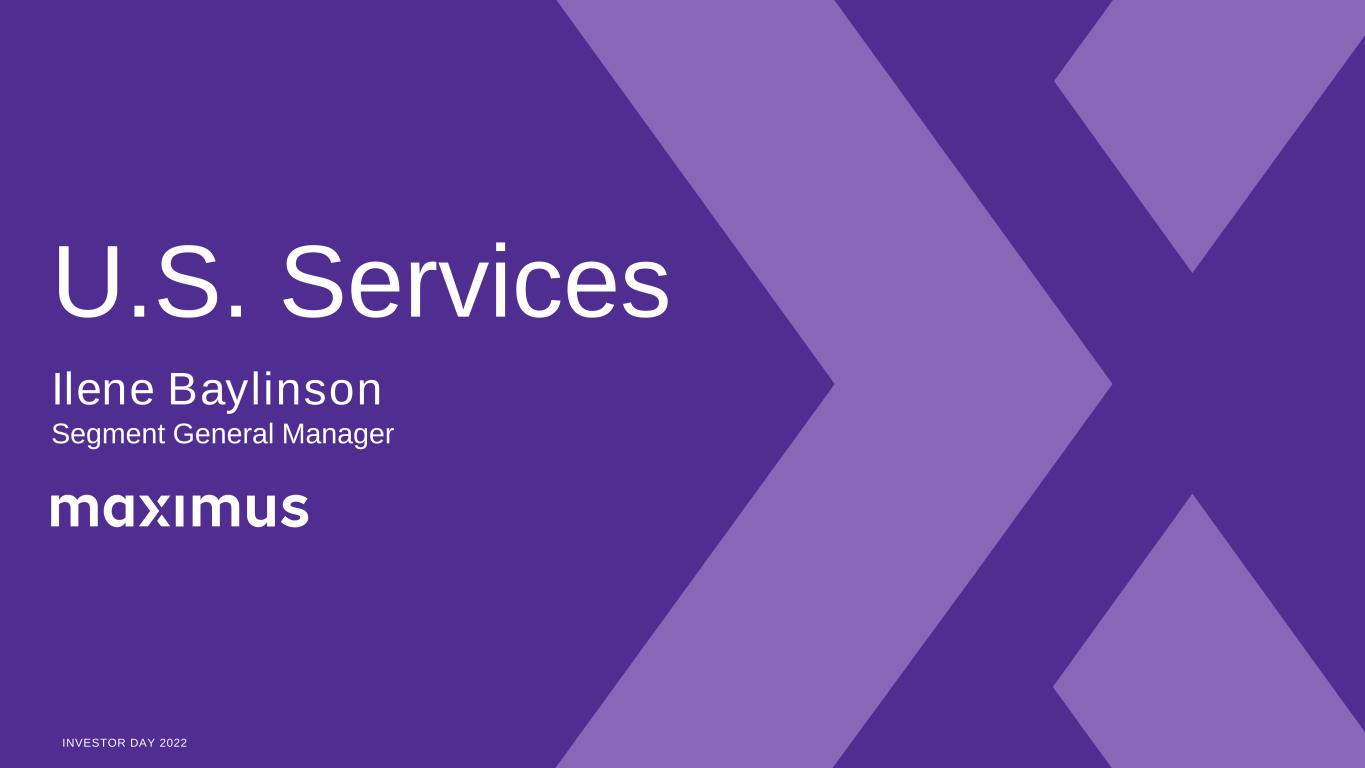 INVESTOR DAY 2022 U.S. Services Ilene Baylinson Segment General Manager
---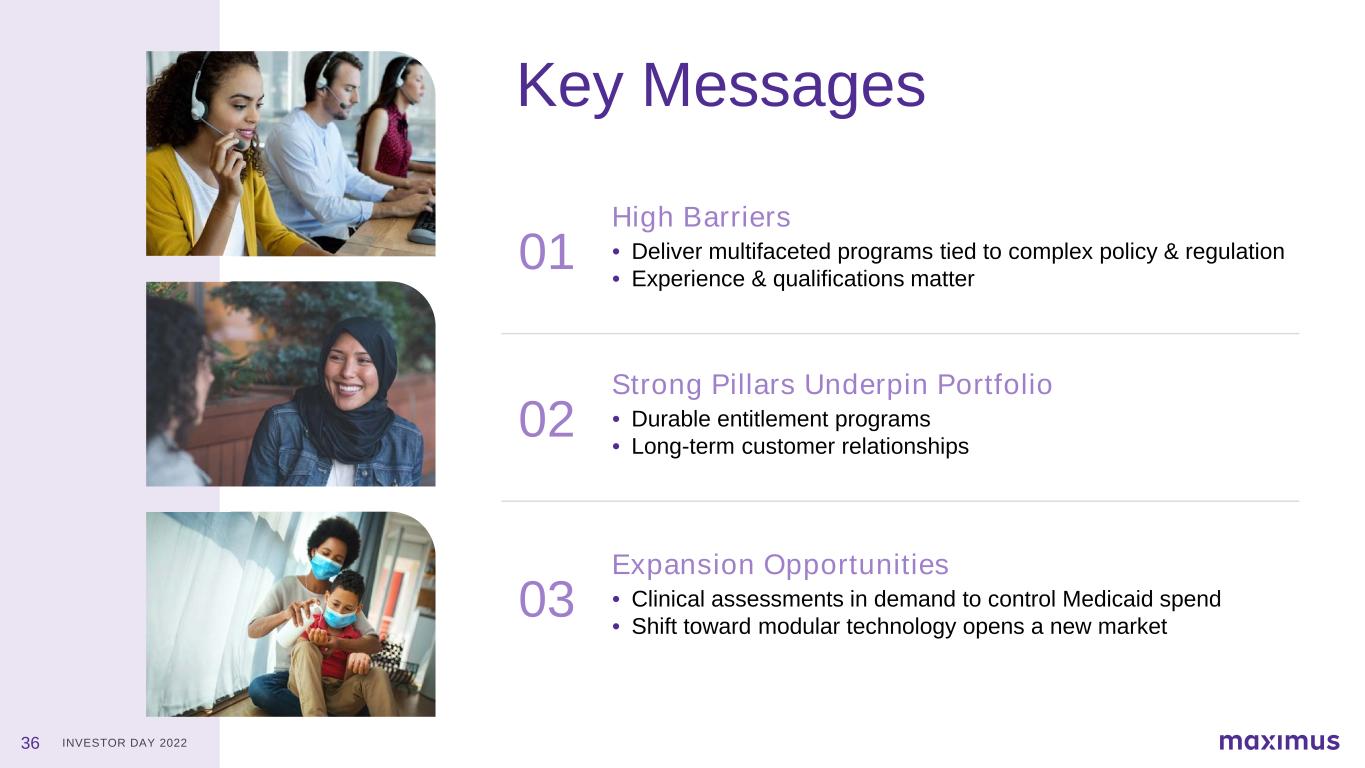 INVESTOR DAY 202236 Key Messages High Barriers • Deliver multifaceted programs tied to complex policy & regulation • Experience & qualifications matter 01 Strong Pillars Underpin Portfolio • Durable entitlement programs • Long-term customer relationships 02 Expansion Opportunities • Clinical assessments in demand to control Medicaid spend • Shift toward modular technology opens a new market 03
---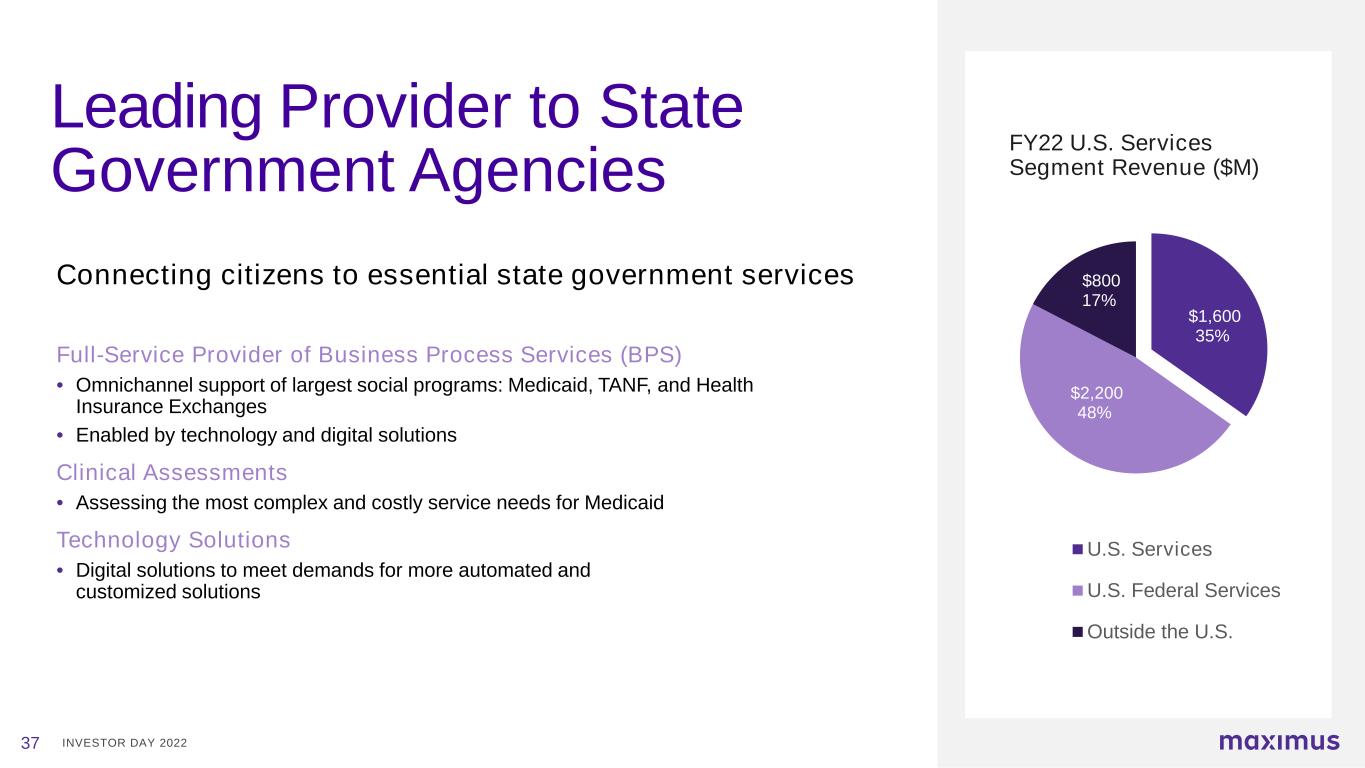 INVESTOR DAY 202237 Leading Provider to State Government Agencies Connecting citizens to essential state government services Full-Service Provider of Business Process Services (BPS) • Omnichannel support of largest social programs: Medicaid, TANF, and Health Insurance Exchanges • Enabled by technology and digital solutions Clinical Assessments • Assessing the most complex and costly service needs for Medicaid Technology Solutions • Digital solutions to meet demands for more automated and customized solutions FY22 U.S. Services Segment Revenue ($M) $1,600 35% $2,200 48% $800 17% U.S. Services U.S. Federal Services Outside the U.S.
---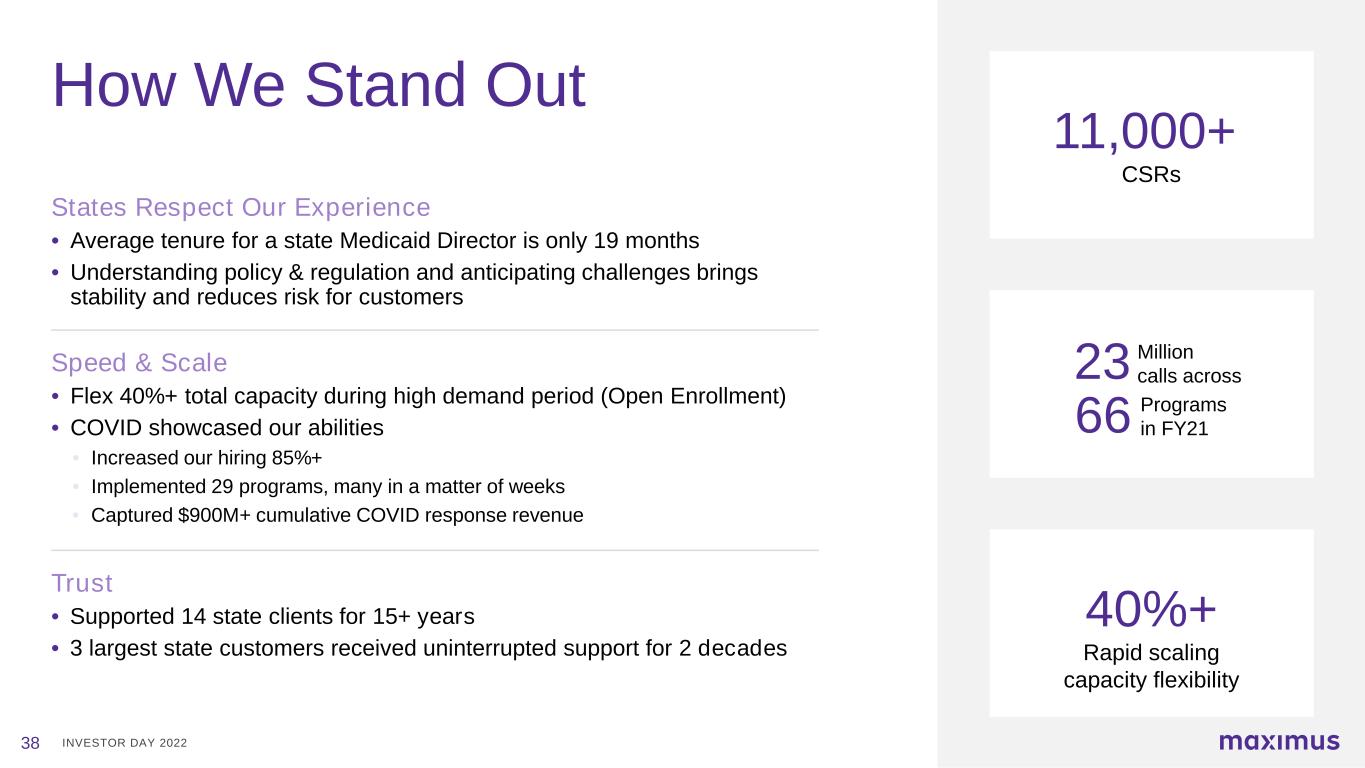 INVESTOR DAY 202238 How We Stand Out 11,000+ CSRs 40%+ Rapid scaling capacity flexibility 23 Million calls across 66 Programs in FY21 States Respect Our Experience • Average tenure for a state Medicaid Director is only 19 months • Understanding policy & regulation and anticipating challenges brings stability and reduces risk for customers Speed & Scale • Flex 40%+ total capacity during high demand period (Open Enrollment) • COVID showcased our abilities • Increased our hiring 85%+ • Implemented 29 programs, many in a matter of weeks • Captured $900M+ cumulative COVID response revenue Trust • Supported 14 state clients for 15+ years • 3 largest state customers received uninterrupted support for 2 decades
---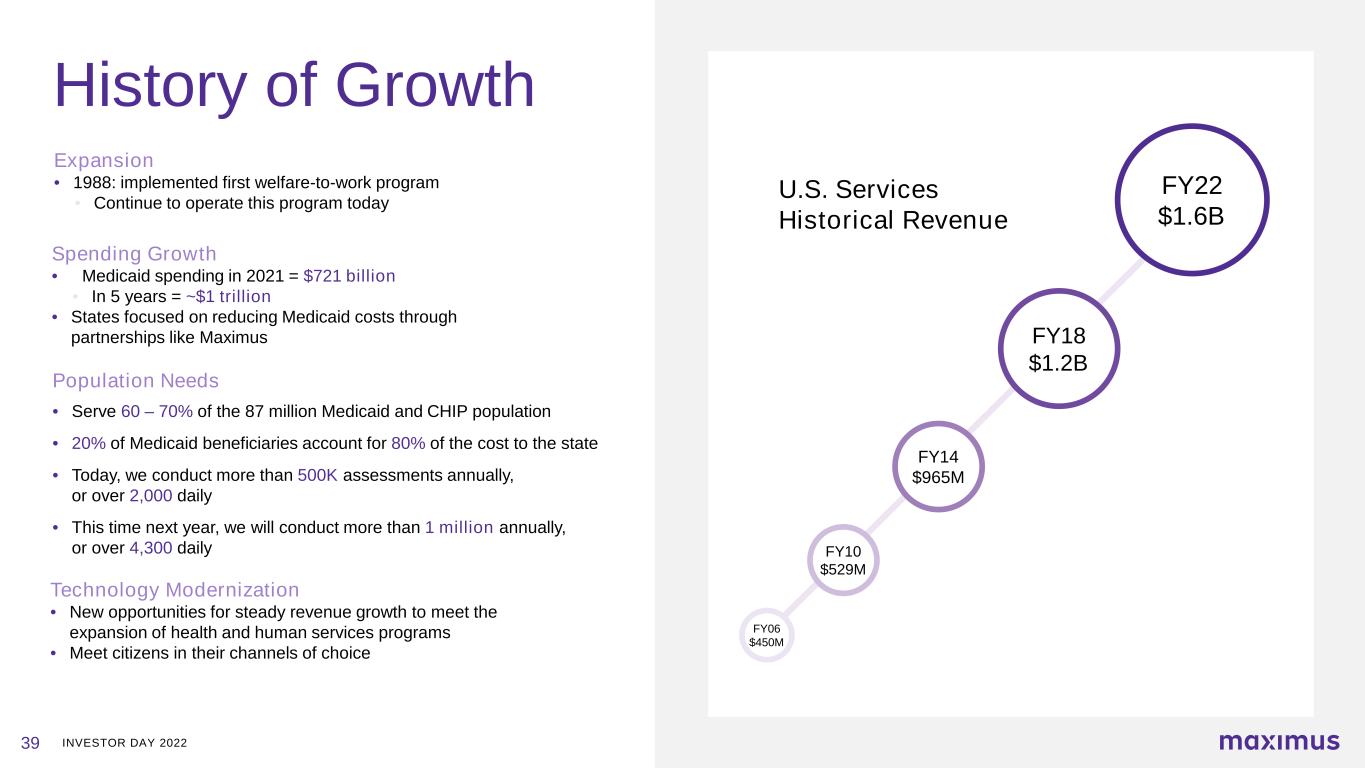 INVESTOR DAY 202239 History of Growth U.S. Services Historical Revenue FY22 $1.6B FY18 $1.2B FY14 $965M FY10 $529M FY06 $450M Expansion • 1988: implemented first welfare-to-work program • Continue to operate this program today Technology Modernization • New opportunities for steady revenue growth to meet the expansion of health and human services programs • Meet citizens in their channels of choice Spending Growth • Medicaid spending in 2021 = $721 billion • In 5 years = ~$1 trillion • States focused on reducing Medicaid costs through partnerships like Maximus Population Needs • Serve 60 – 70% of the 87 million Medicaid and CHIP population • 20% of Medicaid beneficiaries account for 80% of the cost to the state • Today, we conduct more than 500K assessments annually, or over 2,000 daily • This time next year, we will conduct more than 1 million annually, or over 4,300 daily
---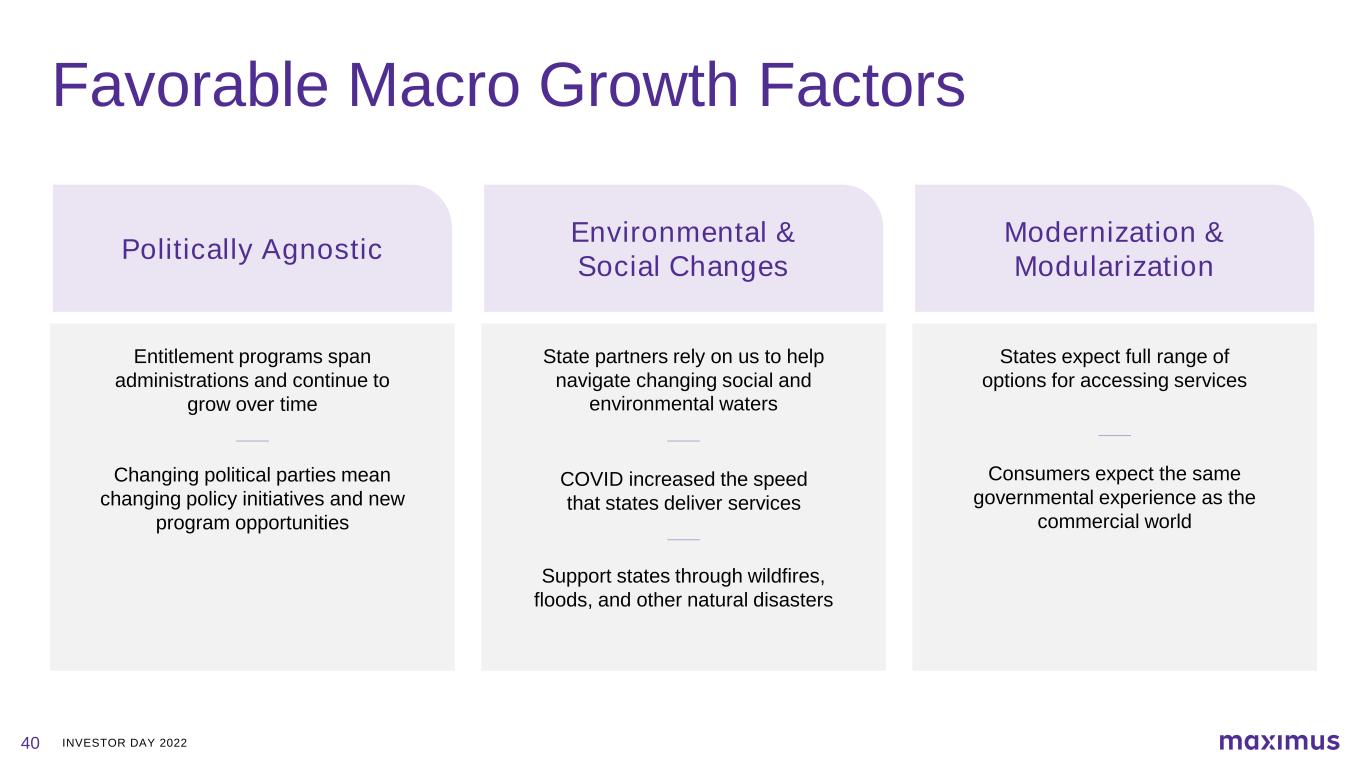 INVESTOR DAY 202240 Favorable Macro Growth Factors Environmental & Social ChangesPolitically Agnostic Modernization & Modularization Entitlement programs span administrations and continue to grow over time State partners rely on us to help navigate changing social and environmental waters States expect full range of options for accessing services Changing political parties mean changing policy initiatives and new program opportunities Support states through wildfires, floods, and other natural disasters COVID increased the speed that states deliver services Consumers expect the same governmental experience as the commercial world
---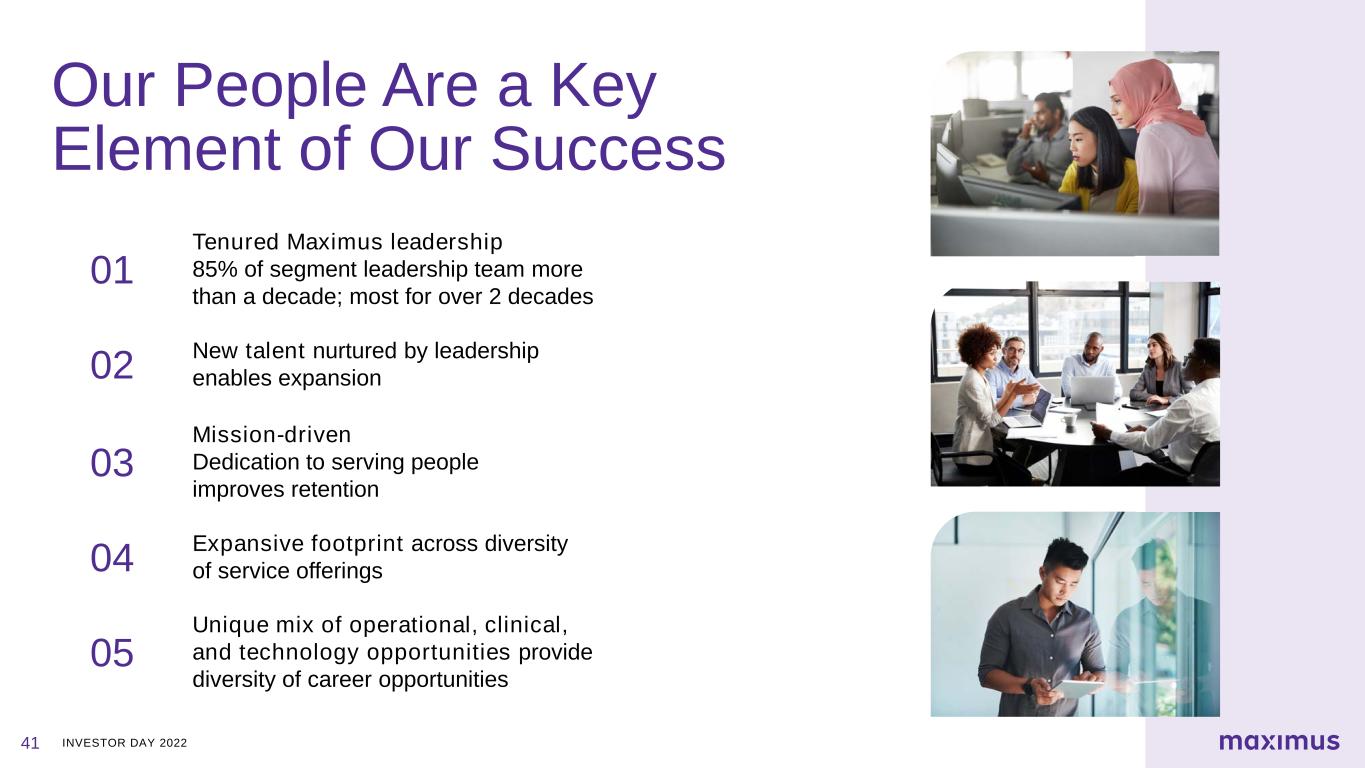 INVESTOR DAY 202241 Our People Are a Key Element of Our Success Tenured Maximus leadership 85% of segment leadership team more than a decade; most for over 2 decades New talent nurtured by leadership enables expansion Expansive footprint across diversity of service offerings Unique mix of operational, clinical, and technology opportunities provide diversity of career opportunities Mission-driven Dedication to serving people improves retention 01 02 03 04 05
---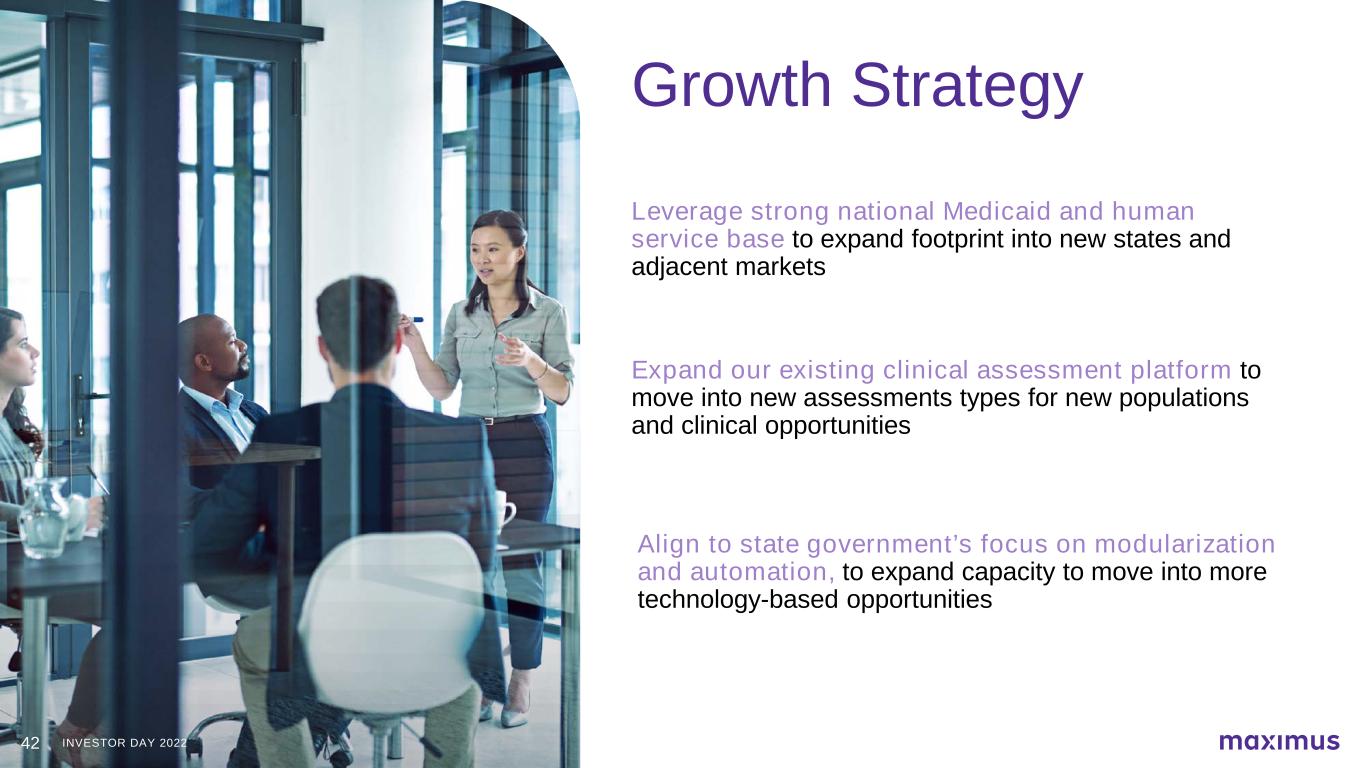 INVESTOR DAY 2022 Growth Strategy 42 Leverage strong national Medicaid and human service base to expand footprint into new states and adjacent markets Expand our existing clinical assessment platform to move into new assessments types for new populations and clinical opportunities Align to state government's focus on modularization and automation, to expand capacity to move into more technology-based opportunities
---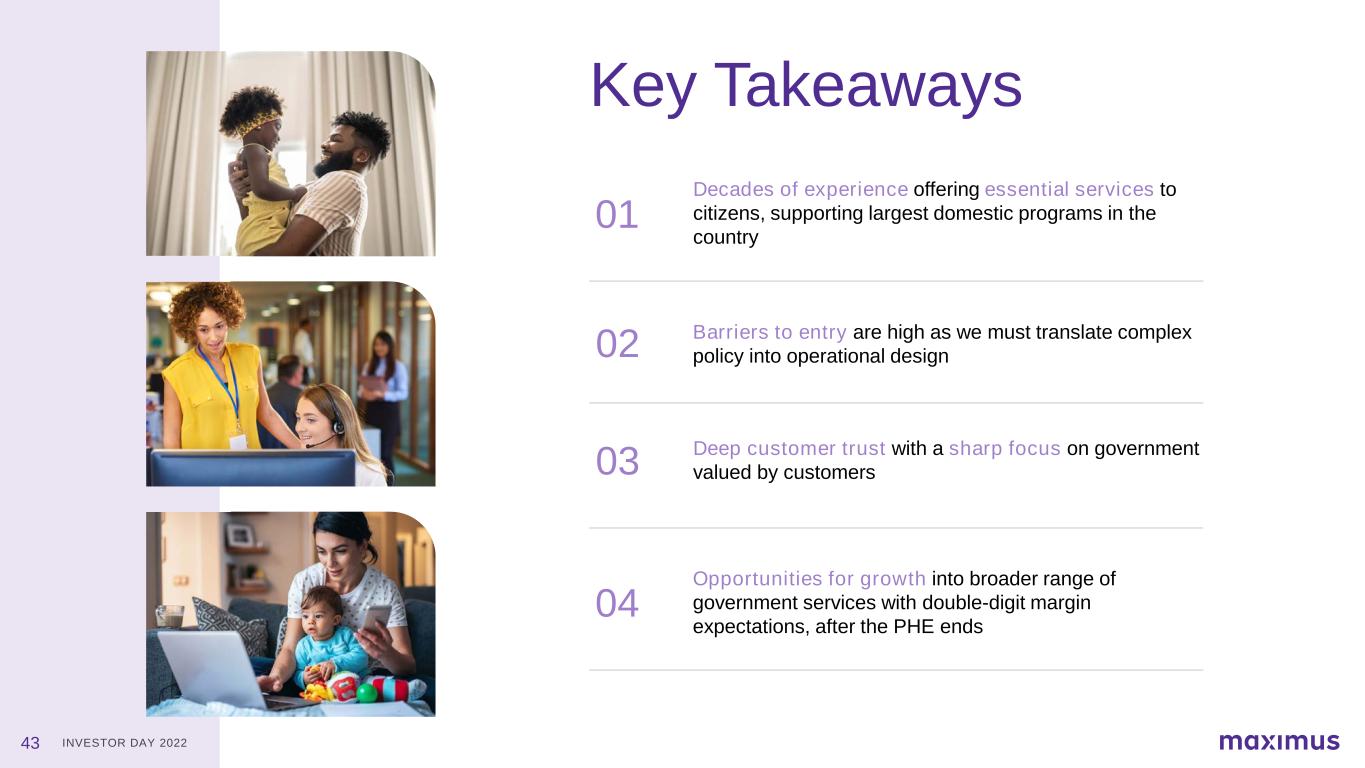 INVESTOR DAY 202243 Key Takeaways Decades of experience offering essential services to citizens, supporting largest domestic programs in the country 04 Deep customer trust with a sharp focus on government valued by customers 01 Opportunities for growth into broader range of government services with double-digit margin expectations, after the PHE ends Barriers to entry are high as we must translate complex policy into operational design02 03
---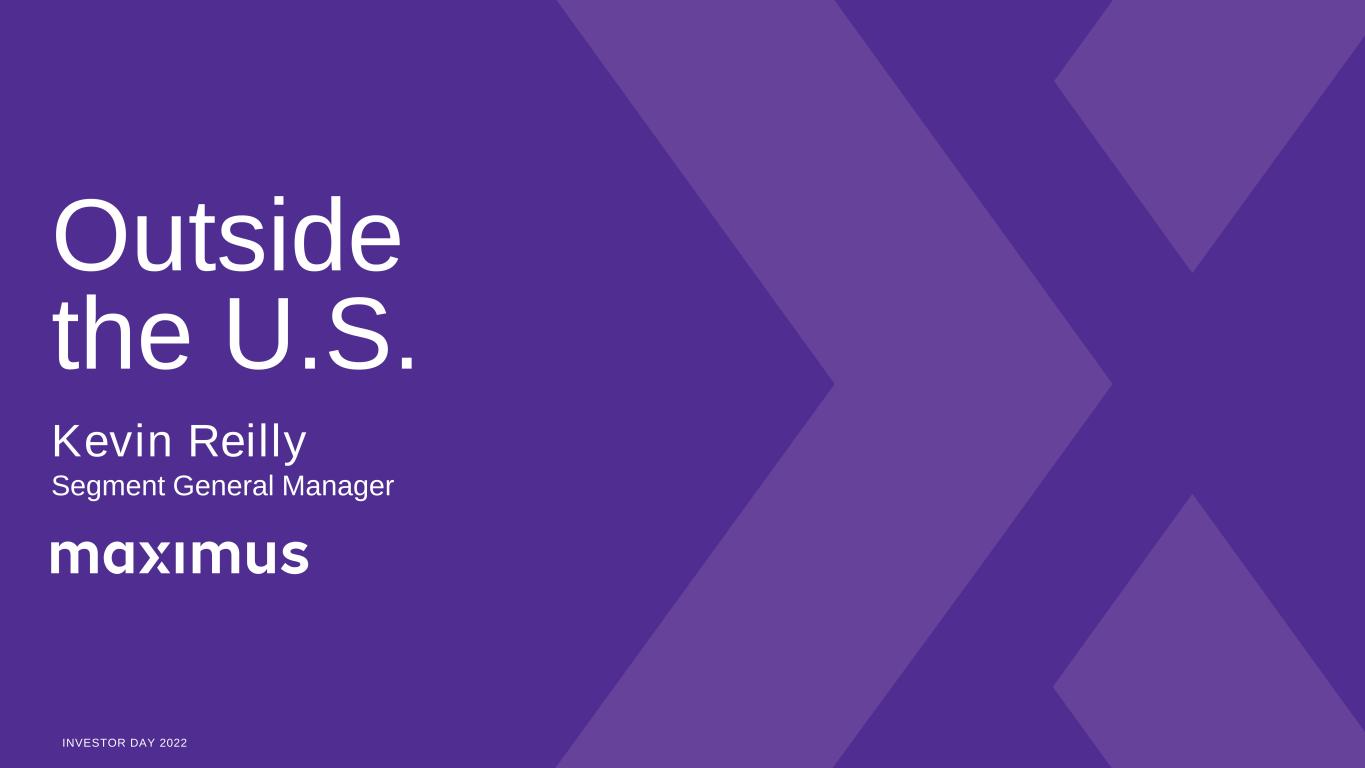 INVESTOR DAY 2022 Outside the U.S. Kevin Reilly Segment General Manager
---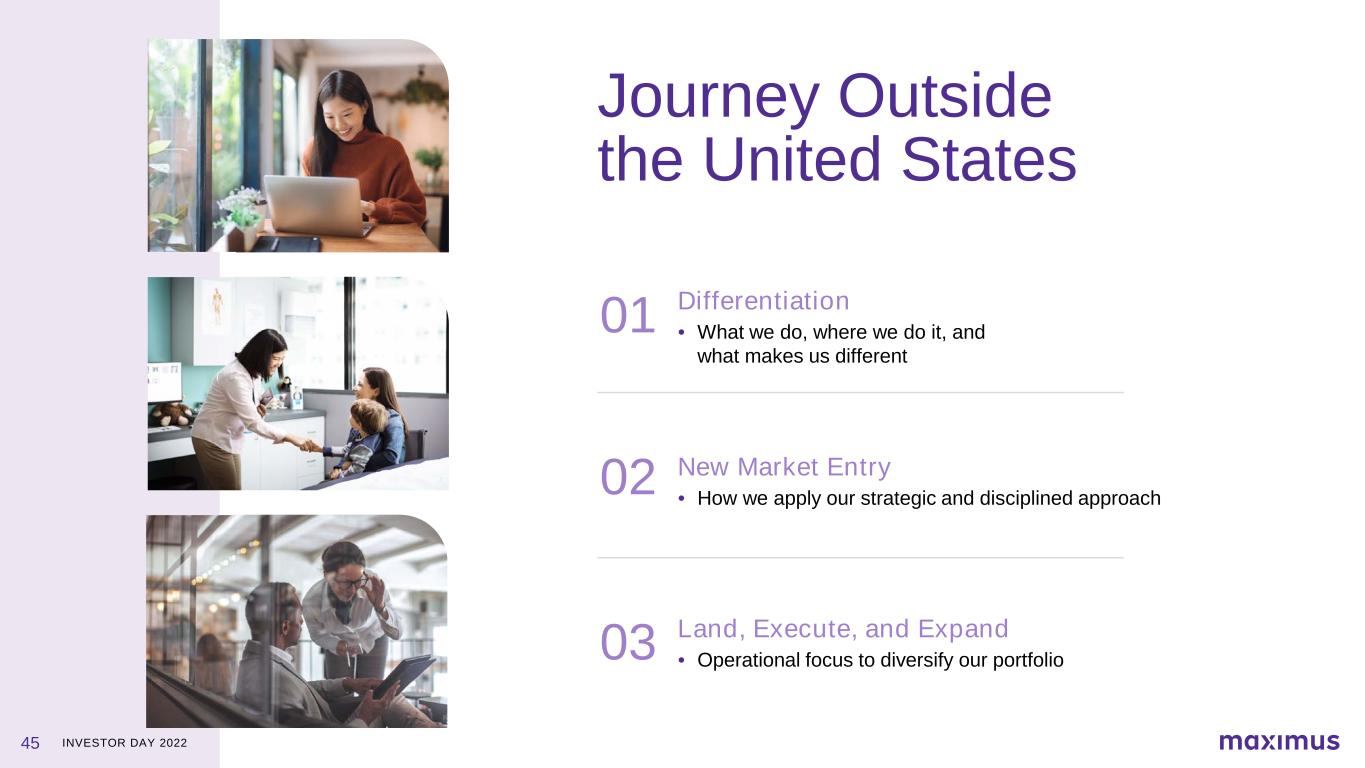 INVESTOR DAY 202245 Journey Outside the United States 01 02 03 Differentiation • What we do, where we do it, and what makes us different New Market Entry • How we apply our strategic and disciplined approach Land, Execute, and Expand • Operational focus to diversify our portfolio
---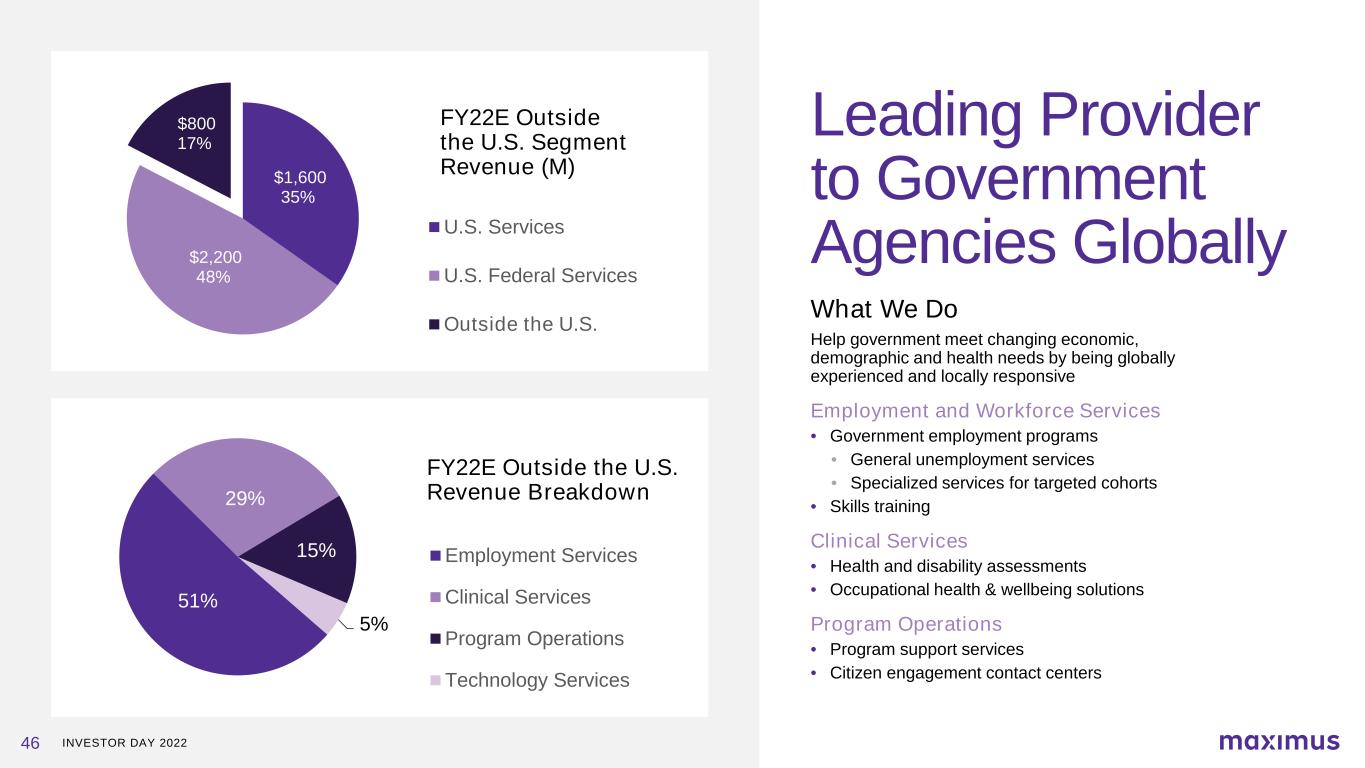 INVESTOR DAY 2022 $1,600 35% $2,200 48% $800 17% U.S. Services U.S. Federal Services Outside the U.S. FY22E Outside the U.S. Segment Revenue (M) 51% 29% 15% 5% Employment Services Clinical Services Program Operations Technology Services FY22E Outside the U.S. Revenue Breakdown Leading Provider to Government Agencies Globally What We Do Help government meet changing economic, demographic and health needs by being globally experienced and locally responsive Employment and Workforce Services • Government employment programs • General unemployment services • Specialized services for targeted cohorts • Skills training Clinical Services • Health and disability assessments • Occupational health & wellbeing solutions Program Operations • Program support services • Citizen engagement contact centers 46
---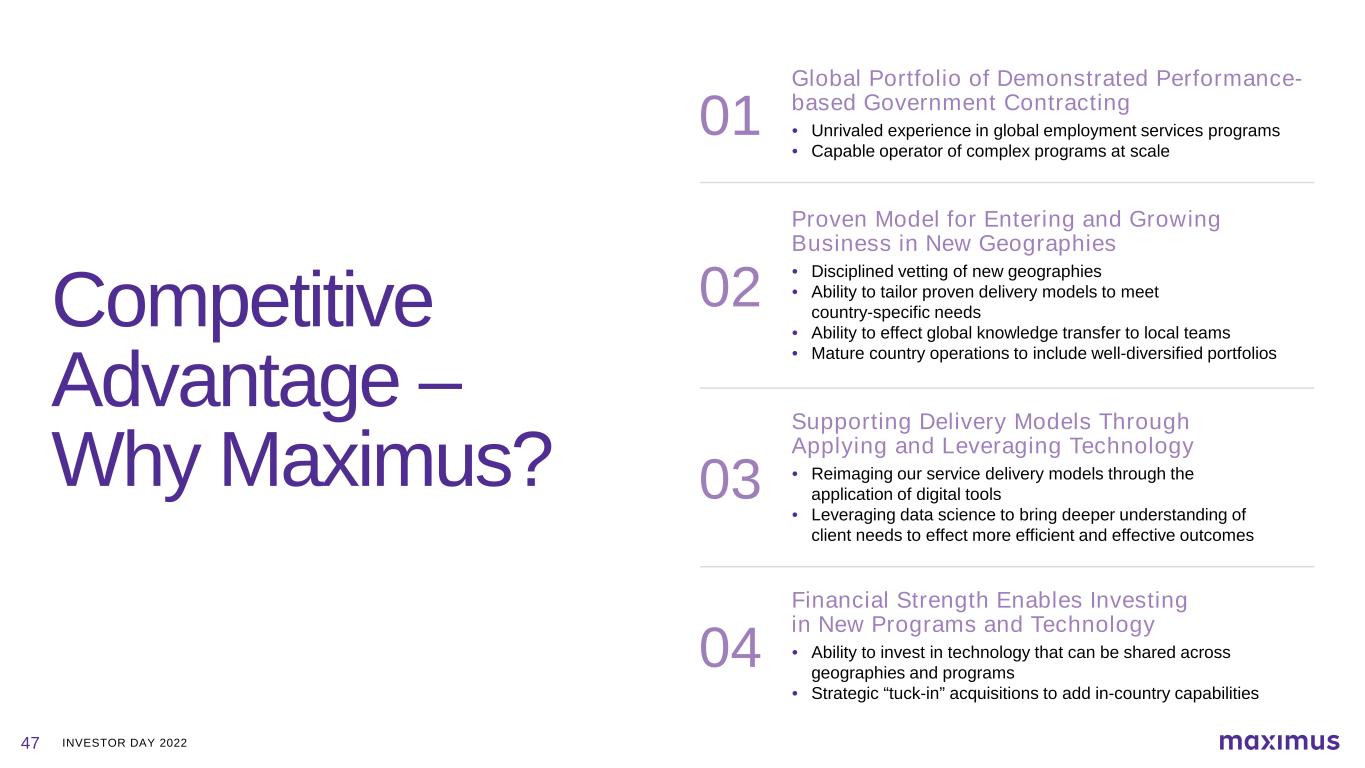 INVESTOR DAY 202247 Competitive Advantage – Why Maximus? Global Portfolio of Demonstrated Performance- based Government Contracting • Unrivaled experience in global employment services programs • Capable operator of complex programs at scale 01 Proven Model for Entering and Growing Business in New Geographies • Disciplined vetting of new geographies • Ability to tailor proven delivery models to meet country-specific needs • Ability to effect global knowledge transfer to local teams • Mature country operations to include well-diversified portfolios 02 Supporting Delivery Models Through Applying and Leveraging Technology • Reimaging our service delivery models through the application of digital tools • Leveraging data science to bring deeper understanding of client needs to effect more efficient and effective outcomes 03 Financial Strength Enables Investing in New Programs and Technology • Ability to invest in technology that can be shared across geographies and programs • Strategic "tuck-in" acquisitions to add in-country capabilities 04
---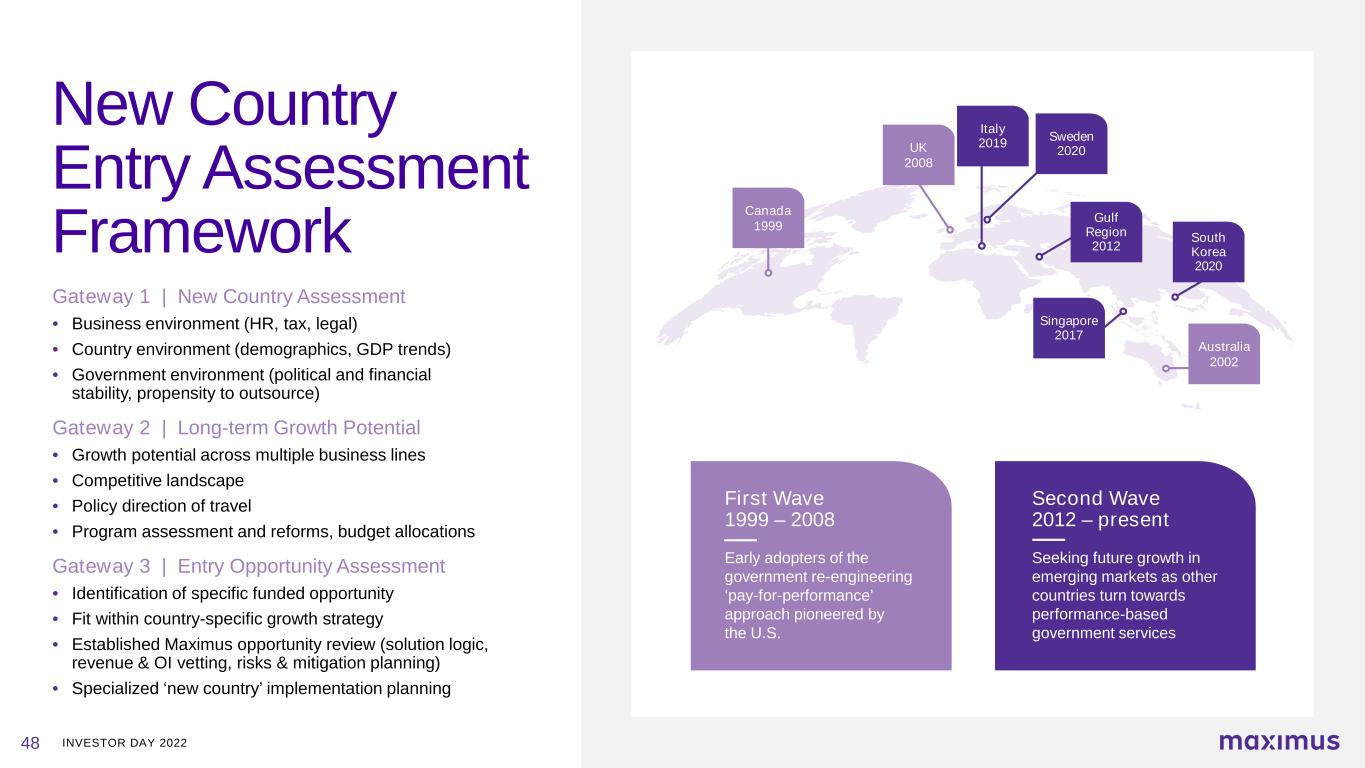 INVESTOR DAY 202248 Australia 2002 UK 2008 Gulf Region 2012 Singapore 2017 Sweden 2020 Italy 2019 Canada 1999 South Korea 2020 Second Wave 2012 – present Seeking future growth in emerging markets as other countries turn towards performance-based government services First Wave 1999 – 2008 Early adopters of the government re-engineering 'pay-for-performance' approach pioneered by the U.S. New Country Entry Assessment Framework Gateway 1 | New Country Assessment • Business environment (HR, tax, legal) • Country environment (demographics, GDP trends) • Government environment (political and financial stability, propensity to outsource) Gateway 2 | Long-term Growth Potential • Growth potential across multiple business lines • Competitive landscape • Policy direction of travel • Program assessment and reforms, budget allocations Gateway 3 | Entry Opportunity Assessment • Identification of specific funded opportunity • Fit within country-specific growth strategy • Established Maximus opportunity review (solution logic, revenue & OI vetting, risks & mitigation planning) • Specialized 'new country' implementation planning
---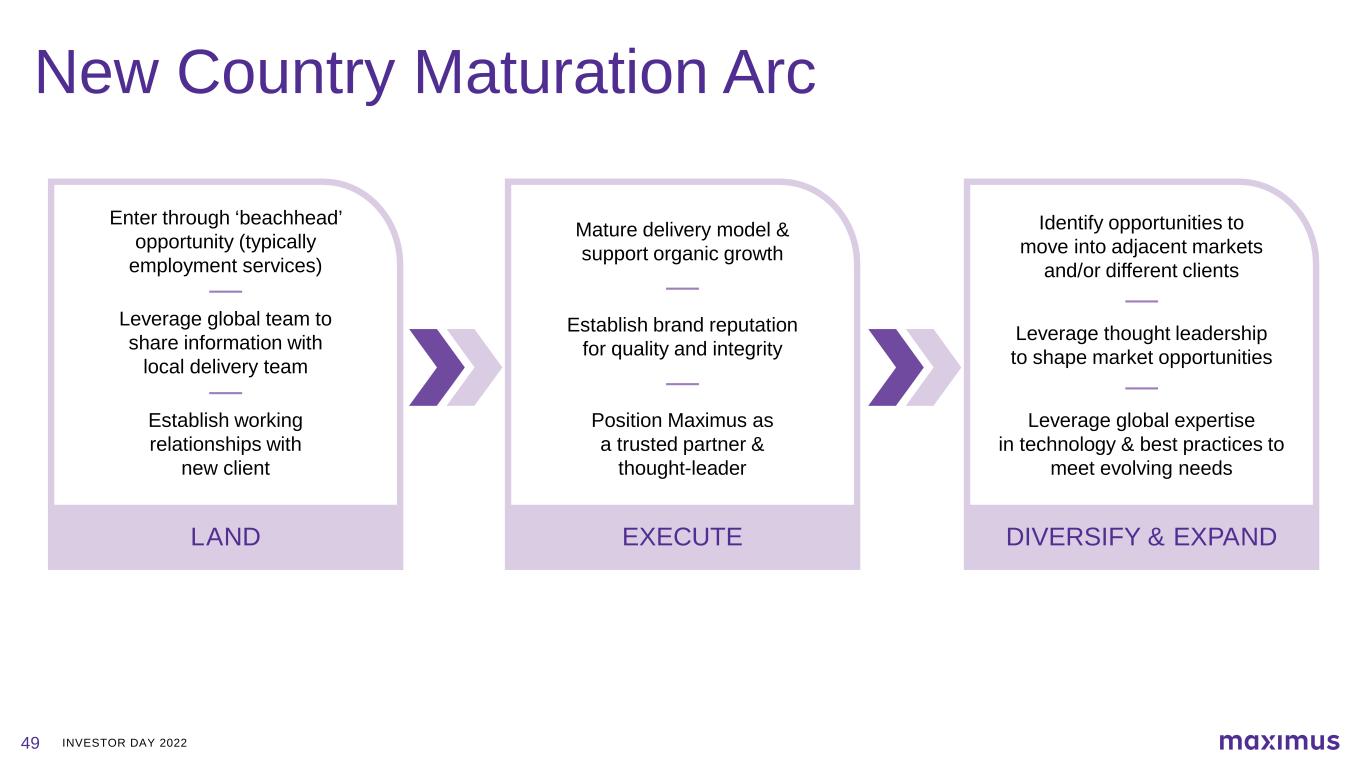 INVESTOR DAY 202249 New Country Maturation Arc LAND Enter through 'beachhead' opportunity (typically employment services) EXECUTE Mature delivery model & support organic growth DIVERSIFY & EXPAND Identify opportunities to move into adjacent markets and/or different clients Establish working relationships with new client Leverage global team to share information with local delivery team Establish brand reputation for quality and integrity Position Maximus as a trusted partner & thought-leader Leverage thought leadership to shape market opportunities Leverage global expertise in technology & best practices to meet evolving needs
---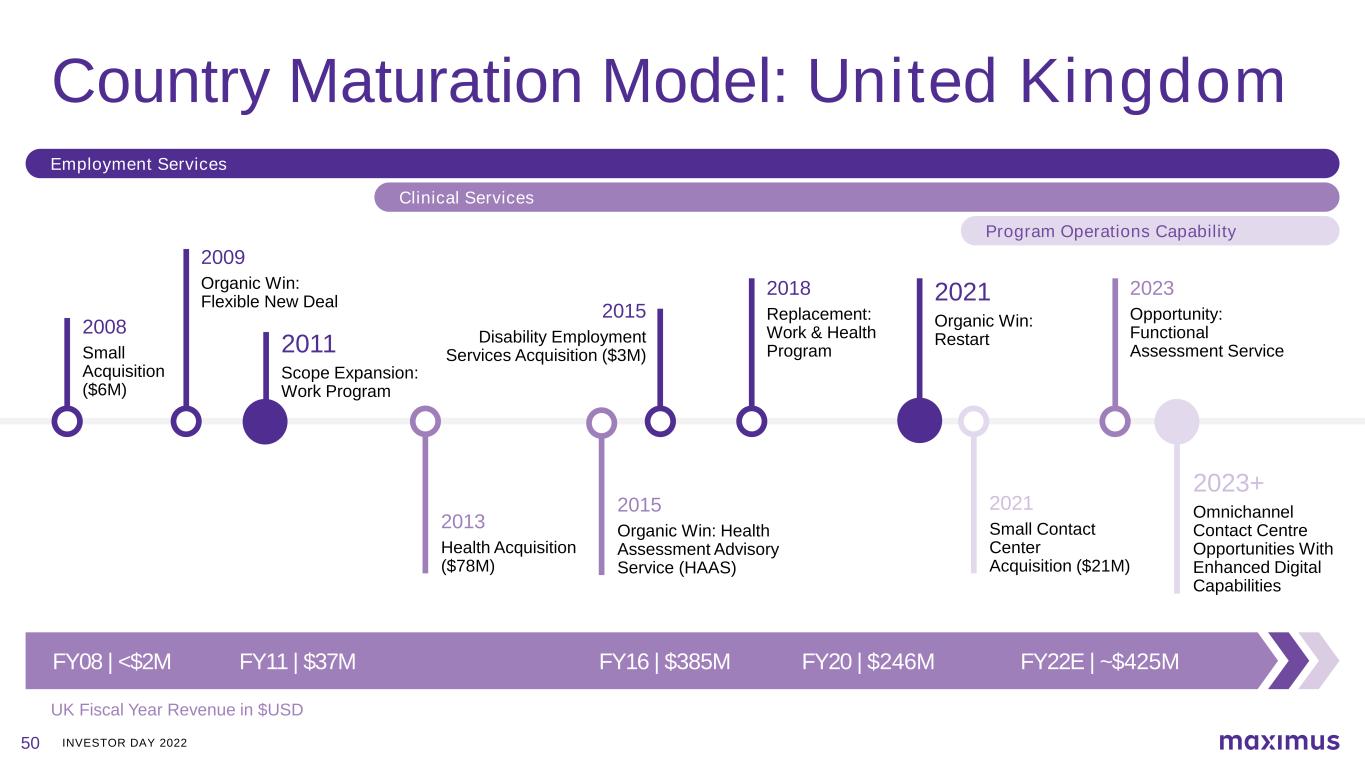 INVESTOR DAY 202250 Country Maturation Model: United Kingdom Employment Services 2008 Small Acquisition ($6M) 2013 Health Acquisition ($78M) 2009 Organic Win: Flexible New Deal UK Fiscal Year Revenue in $USD 2011 Scope Expansion: Work Program Clinical Services Program Operations Capability 2015 Disability Employment Services Acquisition ($3M) 2015 Organic Win: Health Assessment Advisory Service (HAAS) 2018 Replacement: Work & Health Program 2021 Small Contact Center Acquisition ($21M) 2023 Opportunity: Functional Assessment Service 2021 Organic Win: Restart 2023+ Omnichannel Contact Centre Opportunities With Enhanced Digital Capabilities FY08 | <$2M FY11 | $37M FY16 | $385M FY20 | $246M FY22E | ~$425M
---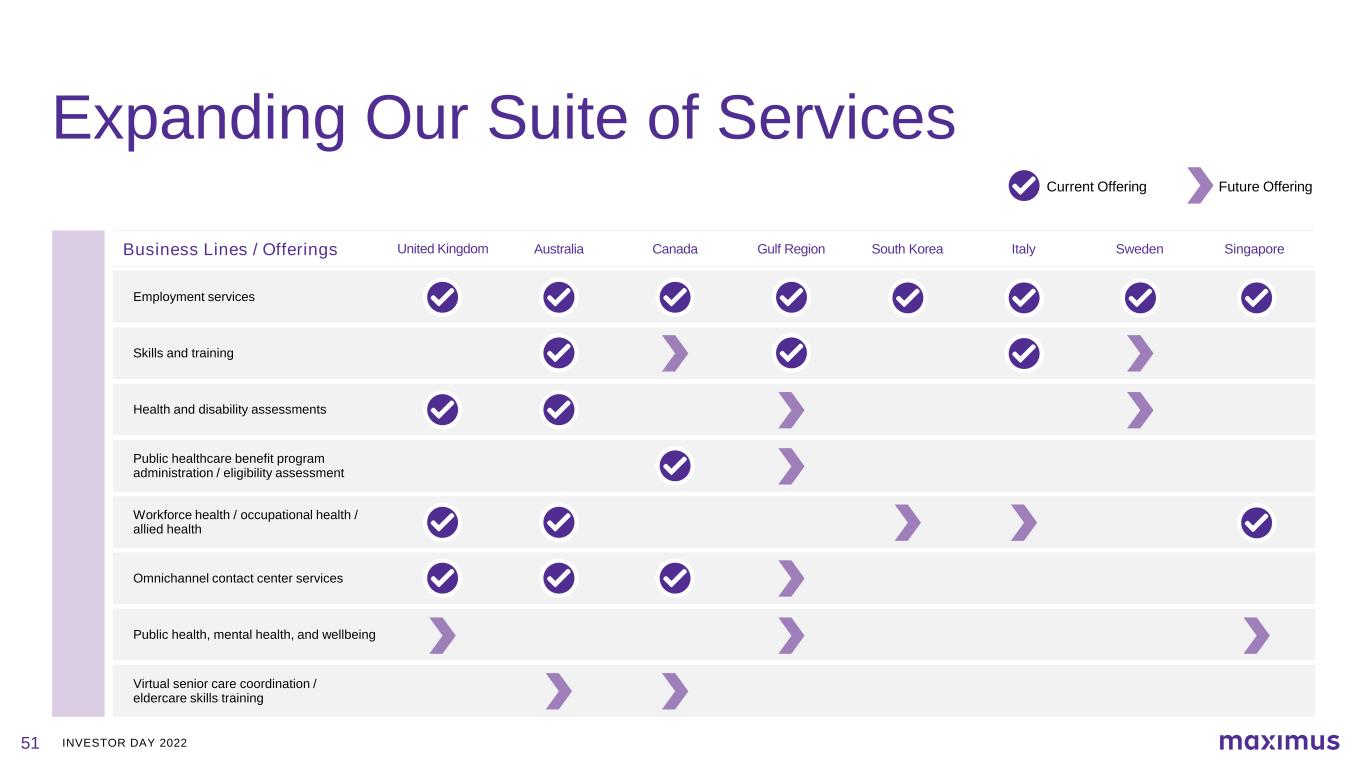 INVESTOR DAY 202251 Expanding Our Suite of Services Employment services Skills and training Health and disability assessments Public healthcare benefit program administration / eligibility assessment Workforce health / occupational health / allied health Omnichannel contact center services Public health, mental health, and wellbeing Virtual senior care coordination / eldercare skills training Business Lines / Offerings United Kingdom Australia Canada Gulf Region South Korea Italy Sweden Singapore Current Offering Future Offering
---
INVESTOR DAY 202252 Top Growth Opportunities United Kingdom New Markets (Near-term) • Opportunities outside of DWP Mental Health & Wellbeing Intermediate Care Coordination • Enabled by our position on NHS Access and Discharge framework Assimilating Contact Center Capability • Additive to our current programs Canada Employment Services • Province of Ontario outsourcing employment services Clinical & Contact Centers • Expanding work in clinical • New opportunities at federal agencies Australia Scaling of Clinical Services • Aged care assessments • Return to work programs Training Services • Close adjacency to employment services Gulf Region & Emerging Markets Diversification & Expansion • National expansion of current programs enabled by increased funding • Citizen services • Expanding work in clinical
---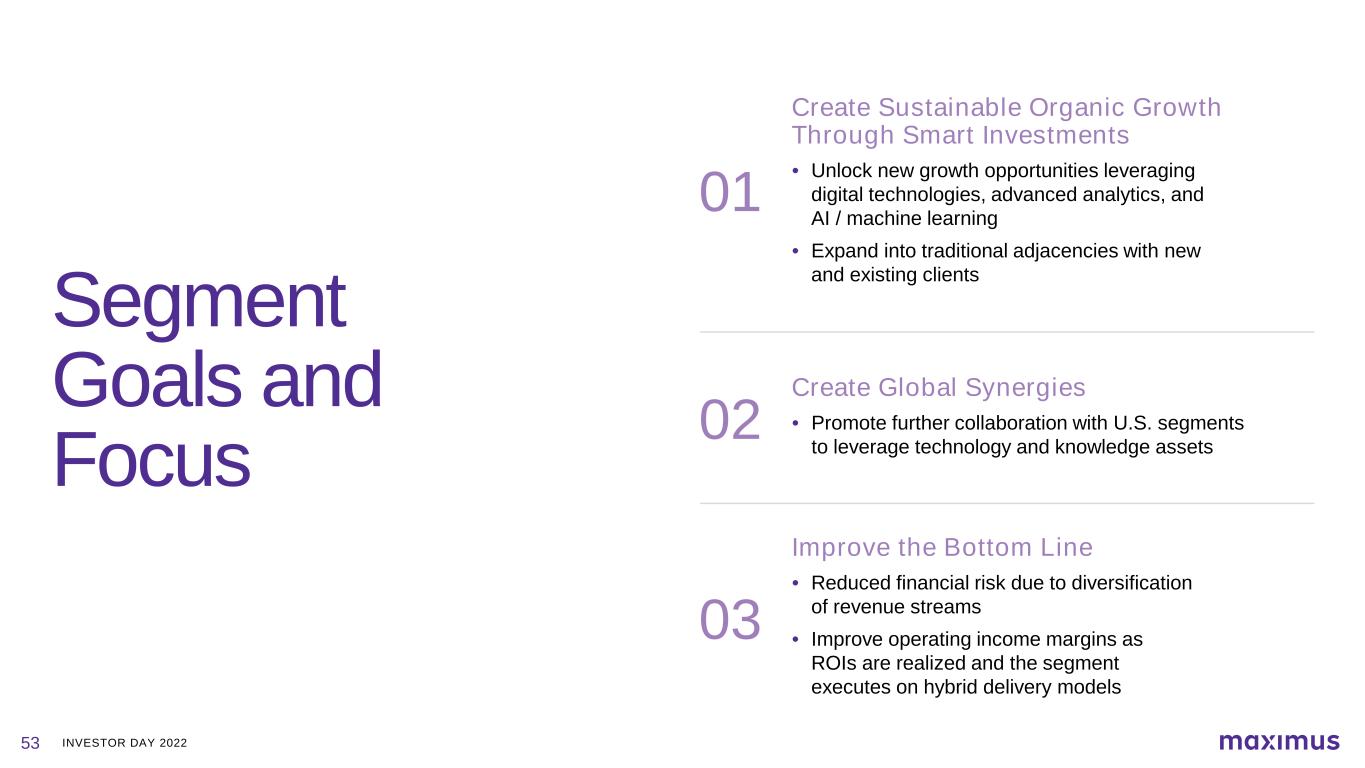 INVESTOR DAY 202253 Segment Goals and Focus Create Sustainable Organic Growth Through Smart Investments • Unlock new growth opportunities leveraging digital technologies, advanced analytics, and AI / machine learning • Expand into traditional adjacencies with new and existing clients 01 Create Global Synergies • Promote further collaboration with U.S. segments to leverage technology and knowledge assets 02 Improve the Bottom Line • Reduced financial risk due to diversification of revenue streams • Improve operating income margins as ROIs are realized and the segment executes on hybrid delivery models 03
---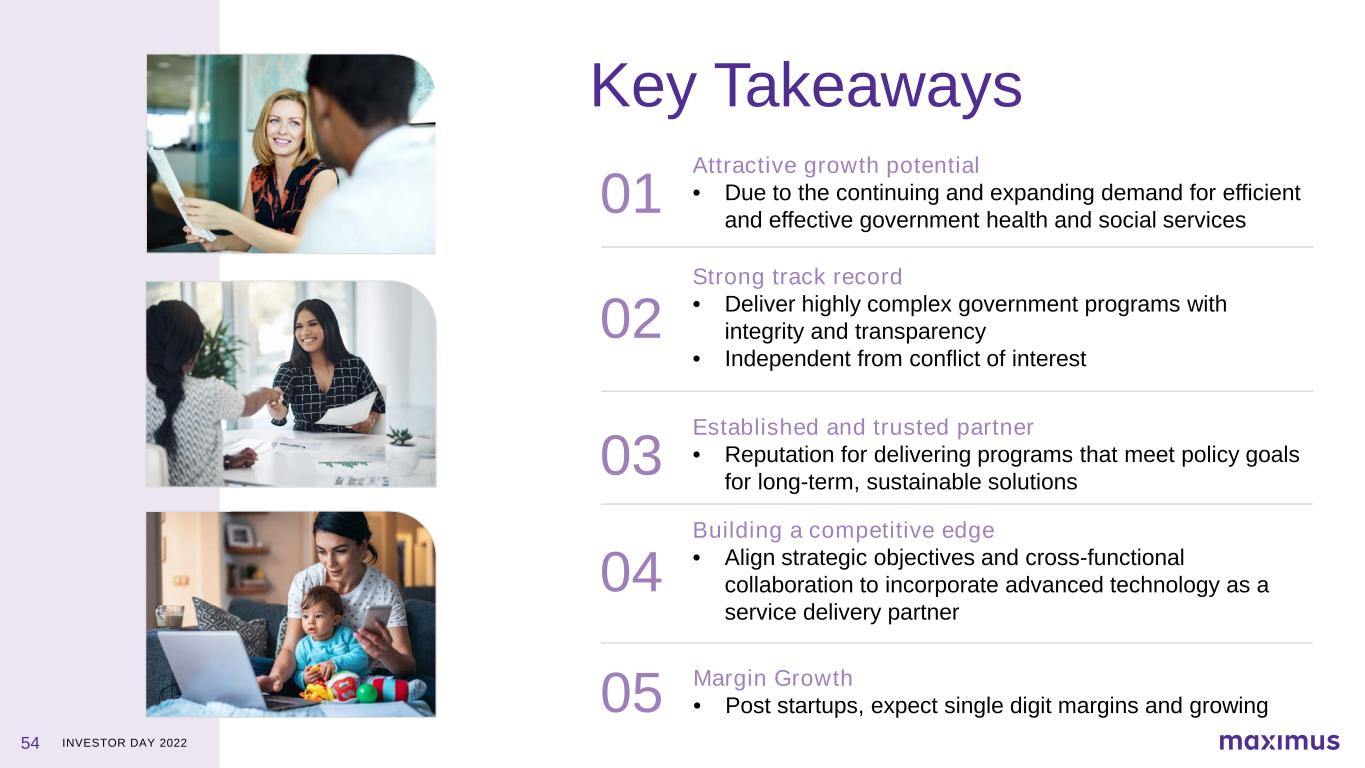 INVESTOR DAY 202254 Key Takeaways Attractive growth potential • Due to the continuing and expanding demand for efficient and effective government health and social services01 Strong track record • Deliver highly complex government programs with integrity and transparency • Independent from conflict of interest 02 Established and trusted partner • Reputation for delivering programs that meet policy goals for long-term, sustainable solutions03 Building a competitive edge • Align strategic objectives and cross-functional collaboration to incorporate advanced technology as a service delivery partner 04 Margin Growth • Post startups, expect single digit margins and growing05
---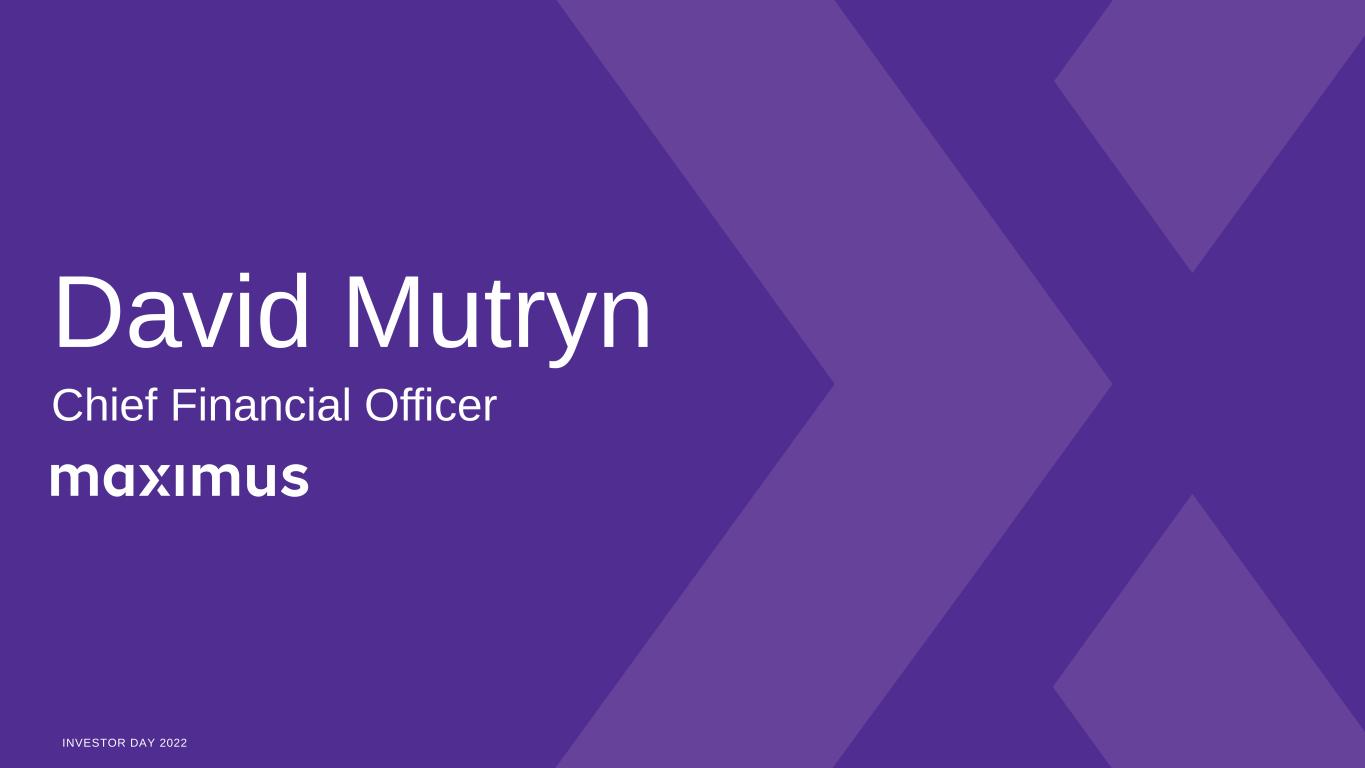 INVESTOR DAY 2022 David Mutryn Chief Financial Officer
---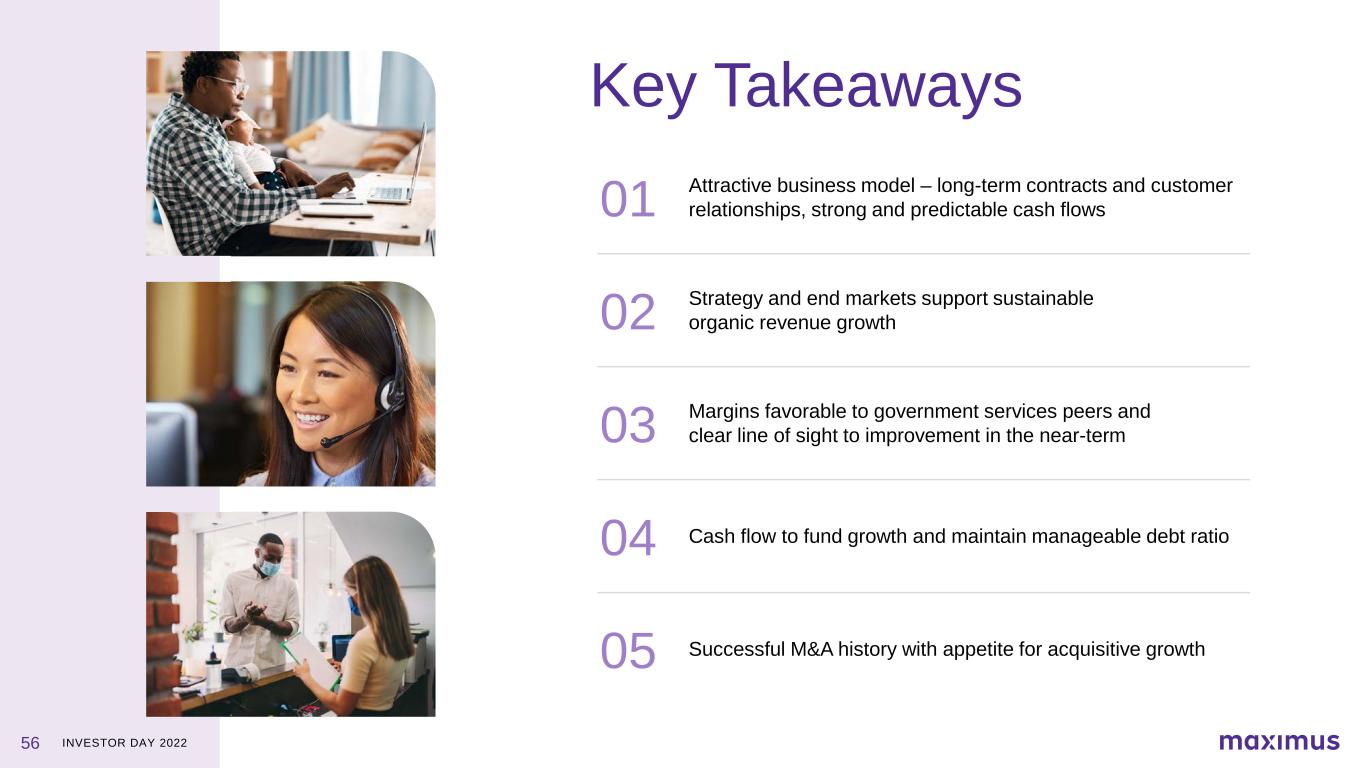 INVESTOR DAY 202256 Key Takeaways Attractive business model – long-term contracts and customer relationships, strong and predictable cash flows01 Strategy and end markets support sustainable organic revenue growth02 Margins favorable to government services peers and clear line of sight to improvement in the near-term03 Cash flow to fund growth and maintain manageable debt ratio04 Successful M&A history with appetite for acquisitive growth05
---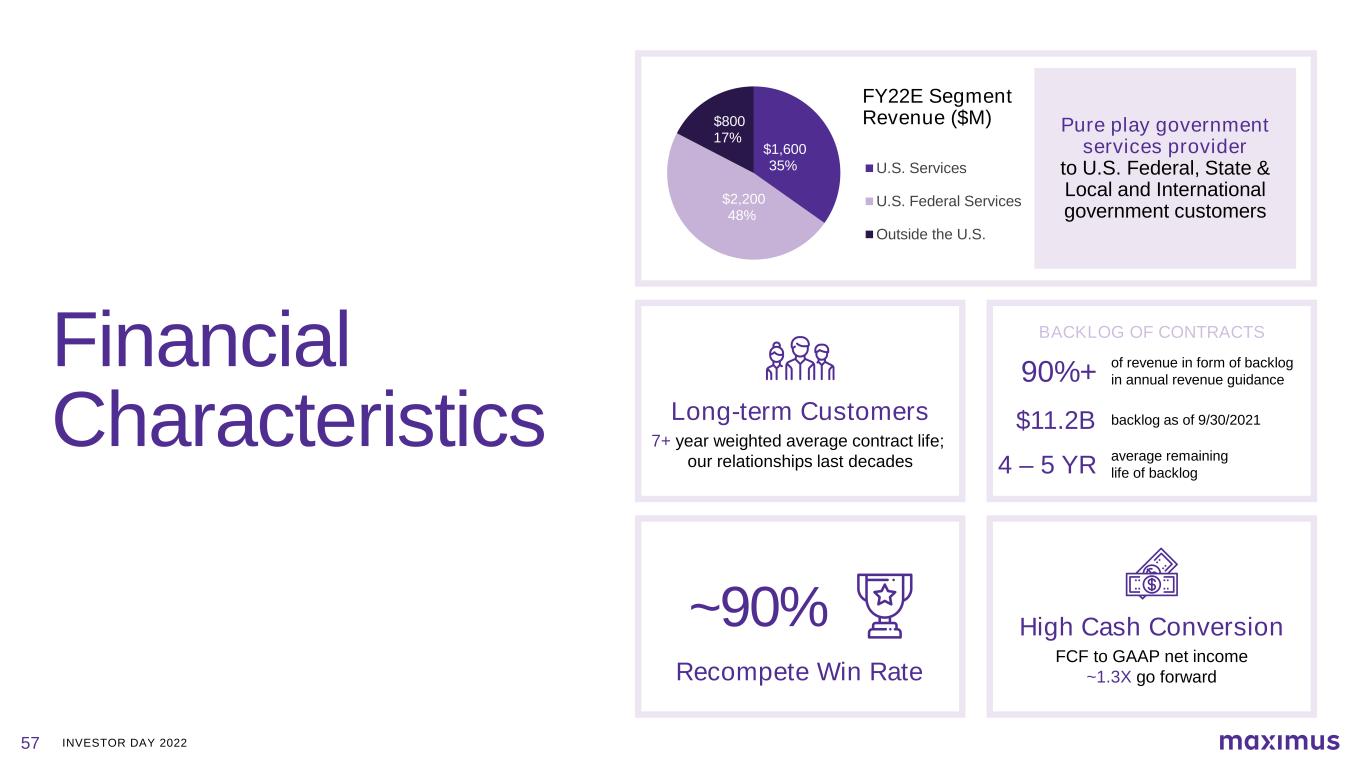 INVESTOR DAY 202257 Financial Characteristics Long-term Customers 7+ year weighted average contract life; our relationships last decades Recompete Win Rate ~90% High Cash Conversion FCF to GAAP net income ~1.3X go forward Pure play government services provider to U.S. Federal, State & Local and International government customers BACKLOG OF CONTRACTS of revenue in form of backlog in annual revenue guidance90%+ average remaining life of backlog4 – 5 YR $11.2B backlog as of 9/30/2021 $1,600 35% $2,200 48% $800 17% U.S. Services U.S. Federal Services Outside the U.S. FY22E Segment Revenue ($M)
---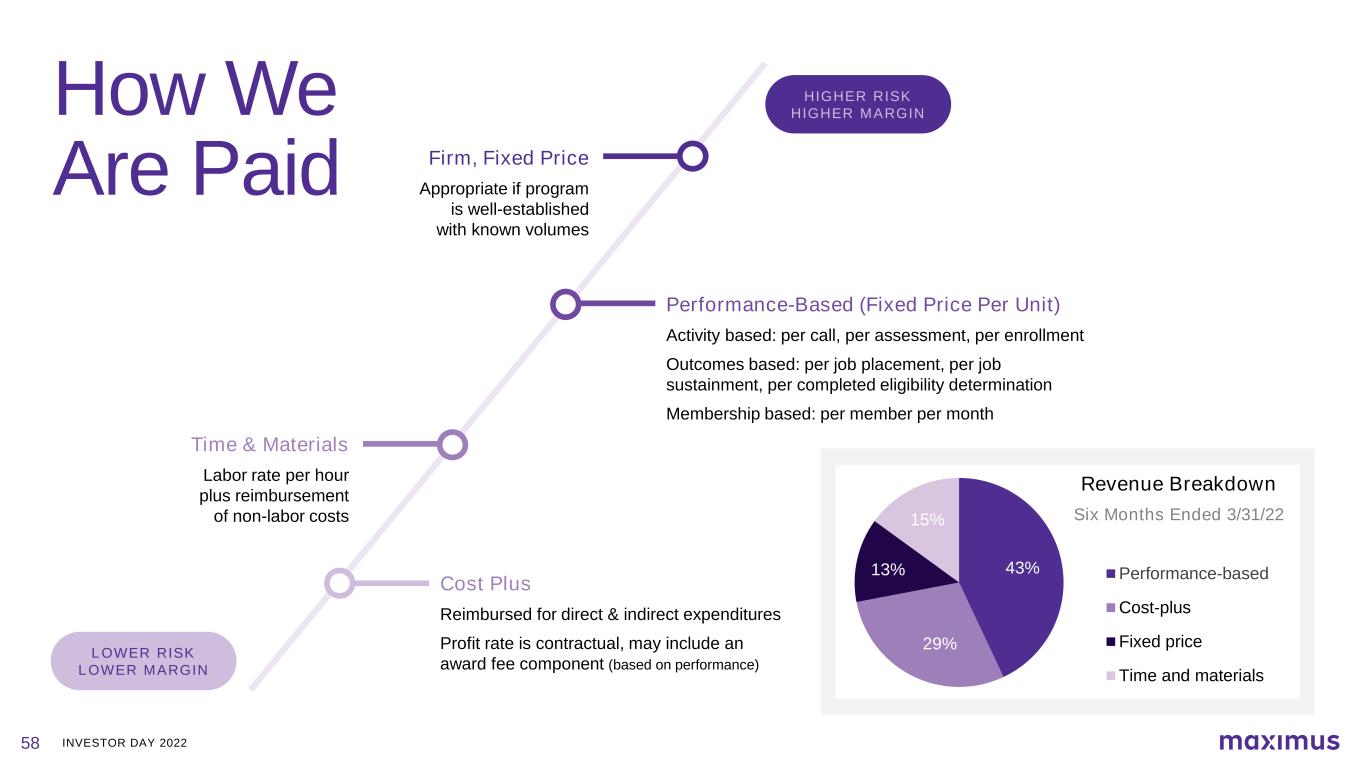 INVESTOR DAY 202258 How We Are Paid Firm, Fixed Price Appropriate if program is well-established with known volumes Performance-Based (Fixed Price Per Unit) Activity based: per call, per assessment, per enrollment Outcomes based: per job placement, per job sustainment, per completed eligibility determination Membership based: per member per month Time & Materials Labor rate per hour plus reimbursement of non-labor costs Cost Plus Reimbursed for direct & indirect expenditures Profit rate is contractual, may include an award fee component (based on performance) HIGHER RISK HIGHER MARGIN LOWER RISK LOWER MARGIN 43% 29% 13% 15% Performance-based Cost-plus Fixed price Time and materials Revenue Breakdown Six Months Ended 3/31/22
---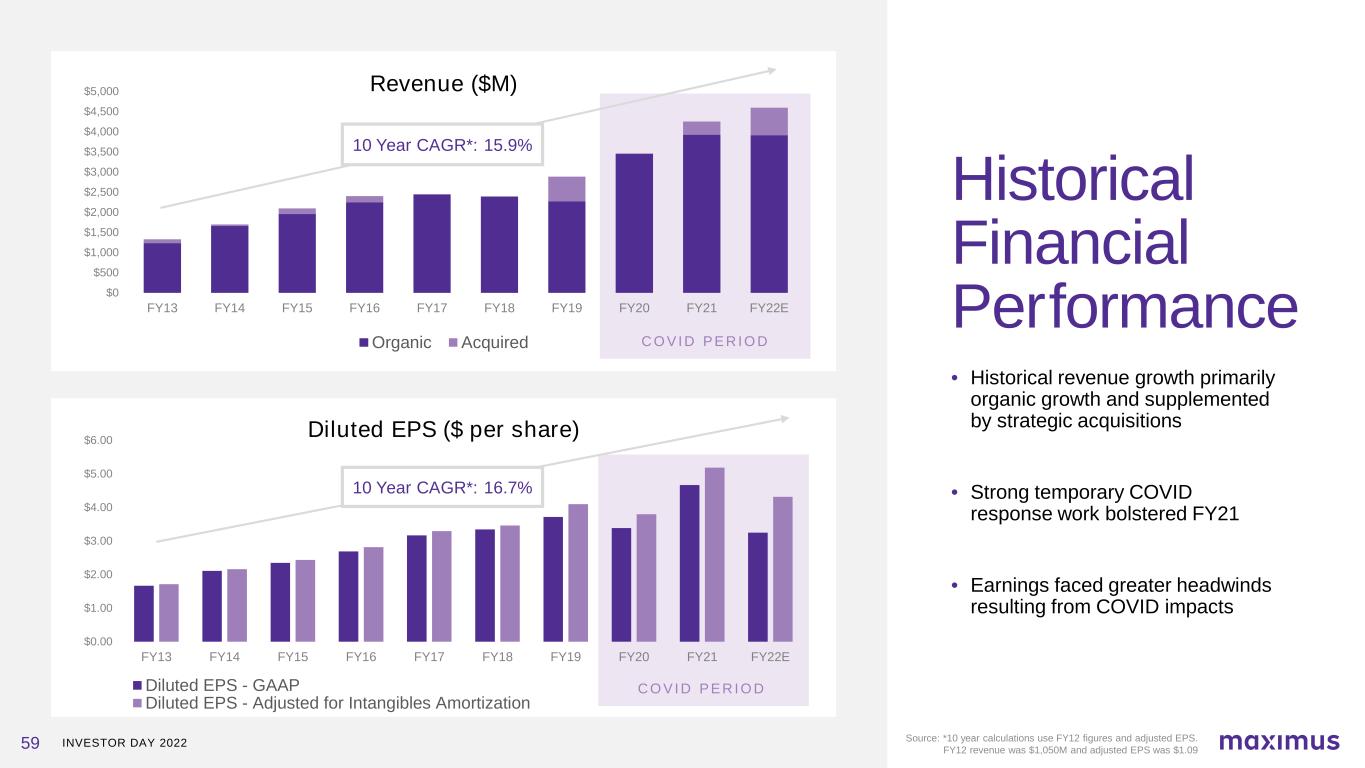 INVESTOR DAY 2022 Source: *10 year calculations use FY12 figures and adjusted EPS. FY12 revenue was $1,050M and adjusted EPS was $1.09 59 $0 $500 $1,000 $1,500 $2,000 $2,500 $3,000 $3,500 $4,000 $4,500 $5,000 FY13 FY14 FY15 FY16 FY17 FY18 FY19 FY20 FY21 FY22E Organic Acquired Revenue ($M) C O V I D P E R I O D 10 Year CAGR*: 15.9% $0.00 $1.00 $2.00 $3.00 $4.00 $5.00 $6.00 FY13 FY14 FY15 FY16 FY17 FY18 FY19 FY20 FY21 FY22E Diluted EPS - GAAP Diluted EPS - Adjusted for Intangibles Amortization Diluted EPS ($ per share) C O V I D P E R I O D 10 Year CAGR*: 16.7% Historical Financial Performance • Historical revenue growth primarily organic growth and supplemented by strategic acquisitions • Strong temporary COVID response work bolstered FY21 • Earnings faced greater headwinds resulting from COVID impacts
---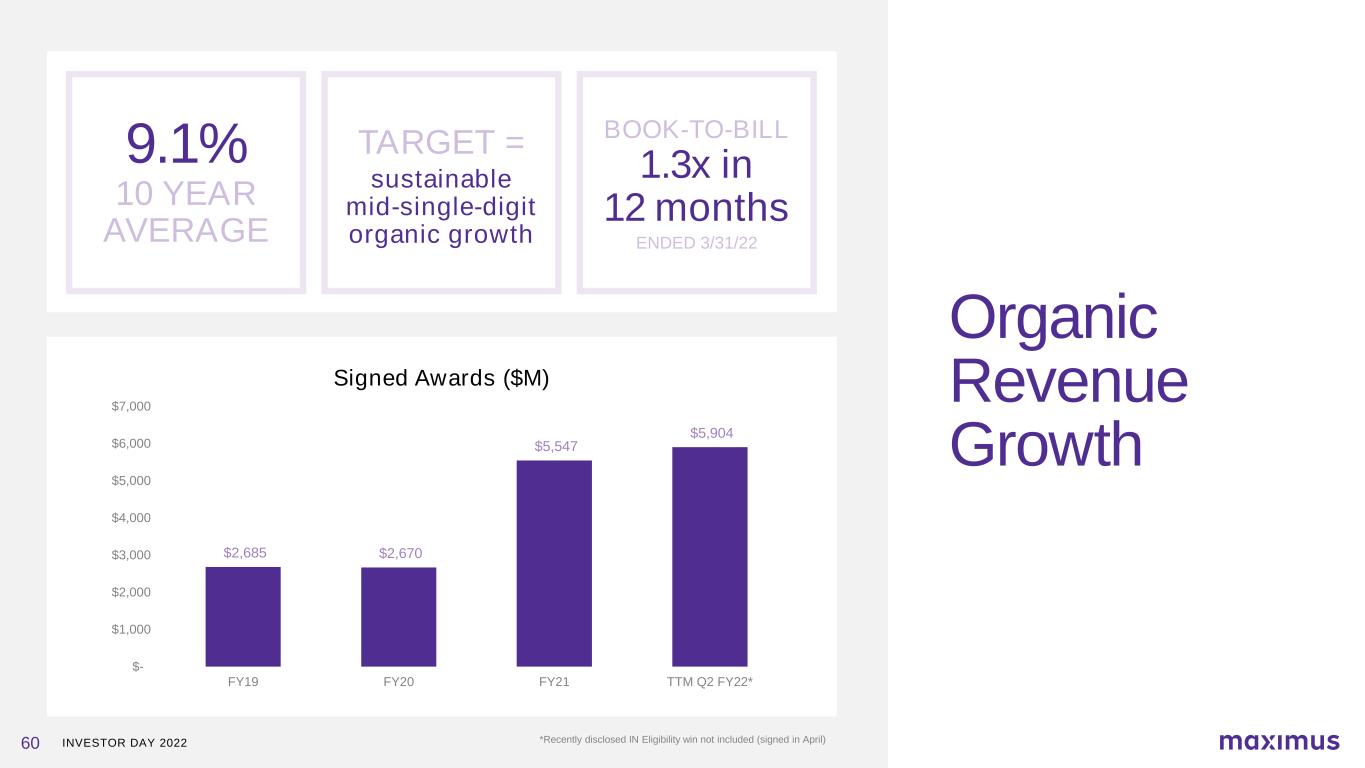 INVESTOR DAY 2022 $2,685 $2,670 $5,547 $5,904 $- $1,000 $2,000 $3,000 $4,000 $5,000 $6,000 $7,000 FY19 FY20 FY21 TTM Q2 FY22* 60 Organic Revenue Growth TARGET = sustainable mid-single-digit organic growth 9.1% 10 YEAR AVERAGE BOOK-TO-BILL 1.3x in 12 months ENDED 3/31/22 *Recently disclosed IN Eligibility win not included (signed in April) Signed Awards ($M)
---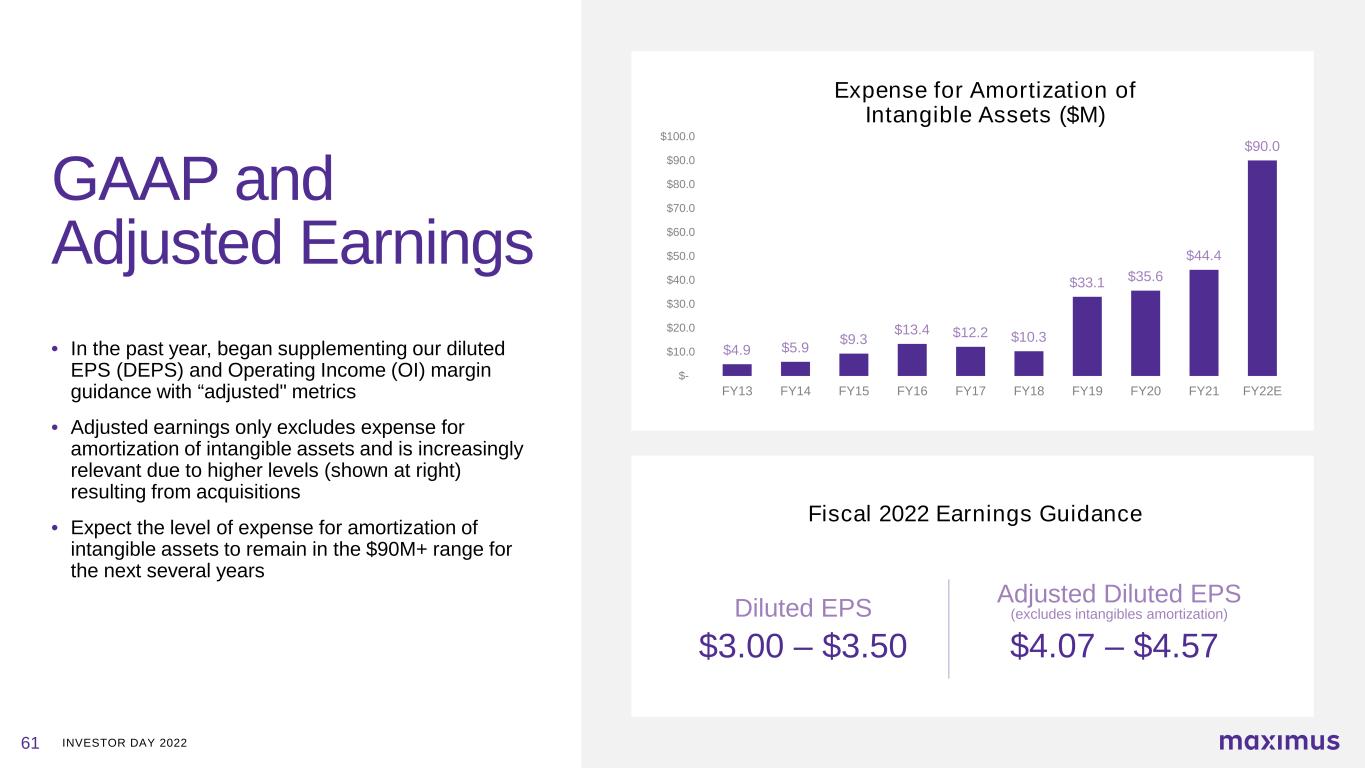 INVESTOR DAY 202261 Expense for Amortization of Intangible Assets ($M) $4.9 $5.9 $9.3 $13.4 $12.2 $10.3 $33.1 $35.6 $44.4 $90.0 $- $10.0 $20.0 $30.0 $40.0 $50.0 $60.0 $70.0 $80.0 $90.0 $100.0 FY13 FY14 FY15 FY16 FY17 FY18 FY19 FY20 FY21 FY22E Fiscal 2022 Earnings Guidance Diluted EPS $3.00 – $3.50 Adjusted Diluted EPS (excludes intangibles amortization) $4.07 – $4.57 GAAP and Adjusted Earnings • In the past year, began supplementing our diluted EPS (DEPS) and Operating Income (OI) margin guidance with "adjusted" metrics • Adjusted earnings only excludes expense for amortization of intangible assets and is increasingly relevant due to higher levels (shown at right) resulting from acquisitions • Expect the level of expense for amortization of intangible assets to remain in the $90M+ range for the next several years
---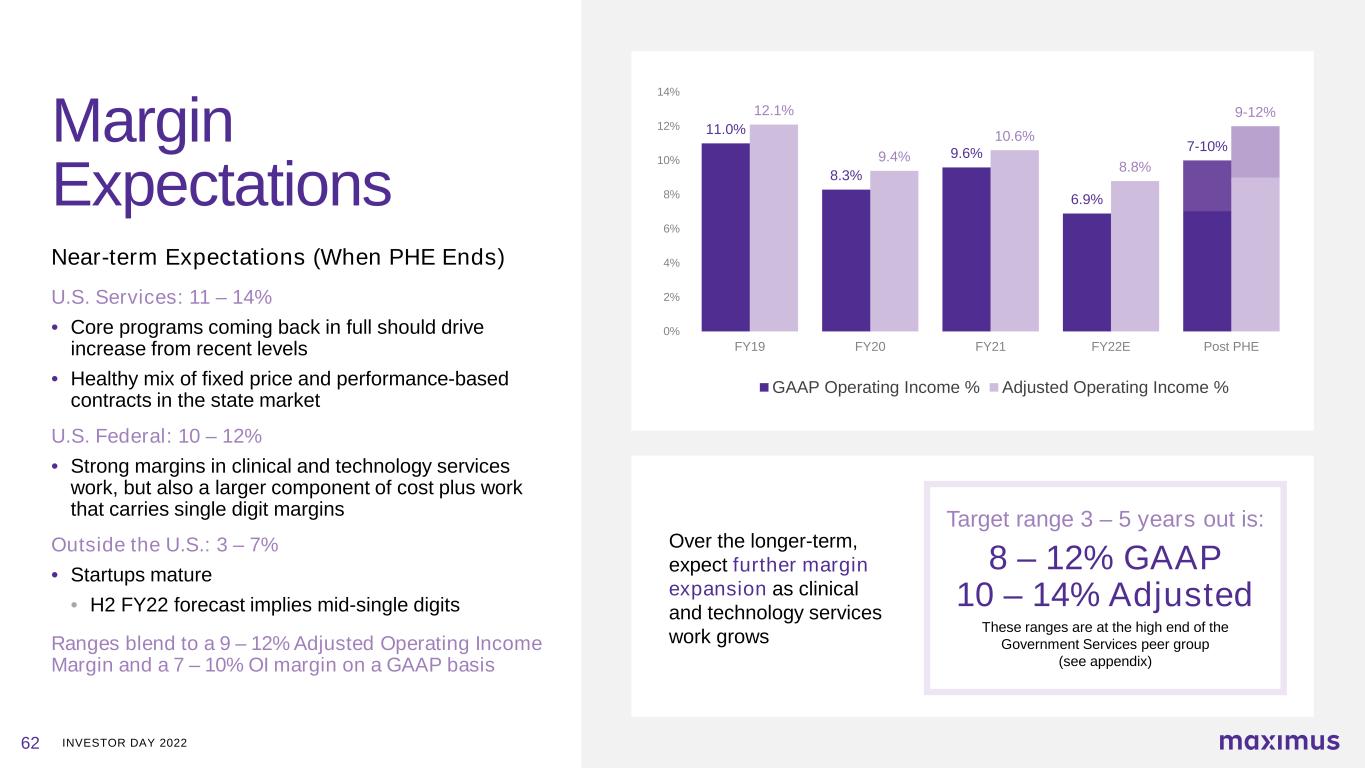 INVESTOR DAY 202262 Margin Expectations Near-term Expectations (When PHE Ends) U.S. Services: 11 – 14% • Core programs coming back in full should drive increase from recent levels • Healthy mix of fixed price and performance-based contracts in the state market U.S. Federal: 10 – 12% • Strong margins in clinical and technology services work, but also a larger component of cost plus work that carries single digit margins Outside the U.S.: 3 – 7% • Startups mature • H2 FY22 forecast implies mid-single digits Ranges blend to a 9 – 12% Adjusted Operating Income Margin and a 7 – 10% OI margin on a GAAP basis Over the longer-term, expect further margin expansion as clinical and technology services work grows Target range 3 – 5 years out is: 8 – 12% GAAP 10 – 14% Adjusted These ranges are at the high end of the Government Services peer group (see appendix) 11.0% 8.3% 9.6% 6.9% 7-10% 12.1% 9.4% 10.6% 8.8% 9-12% 0% 2% 4% 6% 8% 10% 12% 14% FY19 FY20 FY21 FY22E Post PHE GAAP Operating Income % Adjusted Operating Income %
---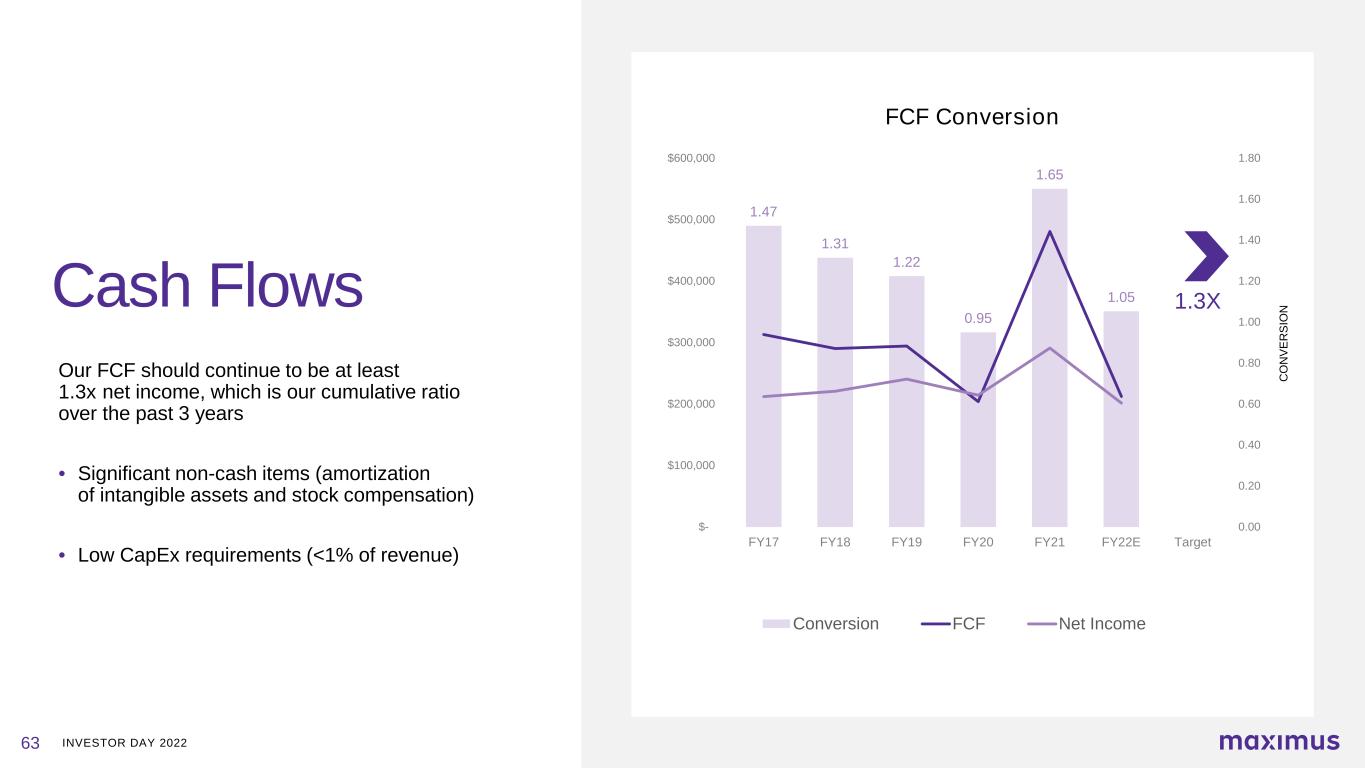 INVESTOR DAY 202263 1.47 1.31 1.22 0.95 1.65 1.05 0.00 0.20 0.40 0.60 0.80 1.00 1.20 1.40 1.60 1.80 $- $100,000 $200,000 $300,000 $400,000 $500,000 $600,000 FY17 FY18 FY19 FY20 FY21 FY22E Target Conversion FCF Net Income 1.3X C O N V E R S IO N FCF Conversion Our FCF should continue to be at least 1.3x net income, which is our cumulative ratio over the past 3 years • Significant non-cash items (amortization of intangible assets and stock compensation) • Low CapEx requirements (<1% of revenue) Cash Flows
---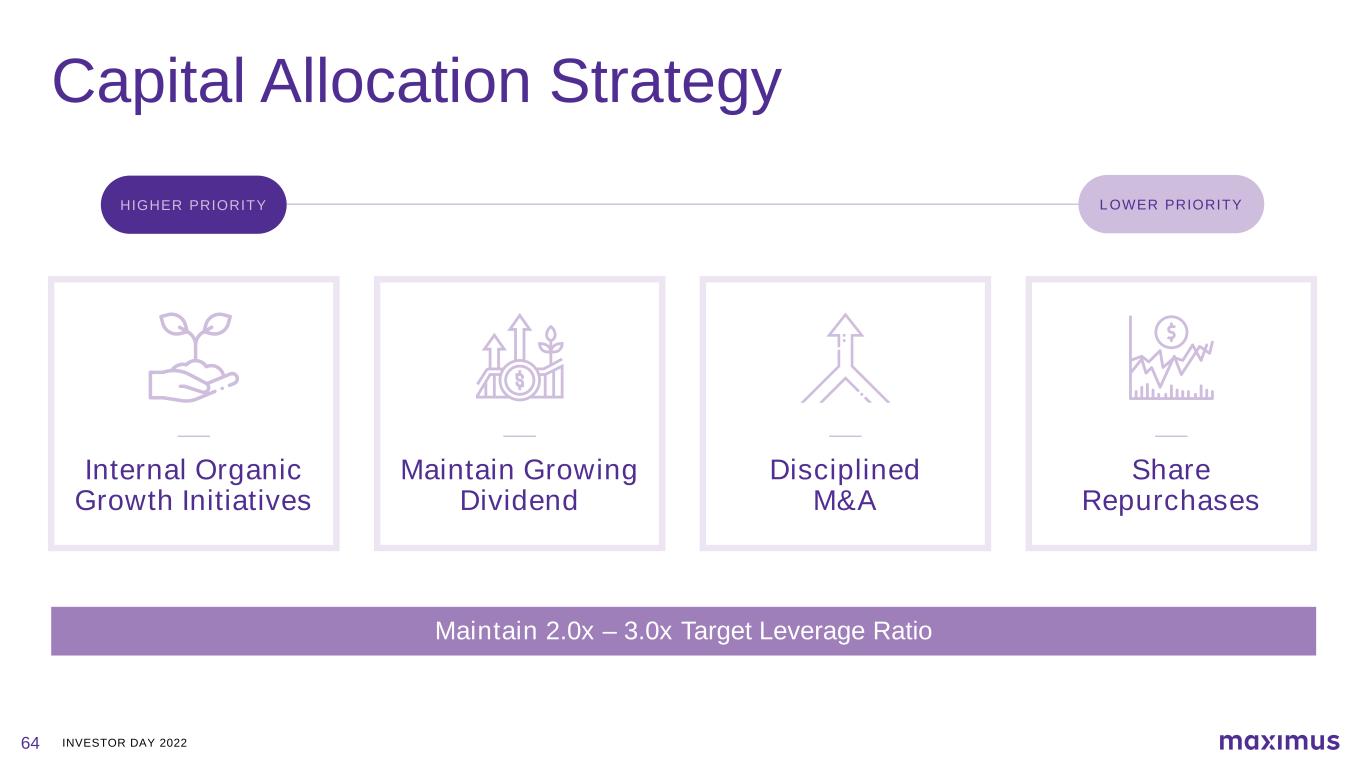 INVESTOR DAY 202264 Capital Allocation Strategy Maintain 2.0x – 3.0x Target Leverage Ratio Maintain Growing Dividend Internal Organic Growth Initiatives Share Repurchases Disciplined M&A LOWER PRIORITYHIGHER PRIORITY
---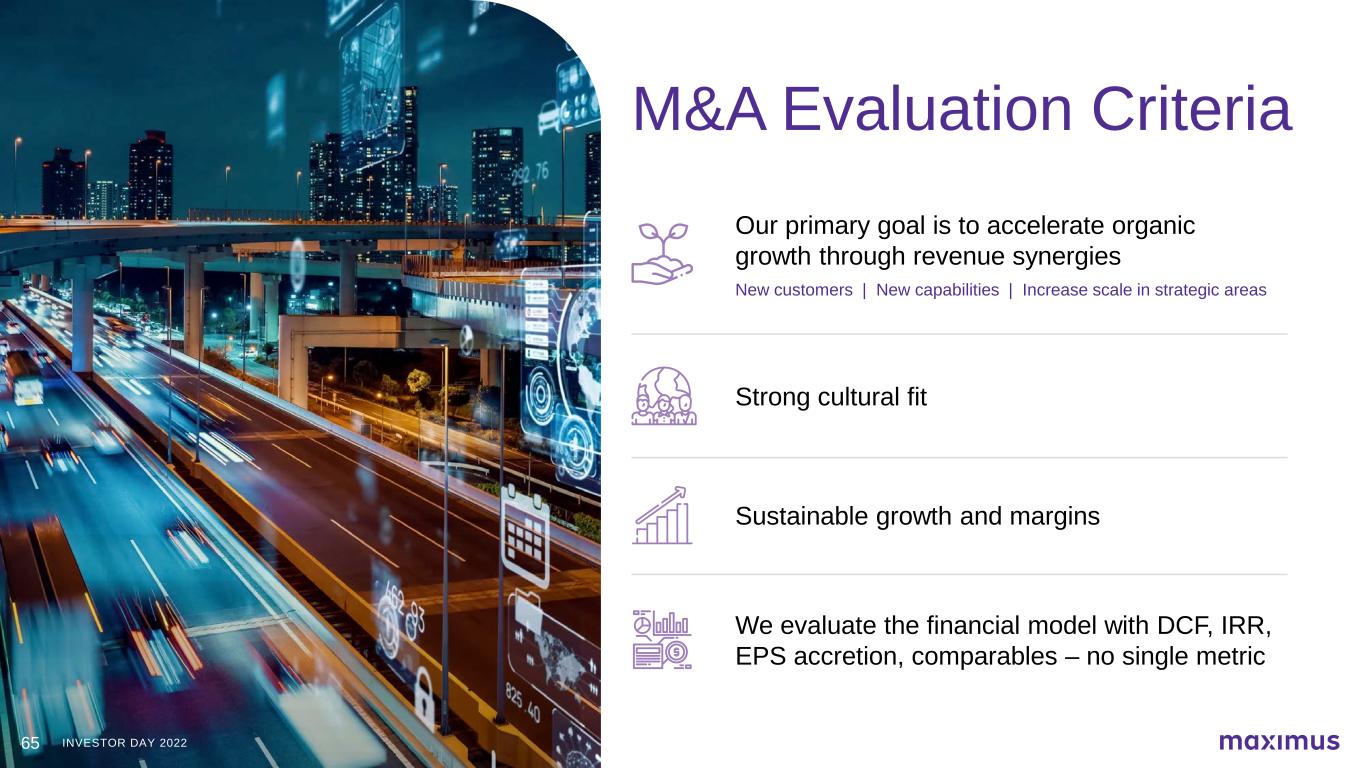 INVESTOR DAY 2022 M&A Evaluation Criteria Our primary goal is to accelerate organic growth through revenue synergies New customers | New capabilities | Increase scale in strategic areas Strong cultural fit Sustainable growth and margins We evaluate the financial model with DCF, IRR, EPS accretion, comparables – no single metric 65
---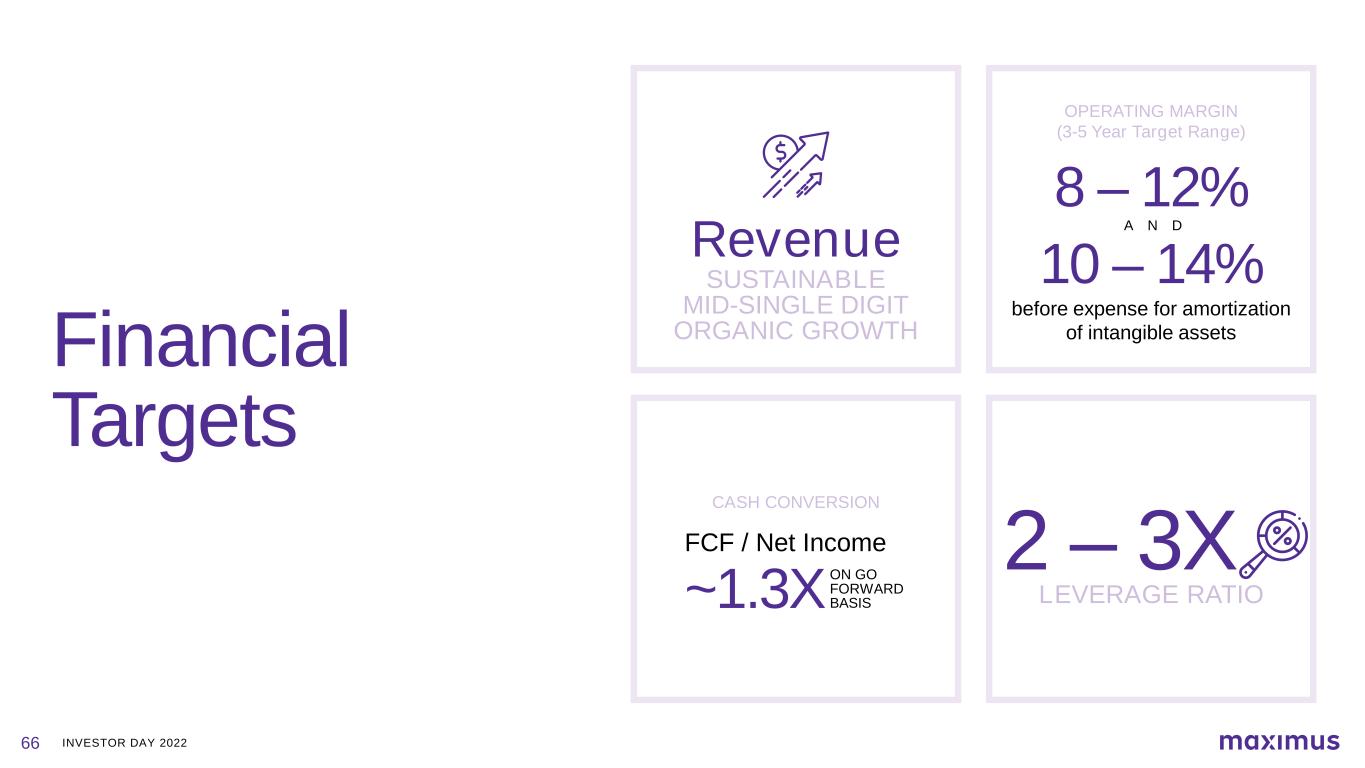 INVESTOR DAY 202266 Financial Targets Revenue SUSTAINABLE MID-SINGLE DIGIT ORGANIC GROWTH LEVERAGE RATIO 2 – 3X 8 – 12% A N D 10 – 14% before expense for amortization of intangible assets OPERATING MARGIN (3-5 Year Target Range) CASH CONVERSION FCF / Net Income ~1.3X ON GO FORWARD BASIS
---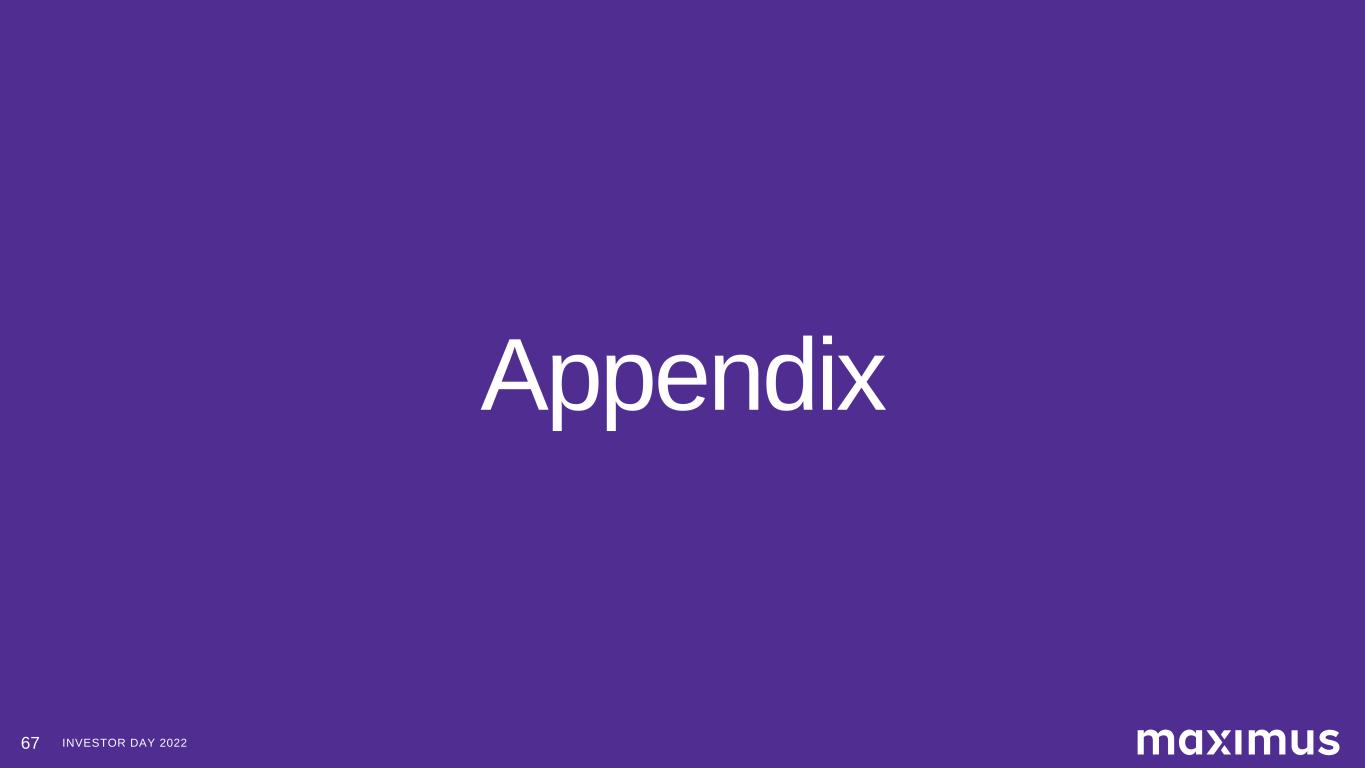 INVESTOR DAY 202267 Appendix
---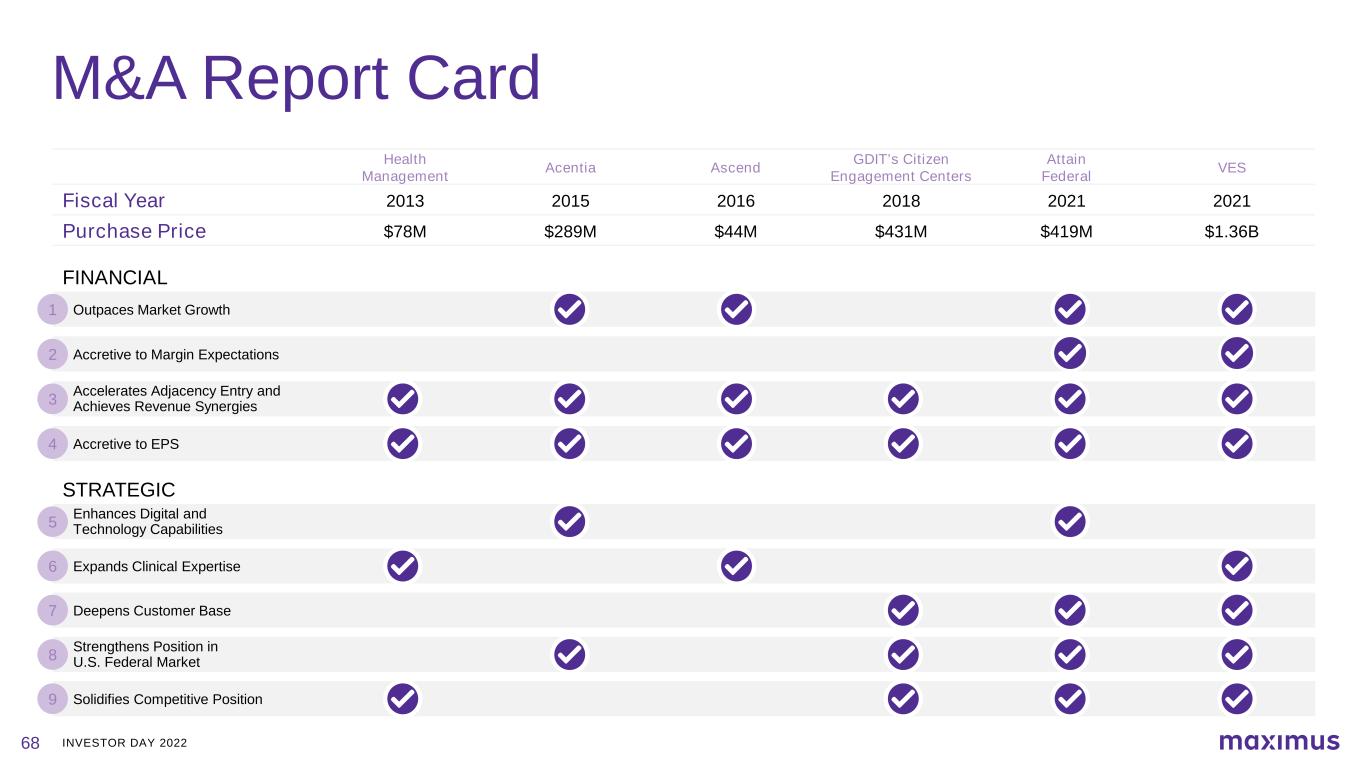 INVESTOR DAY 202268 M&A Report Card Health Management Acentia Ascend GDIT's Citizen Engagement Centers Attain Federal VES Fiscal Year 2013 2015 2016 2018 2021 2021 Purchase Price $78M $289M $44M $431M $419M $1.36B FINANCIAL Outpaces Market Growth1 Enhances Digital and Technology Capabilities5 Expands Clinical Expertise6 Deepens Customer Base7 Strengthens Position in U.S. Federal Market8 Solidifies Competitive Position9 STRATEGIC Accelerates Adjacency Entry and Achieves Revenue Synergies3 Accretive to EPS4 Accretive to Margin Expectations2
---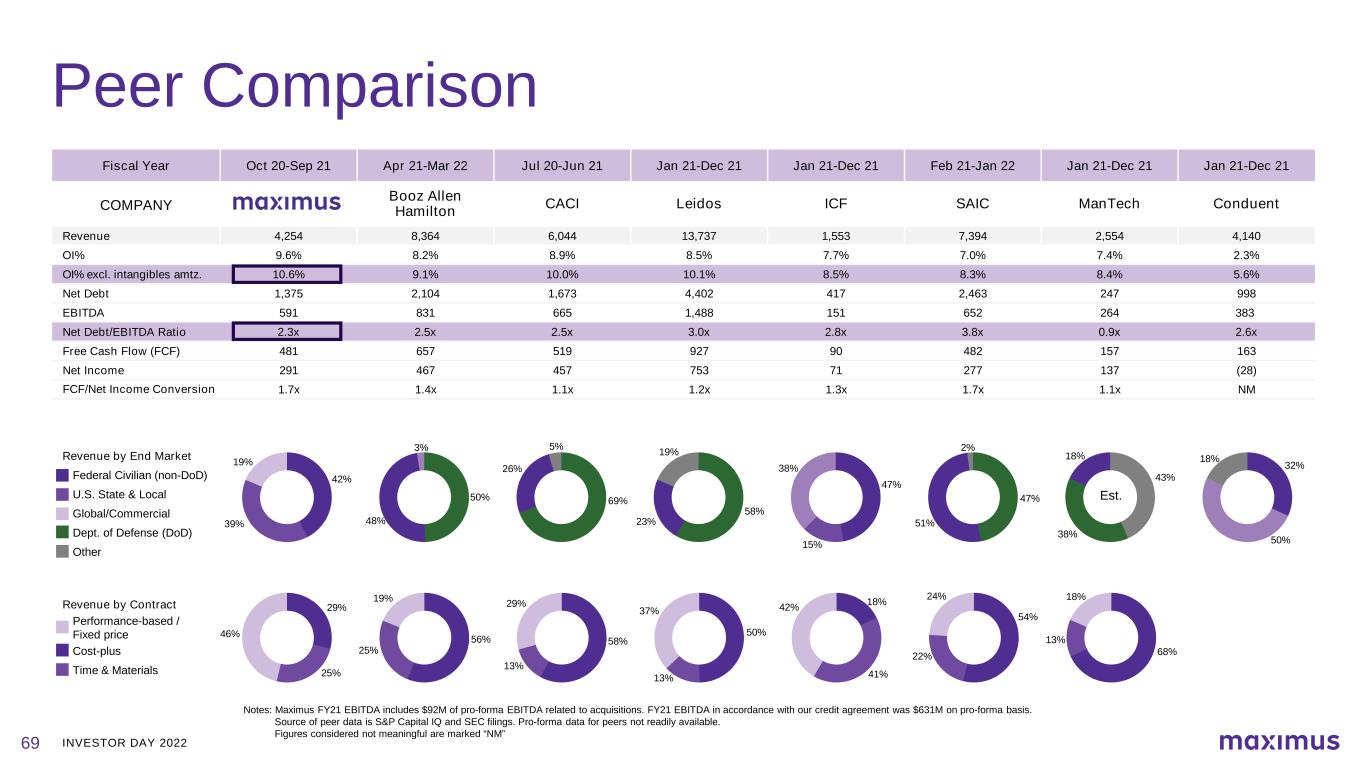 INVESTOR DAY 202269 Fiscal Year Oct 20-Sep 21 Apr 21-Mar 22 Jul 20-Jun 21 Jan 21-Dec 21 Jan 21-Dec 21 Feb 21-Jan 22 Jan 21-Dec 21 Jan 21-Dec 21 COMPANY Booz Allen Hamilton CACI Leidos ICF SAIC ManTech Conduent Revenue 4,254 8,364 6,044 13,737 1,553 7,394 2,554 4,140 OI% 9.6% 8.2% 8.9% 8.5% 7.7% 7.0% 7.4% 2.3% OI% excl. intangibles amtz. 10.6% 9.1% 10.0% 10.1% 8.5% 8.3% 8.4% 5.6% Net Debt 1,375 2,104 1,673 4,402 417 2,463 247 998 EBITDA 591 831 665 1,488 151 652 264 383 Net Debt/EBITDA Ratio 2.3x 2.5x 2.5x 3.0x 2.8x 3.8x 0.9x 2.6x Free Cash Flow (FCF) 481 657 519 927 90 482 157 163 Net Income 291 467 457 753 71 277 137 (28) FCF/Net Income Conversion 1.7x 1.4x 1.1x 1.2x 1.3x 1.7x 1.1x NM Peer Comparison Revenue by End Market Federal Civilian (non-DoD) U.S. State & Local Global/Commercial Dept. of Defense (DoD) Other Revenue by Contract Performance-based / Fixed price Cost-plus Time & Materials 50% 48% 3% 69% 26% 5% 58% 23% 19% 47% 15% 38% 47% 51% 2% 43% 38% 18% 32% 50% 18% 56% 25% 19% 29% 25% 46% 58% 13% 29% 50% 13% 37% 18% 41% 42% 68% 13% 18% 54% 22% 24% 42% 39% 19% Notes: Maximus FY21 EBITDA includes $92M of pro-forma EBITDA related to acquisitions. FY21 EBITDA in accordance with our credit agreement was $631M on pro-forma basis. Source of peer data is S&P Capital IQ and SEC filings. Pro-forma data for peers not readily available. Figures considered not meaningful are marked "NM" Est.
---